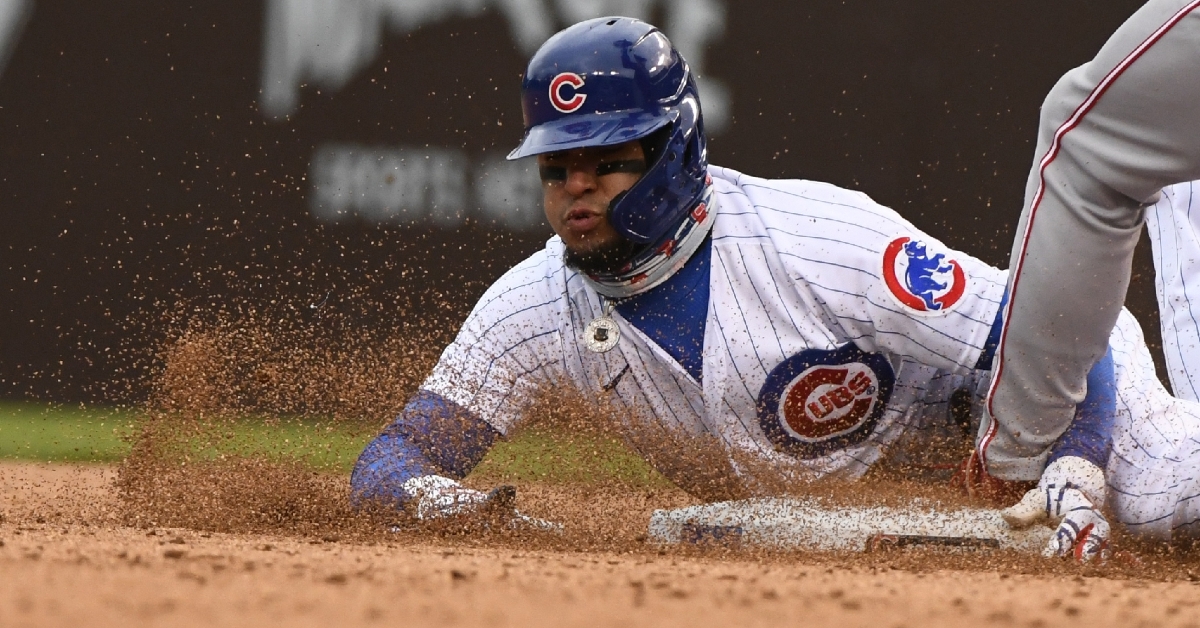 | | |
| --- | --- |
| Three takeaways from Cubs' fifth straight win | |
---
| | | |
| --- | --- | --- |
| Saturday, May 29, 2021, 8:52 AM | | |
Sometimes all it takes is one run. That is all the Cubs needed on Friday as they knocked off the Cincinnati Reds 1-0 to improve to 28-22 on the season. It was the Cubs fifth consecutive win and 11th win in their last 14 games as they are playing with a ton of confidence right now.
With the wind blowing in at close to 20 MPH, everyone expected it to be a pitcher's duel, and that is exactly what fans got. Adbert Alzolay continued to pitch brilliantly, going 5 2/3 innings of work, allowing no runs on five hits to go with six punchouts. He did, however, walk a season-high three batters while also throwing a career-high 103 pitches as he continues to get better with each start lowering his ERA to 3.81, the best on the staff.
Vladimir Gutierrez was equally as good as he lasted five innings, giving up one run on two hits to go with two walks and three strikeouts. His lone run allowed came in the bottom of the fifth when David Bote took him deep for a solo shot putting the Cubs on top for good 1-0. Not bad for your major league debut, as he filled in nicely for the injured Wade Miley.
The rest of the game became a battle of the bullpens in which we know how good the Cubs have been. With the trio of Andrew Chafin, Tommy Nance, and Craig Kimbrel keeping the Cubs scoreless inning streak intact, they were able to hold off the Reds 1-0 as they too got a strong showing from their bullpen arms.
Another one-run game
A lot of credit needs to be handed out to David Ross this season for the job he has done with this team. Not only with how he is adapting to this roster with the constant injuries, but the way he has handled the bullpen to turn them into one of the best units in all of baseball.
He is also finding a way to push all the right buttons in close games, as the Cubs have been involved in their fair share of one-run games this season. They was a point earlier this month where the Cubs were involved in a stretch of seven one-run games out of nine. Not only did they win plenty of those games, but they are winning one-run games for the first time in a long time, which is crucial to the team's long-term success.
Close games are a part of baseball and always will be, but when a team sees this many one-run games early on, it is crucial to capitalize on them now. That is exactly what the Cubs have been doing, and it is going to go a long way to decide how they do the rest of the way. Every win is crucial this season, and with a full 162 game slate on the horizon, it is better to win these games now, so you know how to do that later.
Fun fact: Craig Kimbrel is the first Cub to pick up a save on his birthday since Jason Motte (June 22, 2015).

— Tony Andracki (@TonyAndracki23) May 28, 2021
The future of Tommy Nance
It may have taken Nance a long-time to reach the majors, but now that he is here, he doesn't appear to be leaving anytime soon. Since arriving on the team nearly two weeks ago, Nance has been impressive, seeing action in six games compiling 5 2/3 innings. He has allowed just two hits to go with two walks and, more importantly, six punchouts.
Not only has his command been good, but his velocity has been better than advertised averaging 96 MPH with his heater and pairing that with great movement. Nance has bounced around in different bullpen rolls in the past but started to find a home in the back of the bullpen last year.
That appears to be what he is destined to do in the Majors as Ross is not only calling on him frequently but calling on him in late-game situations in hopes of adding another option to the mix. Nance has earned the trust of Ross in his short time on the big-league club while displaying the mental toughness and competitiveness to be a closer. With Kimbrel's future on this team still in question, Nance may be the perfect fallback guy to plug in and make him the closer of the future.
Love David Ross showing so much faith in Tommy Nance

— Michael Ernst (@mj_ernst) May 28, 2021
Will the pen ever give up another run?
Obviously, they can't go the rest of the season without allowing a run, but what they have been able to do in May is remarkable. They are currently approaching 40 innings without allowing an earned run, which is the longest streak in franchise history.
What is more impressive is they are doing this with a group of guys that many thought were washed up and or mixed with rookies who made their MLB debuts this season. Keegan Thompson, Dan Winkler, and Kimbrel have posted ERA's under 1.00 and are three of the five relievers in all of baseball to have that feat. Nance could be added to that list, but he hasn't seen enough action to qualify.
While those guys continue to produce, Ryan Tepera has been lights out over the past two weeks, and Chafin has continued to be his reliable self-late in the game. All in all, what was looked at as a weak point on this team has suddenly turned into the dominant consistent force. If it wasn't for this bullpen, who knows where this team would be.
Cubs bullpen since May 16:
38 IP
0 ER#CubTogether pic.twitter.com/Oue1H70PhJ

— Chicago Cubs (@Cubs) May 28, 2021