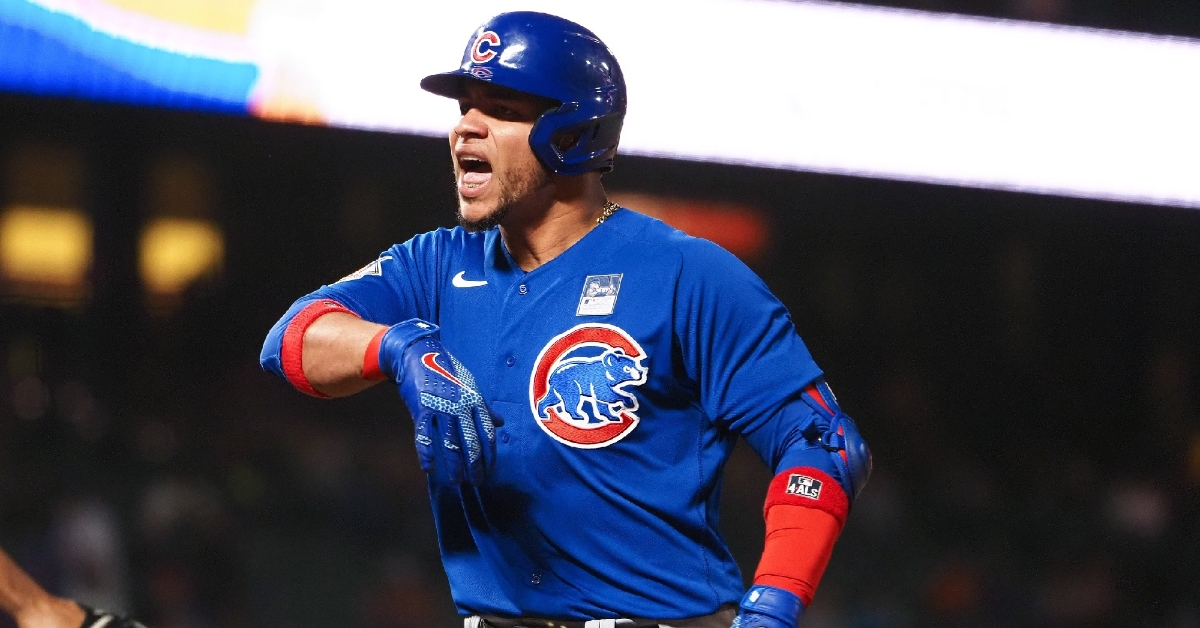 | | |
| --- | --- |
| Three takeaways from Cubs loss to Giants | |
---
| | | |
| --- | --- | --- |
| Friday, June 4, 2021, 8:28 AM | | |
Fans knew that the next seven games would be a telling tale about how good this Cubs team is. Not only are they facing the Giants and Padres in consecutive series, but they are doing so out West, which is never easy for any team.
Coming off an impressive sweep of the Padres at Wrigley, the Cubs were riding high and playing with a ton of confidence as they should be. However, the Giants have flown under the radar themselves all season, and they entered Thursday night with the best record in the National League, surprising anyone. This will not be an easy series, and the Giants showed the Cubs how good they are this season.
With a combination of excellent starting pitching, which ranks in the top four in the National League, an offense that has the second-highest home run rate in the NL, and a team constructed very similarly to the Cubs. The Giants jumped on Zach Davies and made him look like the Davies of April and not May.
His big issue was serving up big innings, and although he didn't serve up more than two runs in an inning, he was charged with four earned runs in just 4 1/3 inning, marking for a quick hook from David Ross. That was all Anthony DeSclafani needed as he was impressive yet again, allowing just a two-run Joc Pederson homer as his lone damage to help the Giants top the Cubs 7-2 in game one of this four-game set.
Pederson owns DeSclafani
It isn't too often when you have a hitter sending homers off a player 33% of the time. For Pederson, that is precisely the case against DeSclafani as the lefty owns the right-hander. After missing a leadoff homer by inches in the first, Pederson didn't miss the second time around, parking one into McCovey Cove to give the Cubs a brief 2-1 advantage.
It was his fourth homer in 12 plate appearances of the Giants starter as his amazing success against the right-hander continues. The thing that stands out the most about that is, Pederson was lucky to face him once a season as he pitched for the Reds before coming to the Bay. I can only imagine the number Pederson would have put up if DeSclafani was in the NL West instead of the NL Central as Pederson sees the ball extremely well off him.
Not only did Pederson have another great effort off DeSclafani, but this could be a perfect road trip for him as he will be facing teams he saw 19 times a year with the Dodgers. Granted, some of the pitchers are not the same, but it is the venue and just the success he has had against the NL West, which could have him lined up for a big week. That will be critical as the Cubs will need all the production they can get in this series.
SPLASH HR FOR JOC PEDERSON ??

(via @mlb)pic.twitter.com/Fmsenng8hT

— FOX Sports: MLB (@MLBONFOX) June 4, 2021
A rare off night for the pen
We have talked about it for weeks now regarding how good this Cubs bullpen has been. If you don't believe us, why not look at the numbers as they rank No. 1 in virtually every category since the beginning of May. It is a big reason why the team has moved into first place as Ross is letting his starters get through the order twice before handing things off to the pen.
After laboring through 4 1/3 innings of work and trailing 4-2 upon his departure, Ross turned to the pen in hopes of keeping things close. However, instead of going with the usuals Ryan Tepera, Tommy Nance, Andrew Chafin, and others who have been strong over the last month, Ross chose to go with Rex Brothers and Dillon Maples as both need more work.
For the most part, they have held up their end of the bargain this season and have pitched exceptionally well. Unfortunately, Thursday was not one of those nights as the two of them were charged with three earned runs in just 2 2/3 innings of work which marks more earned runs than the pen has given up in nearly a month. The big blow was the Brandon Crawford two-run shot off Maples to put the game away.
The Cubs' bullpen entered today with the 3rd-best HR/9 rate (0.67) in MLB, trailing only the Cards (0.49) and Mets (0.62).

Rex Brothers allowed a 3-run shot to Crawford in the 5th. First 3-run blast given up by Cubs since April 26 (Brandon Workman).

— Jordan Bastian (@MLBastian) June 4, 2021
The Giants are good
The Cubs have played well recently and have turned themselves into a good team. Following their loss last night, not only do they know how challenging this stretch of games will be, but they saw firsthand how good this Giants team is. I will be honest, record aside, I didn't realize how good they were until last night, and Gabe Kapler deserves a ton of credit.
Any time you have a top-five rotation and a top-five offense, you are doing something right. A team rarely has both of those simultaneously, which is precisely what this Giants team has. What makes that even more impressive is when you look at how much they have struggled the past few seasons to suddenly play at the level they are playing this year.
Their offense homered just once last night, but they came away with several clutch hits, including two by Crawford. While the offense took care of things on their end, the pitching was equally good as they silenced the Cubs bats after the Pederson two-run shot. Come to think of it, take away the hard contact in the first few innings, and Chicago didn't get much going. This was a wake-up call for Chicago that things will get tougher this month, and they must be ready for the challenge.
The Giants beat the Cubs 7-2. SF is 9-8 against teams above .500 this season, the best record against teams above .500 in the NL West #SeasonOfPostiveVibes

— F.P. Santangelo Jr. (@fp_jr) June 4, 2021