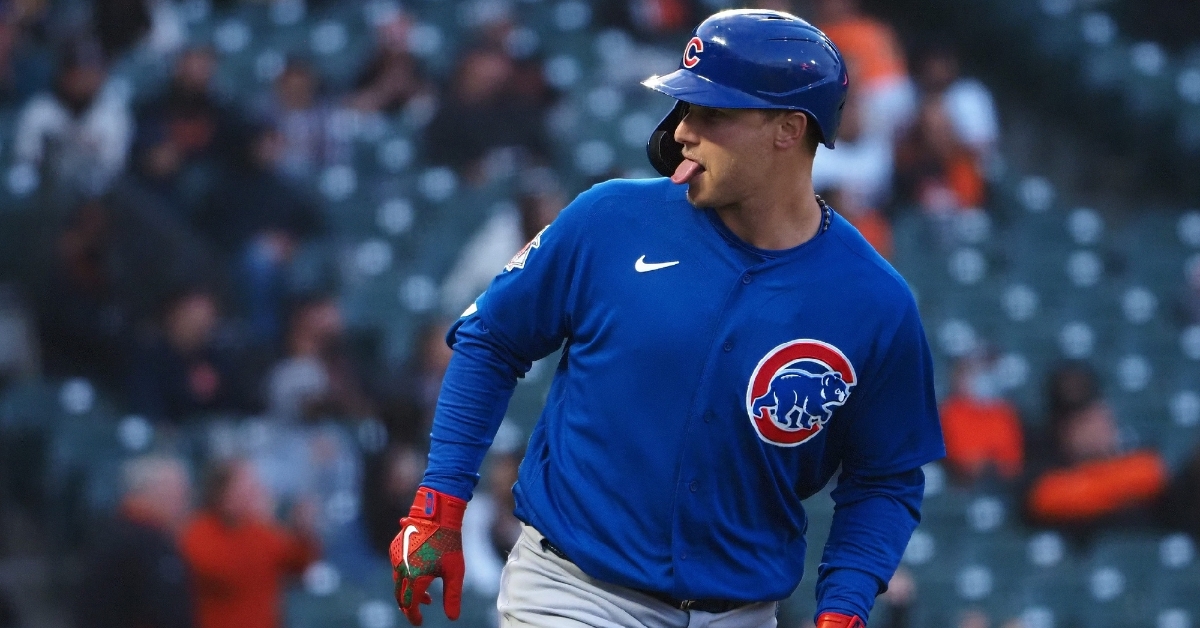 | | |
| --- | --- |
| Three takeaways from Cubs loss to Giants | |
---
| | | |
| --- | --- | --- |
| Saturday, June 5, 2021, 12:00 PM | | |
Just when you thought the Cubs had all the momentum in the world coming off a sweep against the Padres. Well, the Giants quickly took all that momentum away as they have taken the first two games from the Cubs this series winning 8-5 Friday night. Jake Arrieta continues a concerning trend in which he has not only lacked command but has given up way too much hard contact.
That was the case last night, as he lasted just two innings after getting charged for six earned runs. All six of those runs came in the second inning when the Giants connected or two of their four homers in the game, with Steven Duggar and Alex Dickerson providing the thunder. San Francisco added a pair of fourth-inning solo shots off the bat of Jason Volser and Lamont Wade Jr.
Had those final two home runs not happened, the Giants still would have won this game as the Cubs managed to score just five total runs, one less than what the Giants had in the second inning. A two-run homer by Kris Bryant in the first gave the Cubs an early 2-0, but it was all San Francisco after that. Joc Pederson added his second two-run shot in as many nights in the fourth to keep things close before Javy Baez picked up a fifth-inning RBI groundout as the Cubs are not off to the start they were hoping for on the road.
The Arrieta everyone was afraid of
When the Cubs elected to bring back Arrieta in free agency this past offseason, there were many mixed reviews on the signing. Given what he did in his first go-around with the team, many fans were happy as they felt he should never have been let go in the first place. However, you then had some cautiously optimistic fans as he never seemed comfortable with the Phillies. Not to mention his injury history in Philadelphia, and there were a lot of question marks.
Arrieta was impressive through the first month of the season as he led the team with a 2.57 ERA. He may not be the Arrieta of old, but he was transforming himself into an entirely new pitcher over the first month and was learning how to win that way. If that were the kind of production the Cubs would get out of him all season, it would go down as one of the biggest steals of the offseason.
However, all good things come to an end sometimes, and Arrieta is struggling. After going on the IL early in May to deal with a finger laceration, Arrieta has struggled mightily. His ERA has risen from a mid-3.00 to over a 5.00, and his last few starts haven't been pretty. Command issues have been the biggest reason for his struggles as he is putting his team in early holes given his inability to locate his pitches.
Hard contact is another area of concern as Arrieta is catching too much of the plate, and the opponents are making him pay. This was the Arrieta that the Philadelphia Phillies saw, and one Cubs fans hoped they wouldn't see. You can see his frustration mounting after this start, and now the veteran will have to put together a solid string of starts to get back to where fans are happy with this signing.
Jake Arrieta says he was sick before tonight's game. Said he threw up before the game and after he came out of the game. #Cubs

— Russell Dorsey (@Russ_Dorsey1) June 5, 2021
Living too much off the long ball
When the Cubs were at their best during this recent stretch of outstanding play, they were scoring a ton of runs without depending on the home run ball. That is something this team has never really done, as it has been a home run or bust for this lineup going back to 2018.
While they still rank in the top five in home-run rate or the percentage of runs scored off the home run, it has been amazing to see the transformation in this offense and learning how easy it is to score runs without hitting the long ball. Unfortunately, going back to the beginning of the Padres series earlier in the week, it seems as if the Cubs are going back to their old ways, which is not a good thing when facing great teams.
Not only did most of their runs against San Diego come off homers, but six of the team's seven runs these series have also come off homers, with the Baez grounder the lone exception. Of course, home runs will be a part of everyone's game to a point, but teams have got to stop depending on them as much as they do.
Even though this team won three games against the Padres, mainly hitting home runs to do their damage, it is no secret they don't win as much when they become too dependent on the home run ball. The last two games are a prime example of that, as this Giants team is too good to be one-dimensional.
Joc Pederson - Chicago Cubs (6) pic.twitter.com/n46EeA2Pld

— MLB HR Videos (@MLBHRVideos) June 5, 2021
What happens to this roster when guys come back?
Over the past month, the Cubs have been trying to piece together a competitive roster as they have dealt with so many injuries. In the process of plugging holes, guys like Patrick Wisdom, Sergio Alcantara, Rafael Ortega, and Matt Duffy (before his injury) emerged as everyday guys given their production at the plate. While it is great to see these players produce at the level they have, some of them won't be around much longer as the Cubs are getting healthier.
Jake Marisnick and Jason Heyward should be off the IL no later than Monday as they continue their rehab assignment, while Matt Duffy isn't too far behind. David Bote and Nico Hoerner could be slightly longer, but expect three players to return in the coming weeks. When that happens, David Ross will face some tough decisions as he will need to decide who stays and who goes.
Nick Martini seems like the most logical casualty at this point, with Ortega to follow when both outfielders come back. Who leaves after that is a huge question, as well as who starts at third? Both Wisdom and Duffy have produced at a high level when getting the call at third, and both deserve more looks. With Bote out until after the all-star break at the earliest, could you see Ross stick with both men and use them in a platoon-type system?
That will be one of the tough decisions he will be facing soon enough as the Cubs appear to be getting healthier at the right time. Hopefully, this is the last run of injuries, and that the Cubs can get back to playing winning baseball.

Tags: Cubs Baseball
,
Jake Arrieta
,
Kris Bryant
,
Joc Pederson
,
Javy Baez
,
Patrick Wisdom
,
Rafael Ortega
,
Jake Marisnick
,
Jason Heyward
,
David Bote
,
,
David Ross