| | |
| --- | --- |
| Three takeaways from Cubs loss to Reds | |
---
| | | |
| --- | --- | --- |
| Saturday, May 1, 2021, 8:11 AM | | |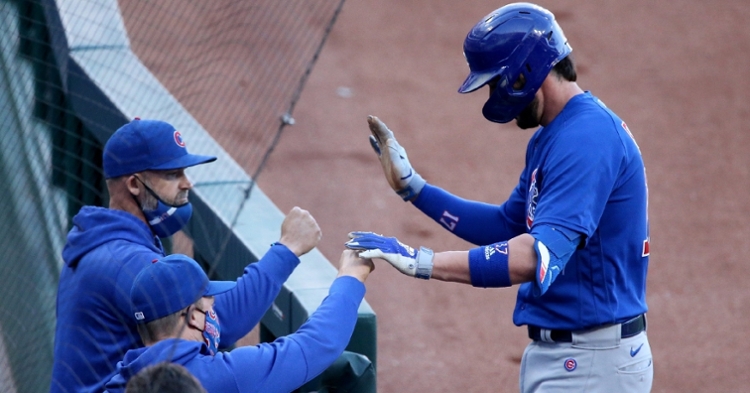 Well, that was fast as all that momentum from Thursday's Braves win evaporated in a matter of three innings. After spotting starter Jake Arrieta, a 2-0 lead after two innings, the Reds bats came to life in the third as they pushed across three runs to take a 3-2 lead and never looked back. Two of those runs came on a Joey Votto homer as he connected for his 300th career shot, making him the third Red ever to reach that feat.
The long ball was the night's theme for Arrieta as he allowed Eugenio Suarez and Nate Senzel fourth inning homers to put the Cubs in a 6-2 hole before Votto doubled to make it 7-2. Arrieta was pulled after just 3 2/3 innings as this was by far his worst start of the season.
After a shaky first couple of innings, Wade Miley settled in nicely as he continued his recent success against the Cubs. Although he went just five innings, Miley kept the Cubs in check, allowing just those two earned runs on five hits in another strong showing for him.
A Jesse Winkler RBI ground out in the sixth made things 8-2 before a furious Cubs rally began to start. Once again, Kris Bryant was in the middle of that as he followed up his first-inning homer with an RBI double, making things 8-3. Bryant would then come home to score on a Javy Baez single as he, too, is suddenly starting to hit the ball a little better.
Still down four in the ninth, the Cubs continued to claw their way back in, putting several runners on base with less than two outs. A Baez sacrifice fly not only made things 8-5 but moved Tony Wolters to third in the process before both Jason Heyward and Bryant reached base to load things up. A Jake Marisnick walk brought in another run, and the Cubs were one-hit away from tying things up. Unfortunately, that hit never came, and the Reds managed to hold off the Cubs 8-6, sending them to a dreadful 10-15 month of April.
What a start by KB
After hearing his name in trade talks again this winter, Bryant not only came into camp with a new attitude but finally healthy for the first time in what seems like years. So far, the Cubs are reaping from his health as he is carrying this team offensively and looking like the MVP version of Bryant again.
Not only did he continue to crush Miley with his homer off him in the first, but Bryant put together one of his best offensive months as a player over his professional career. Not only is he hitting a 322, but he is tied with Willson Contreras for the team lead in homers with seven and only trails Baez in the RBI category.
Bryant is also leading the way in extra-base hits and making hard contact, which left his game in recent seasons. In the final year of his contract, Bryant is playing for a new deal and is looking like the player of old at the perfect time. With a decision to make on him, Baez, and Anthony Rizzo regarding their futures, Bryant is making a case to remain a Cub well beyond this season.
Kris Bryant leads the NL with 16 extra-base hits.#CubTogether pic.twitter.com/yv3L8O1DH6

— Marquee Sports Network (@WatchMarquee) May 1, 2021
Lousy starting pitching is contagious
They always say that hitting is contagious, and when a team isn't hitting, that too can be contagious. Do you know what else can be contagious? Poor starting pitching, which has become a theme for this Cubs team as of late.
When you look at the Cubs' games this season, Arrieta was the only pitcher who hasn't laid an egg on the mound. All his starts have been good outings which is why he has been their best and most consistent pitcher this season. That all changed Friday as Arrieta fell victim to a bad start in his own right.
His seven runs allowed were a season-high, and his 3 2/3 innings was a season-low in terms of how long he went into the game. Arrieta also saw his ERA rise from the 2.57 range to 4.31 as now all five starters have ERA's north of 4.00. A bad start like this was bound to happen for Arrieta, but Cubs fans were hoping it would be later in the season and not right next to the Zach Davies and Kyle Hendricks clunkers.
Unlike the names mentioned above, Arrieta is showing no signs of struggles, and fans shouldn't be too worried about his struggles lingering beyond one start. Look for him to bounce back next week.
After Friday's 8-6 loss to the Reds, Cubs starter Jake Arrieta said he's been dealing with a cut on right thumb: "It's not a huge issue, but I couldn't throw the cutter very well at all and I tried to force it throughout the game. Gave up a couple homers on it. That's my fault."

— Patrick Mooney (@PJ_Mooney) May 1, 2021
Has Happ played himself out of the starting lineup?
The journey of Ian Happ could be made into a 30 for 30 as it is a polarizing one. Once a rookie who burst onto the scene with 25 homers, Happ was then sent to the minors, where he needed to iron plenty of things out. After a three-month stint, Happ was back in the bigs putting together an incredible September in 2019 followed by a strong showing last season.
This season, the same struggles he had in 2018 have reared their ugly head, and he looks completely lost at the plate. Not only has he lost the leadoff spot for the time being, but he has lost every day playing time as Marisnick continues to prove he deserves more time. Has Happ lost an everyday role on this team?
It is too early to tell at this point, but I would say he currently has lost his everyday role in favor of Marisnick. There is no denying that Happ is a great player and critical to this team. The problem is that version of Happ is nowhere to be found.
Happ needs to figure this out on his own and get back to the level fans saw last year.
Cubs manager David Ross hopes Ian Happ can work through this slump and eventually return to the leadoff spot: "In my vision, Happer leads off for us and gets on base and sets the tone. He's still trying to get going on this season. When he does, he's a real threat at the top."

— Patrick Mooney (@PJ_Mooney) April 28, 2021

Tags: Cubs Baseball
,
Jake Arrieta
,
Kris Bryant
,
Javy Baez
,
Jason Heyward
,
Jake Marisnick
,
Willson Contreras
,
Anthony Rizzo
,
Zach Davies
,
Kyle Hendricks
,
Ian Happ
,
David Ross