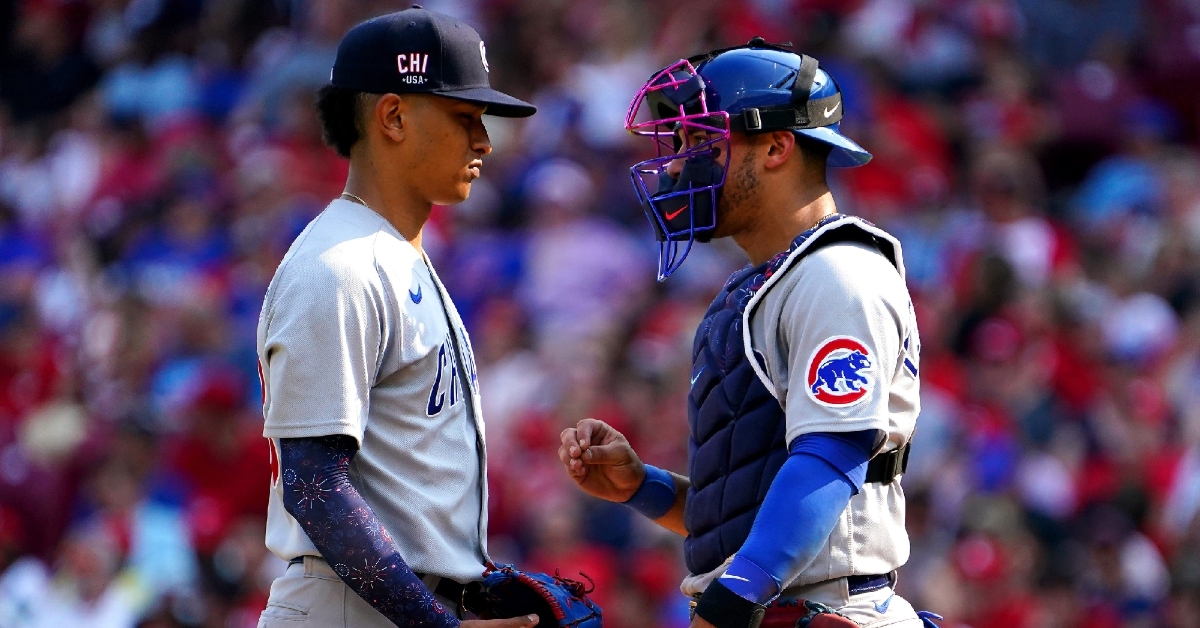 | | |
| --- | --- |
| Three takeaways from Cubs loss to Reds | |
---
| | | |
| --- | --- | --- |
| Sunday, July 4, 2021, 9:59 AM | | |
The Cubs must have sold their souls to the devil because the luck they have had lately isn't good. This team is riding a season-long eight-game losing streak, and they have now gone 4-12 in their last 16 games. In the process, the Cubs have gone from tied for first in the division to third place in the NL Central.
I hate to say it, but the fire sale could be coming sooner than anyone thought, especially when looking at this team's position a few weeks ago. Something has gone seriously wrong, and there are no answers as to how to fix it.
Adbert Alzolay delivered one of his better starts of the season and by far his best start since returning to the IL. He went a season-high seven innings and allowed three runs to go with six strikeouts. As usual, Alzolay continues to struggle to keep the ball in the yard as the Reds took him deep twice. That makes for five consecutive starts in which he has allowed multi-homers during his outing.
One thing the Cubs haven't been struggling with is scoring first, as that was the case again today. Rafael Ortega gave the Cubs a 1-0 lead in the second, coming home on a wild pitch. After suffering a terrible June offensively, Kris Bryant is starting to get things going again as he connected for a solo shot in the third to double the lead 2-0. Bryant has gotten off to a great start to open this series collecting five hits in two games.
Going back to both the Los Angeles and Milwaukee series, the Cubs may score first, but they can't hold on to that lead. After cruising along through the first three innings, Alzolay served up a solo homer to Joey Votto in the third as the Reds closed within 2-1. One inning later, Tyler Naquin got into an Alzolay pitch as he too went deep to tie things up 2-2.
Looking to get through seven innings for just the second time in his career, Eugenio Suarez took a pitch the opposite way, giving the Reds a 3-2 lead. It was the second time in as many days that Cincinnati was able to come from behind to grab the lead. Now trailing late yet again, the Cubs looked to capitalize against a Reds bullpen that has been terrible this season. Unfortunately, the Reds pen is doing enough to get the job done as they closed out the Cubs to knock them off 3-2.
Time for a team meeting
The Cubs have been getting plenty of slack from many people this season, mainly due to the injuries the team has suffered. However, the excuses and the slack this team was given is no longer an option as they are not playing well.
David Ross can say all he wants that this team is playing well, but the reality is they are not playing well. They have lost 8.5 games in the division in nine days and continue to fade in the standings. At this rate, they will be lucky to be above .500 when they return to Chicago and could be in fourth place by the All-Star break.
For a team that was content on buying not all that long ago, that opportunity may well be out the window as the selling off of assets could come sooner than fans would like. If the Cubs want to change or prevent that, they need to have a team meeting to iron things out and right the ship. Outside of Bryant and maybe Jason Heyward on this trip, no one on this team is hitting their weight or living up to expectations. That was a big reason why this team never dished out these extensions, and fans are starting to see why. This team is broken offensively, and no miracle will save them. Time to discuss what the problems are behind closed doors and light a fire under your but.
Home runs continue to kill Alzolay
I don't care what his 4-8 record shows at this point. Alzolay has pitched much better than that. Sure, his first two starts after returning from the IL were rough, but he has looked good for most of the season, and the Cubs have plenty of confidence in him going forward.
The one issue I have with him is his slider usage, leading to the string of home runs allowed. Alzolay uses the slider more than any other pitch and ranks in the top three in slider usage. That allows offenses to sit on that pitch, and if they get it in a decent location, they tend to hit it out of the park.
Alzolay has allowed two or more homers in five straight starts, which is the biggest concern for him at this point. With a fastball that can tough 96, he needs to trust that pitch more and use it more often than he does. The more he uses that pitch, the more effective an already effective slider will be.
It was nice to see Craig Kimbrel
Craig Kimbrel is putting together a historic season thus far and has been a big reason for the Cubs great bullpen this season. He is in line to make yet another all-star team and could line himself up for a reliever of the year or comeback player of the year award.
So far, Kimbrel has gone 20-22 in saves and has posted a microscopic 0.59 ERA. In other words, when he enters the game, chances are it is game over if the Cubs have the lead. During this eight-game losing streak, Kimbrel has just sat back and watched this all unfold as the Cubs haven't held a ninth-inning lead for a week. That means it has been a week since he has seen game action, which is never good for a reliever.
The biggest fear for any reliever who doesn't see action for a long time is rust. We have seen it repeatedly where relievers who don't see action enter a game and get lit up. Kimbrel may have only seen 1/3 of an inning on Saturday, but it was nice to see him on the mound again. Regardless of if the Cubs have the lead tomorrow or not, Kimbrel needs to be in the game at some point as he needs to remain fresh for when the Cubs need him most.