| | |
| --- | --- |
| Three takeaways from Cubs win at Braves | |
---
| | | |
| --- | --- | --- |
| Friday, April 30, 2021, 7:53 AM | | |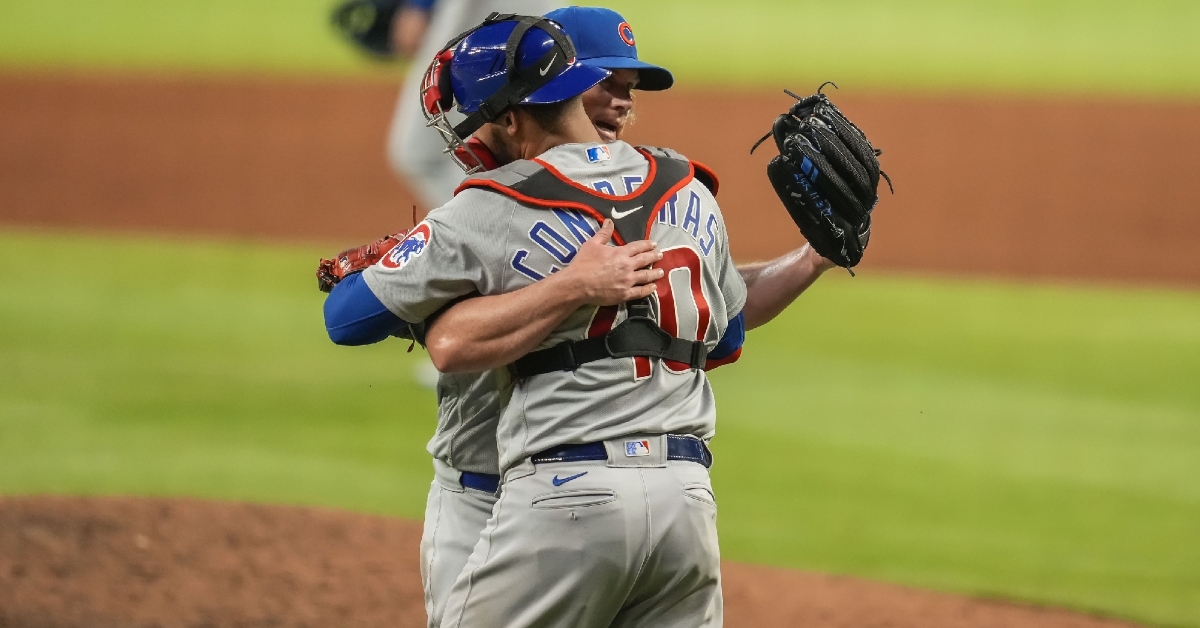 All is well that ends well as the Cubs will head to Cincinnati on a positive note following a 9-3 win over the Braves. There was plenty to like about this victory, but none more critical than Adbert Alzolay earning his first win of the season.
Not only did he pick up his first win, but he is starting to show the Cubs why he was once their top prospect in the system tossing six impressive innings of two-run four-hit ball, allowing one walk and six strikeouts. He set the tone right from the start while the offense took care of the rest for him.
After going 20 innings without scoring a run, the Cubs put an end to that in the first inning when Kris Bryant opened the scoring with an RBI single. Matt Duffy would add to that lead by scoring on a balk, and just like that, the Cubs were up 2-0.
The Cubs continued to manufacture runs without the home run ball in the third inning when Javy Baez hit a sacrifice fly to center ahead of a Jason Heyward RBI single to extend the lead to 4-0.
The Braves finally got on the board in the bottom of the fourth inning when Austin Riley ripped an RBI single to right, making things 4-1. Duces remained wild for the Cubs offense as they seemed to score in every other inning with two runs in each frame. An RBI double by Heyward pushed the lead to 5-1 before coming home to score on a Nico Hoerner single to make things 6-1.
After a slow start to his season, Marcell Ozuna has been heating up this season, crushing and Alzolay pitch 479 feet to make things 6-2. Not to be outdone, Jake Marisnick homered in the top of the seventh inning before Duffy added an RBI single later in that half inning to push the lead to 8-2. In what was now a battle of the bullpens, Ronald Acuna Jr struck first, cutting things to 8-3. That was as close as they could get as Willson Contreras picked up a ninth-inning sacrifice fly to cap off the 9-3 win.
Let the Kid pitch
After winning the final spot in the rotation out of camp, Alzolay entered Thursday's start winless on the season but has improved each time out. Chicago has also been cautious with him as his injury history and limited innings were a cause for concern going in. I understand wanting to be as careful as possible, but the training wheels need to come off at some point.
Perhaps tonight was all the proof David Ross needed that Alzolay not only can pitch into the sixth inning but one who can do so with confidence. Despite the short outings this season, the Cubs have been pleased by what they have seen in Alzolay as he has gotten better with each start.
Not only that, but he also continues to adjust from one start to the next, which is essential for a big-league starter. Hopefully, he can continue to make those adjustments and assert himself as the future of this rotation.
That jersey hits different pic.twitter.com/Dxi1RqePWv

— Adbert Alzolay (@adbert29) April 30, 2021
I guess the hamstring is OK
After missing the last three games with a hamstring injury, Javy Baez returned to the lineup Thursday night hoping to put his slow start behind him. The thing with hamstrings is they are the toughest injury to read, given how long it takes for them to heal. The Cubs know this, but they also must have felt that Baez was healthy enough to avoid an IL stint immediately throwing him back in the lineup.
From all indications, the Hamstring is just fine as Baez legged out a triple during the game, which had a chance at being an inside the parker had he sprinted out of the box. Baez has been scuffling all season, but he has been picking it up in recent games. Who knows, maybe the last three days off was also a mental break for him as it may have given him time to look at his game more in-depth so he can improve.
Javy Báez said it was really boring sitting on the bench the last few days and was itching to get back on the field. Said if it was the playoffs, he would've played.

— Tony Andracki (@TonyAndracki23) April 29, 2021
A much-needed inning for Kimbrel
Although it wasn't a save situation last night, Craig Kimbrel needed to get into a game as it has been quite a while since he has pitched. In his one inning of relief, Kimbrel was a little shaky as rust was an issue.
Granted, he didn't give up a hit and still hasn't allowed a run; Kimbrel only threw seven of his 16 pitches for strikes walking one and striking out one. For the most part, Kimbrel has been his old dominant self this season, but his command has been a little iffy in his last three outings. Even with that, he has yet to give up a run and has only allowed one hit.
That is certainly a promising sign for the Cubs as they are hoping this continues to possibly help land an excellent package come the deadline should they move on from him. Successful or not, Kimbrel needed to get an inning of work under his belt to stay fresh. He would like to see his command improve a little bit, but the only thing that matters is that 0.00 ERA, which still stands and will remain that way through maybe the first month of the season.