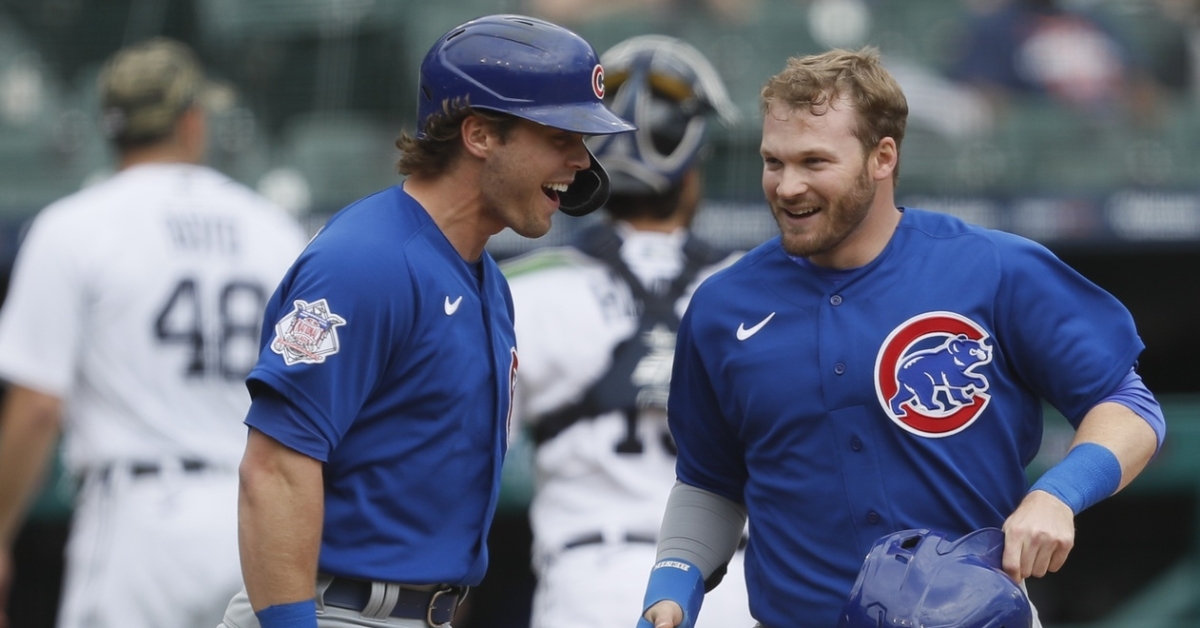 | | |
| --- | --- |
| Three takeaways from Cubs win over Tigers | |
---
| | | |
| --- | --- | --- |
| Monday, May 17, 2021, 11:56 AM | | |
With Kyle Hendricks on the bump, the Cubs sought their third series win over the last four as they took on the Tigers on Sunday. Unfortunately for the Cubs, they would need to solve Matthew Boyd, who entered the game with a sub 2.00 ERA.
While Boyd was still sharp, striking out eight compared to just one walk in six innings of work, the Cubs touched him up for four runs on six hits, with two of those runs coming during their three-run sixth. That was more than enough offense for Hendricks as he matched Boyd with eight strikeouts but allowed just one run on eight hits in eight innings of work. It was a pleasant sight to see him bounce back the way he did when you look at his previous start against Pittsburgh.
Ian Happ found himself in the middle of everything on Sunday, picking up three hits in what was one of his better games this season. Happ was a triple shy of the cycle and opened the second inning up with a single before coming home to score on a Kris Bryant fielders' choice. One inning later saw Happ add to his game as his RBI double extended the lead to 2-0 in favor of Chicago.
Still holding that 2-0 lead, the Cubs were looking for more insurance as they were sick of the close games. That insurance came in a big way during the sixth inning with David Bote ripping an RBI double before coming home to score on the Nico Hoerner sacrifice fly. Happ capped off his big day with a solo shot extending the Cubs lead to 5-0.
Looking to go the distance, Hendricks got into the ninth inning, but it was the Tigers starting to rally as they had plenty of traffic on the bases. Jonathan Schoop was able to end the shutout bid with an RBI fielder's choice, but that would be all the Tigers could do, falling 5-1.
Happ reaching the Mendoza line
To this season has been a struggle for Happ would be an understatement as he hasn't had a good year. Going back to when he fouled the ball off his eye in September, and it has been downhill since. However, despite all those recent struggles, there is light at the end of the tunnel as he creeps toward the 200-average known as the Mendoza Line.
Happ put together a strong showing in the series finale against Cincinnati before getting injured after colliding with Hoerner in the outfield. After spending 13 days on the IL, Happ returned to the field on Saturday and put together a big game on Sunday. That makes two great games out of his last three, and it must be a relief for not only him but for Cubs fans to see him picking it back up.
Happ is an essential piece to this team, even if it means he doesn't go back to the leadoff role. His bat is too valuable to keep out of the lineup when he is on, and those signs are starting to show once again. This is a step in the right direction that he will be looking to build on.
Anyone but Atlanta for Hendricks
Following his outing against the Tigers, Hendricks has lowered his ERA to 5.27, which is still a career-worst. That ERA is a little bit deceiving, however, as he has only had two rough outings, with both coming against Atlanta. Take away those outings vs. the Braves, and Hendricks has posted a 2.70 ERA in the rest of his starts.
Those are the numbers the Cubs expected from their ace, and he has looked like an ace, for the most part, this season. His command may be a little off, and he has allowed more hard contact than in years past, but he is still doing a great job of giving the Cubs length without allowing a ton of damage.
The outing that Hendricks put together on Sunday is certainly a confidence booster for him, and something the Cubs are hoping will kick him in the right direction. Even if he goes out and dominates the rest of the season, his ERA will have a tough time getting under the 2.9 range where he was last season. Fans know it isn't how you start but how you finish, and if Hendricks can begin pitching to his ability, everyone will forget about the rough start to his season.
What to do with Alec Mills gone?
Before Sunday's game got underway, it was revealed that Mills would be heading to the IL with lower back tightness. 30-year-old Tommy Nance has been called up to take his place, but some wonder if the move is only temporary. Mills was the team's no. 5 starter a season ago, and this season has found himself in a swing role bouncing between long relief, high leverage situations, and making one start.
He is a valuable piece in the Cubs pen, even if he has struggled this season. With Trevor Williams continuing to struggle in the rotation, I was starting to wonder if the Cubs would consider giving Mills a start or two with hopes of leveling out the rotation. That is not the case anymore, but what are the Cubs plans for handling his absence.
Nance is the temporary solution as he has been called up for the time being. However, if this ends up being a lengthy stay, expect to see Shelby Miller called back up at some point. Miller had a great spring this season but didn't show much of that during his brief stint this season.
Also, on a rehab assignment due to a back injury, Miller has looked great in his two starts with Iowa even though they lasted just three innings. Should that continue, Miller will be back on the major league roster in no time, and there is a great chance he may earn a start if Williams continues to struggle.