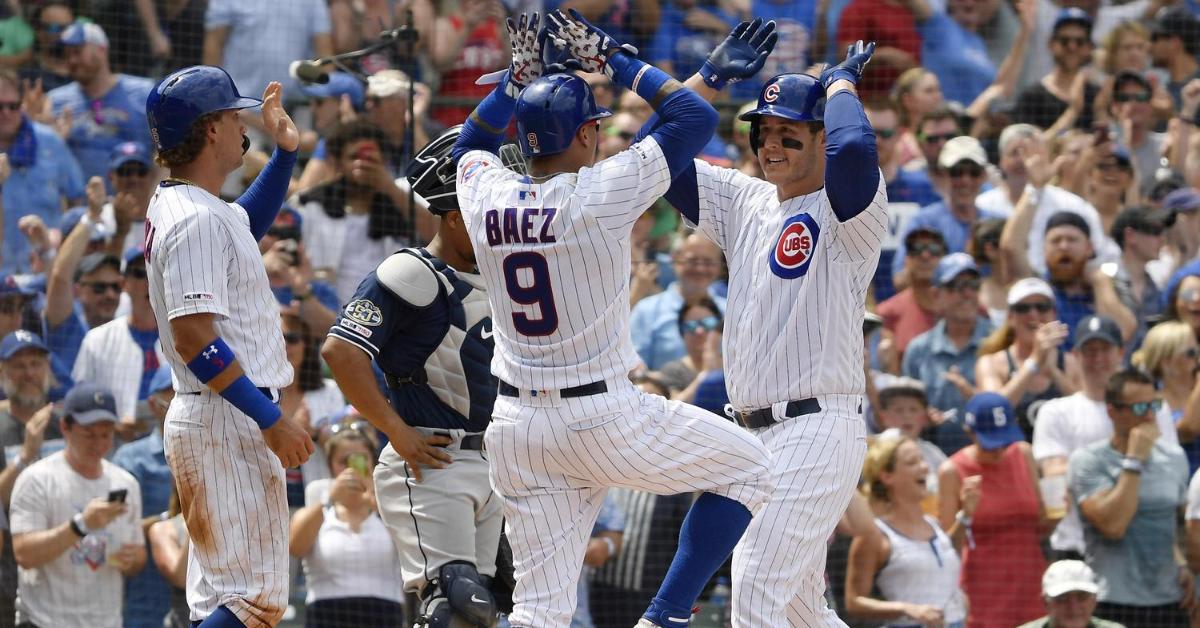 | | |
| --- | --- |
| Was Jed Hoyer right about Cubs core? | |
---
"The Chicago Cubs have won the World Series!" Hearing Pat Hughes say those words was one of the greatest moments of many Cubs fans' lives. As is the case with most championship-winning teams, fans feel like their team is set up for greatness for years to come.
For the Cubs, they had a budding core filled with young talent — under control for years. What felt like light years away was the departure of Jon Lester, Addison Russell, Javier Baez, Kris Bryant, Anthony Rizzo, Kyle Schwarber and Albert Almora Jr — all of whom were scheduled to enter free agency after the 2021 season.
It appeared that the Cubs were poised for at least five more seasons of the 'sustained success' Theo Epstein promised when he was hired. However, here the Cubs are five seasons later without any of the eight aforementioned players on the roster, a new manager, a new President of Baseball Operations and another rebuild in the works.
There are a multitude of reasons that the Cubs dynasty that was expected never came to fruition. Injuries, performance decreases, off-the-field issues, money and underperformance certainly come to mind. Jorge Soler was traded right after the World Series for bullpen help because the Cubs spent a heavy price to acquire rental closer Aroldis Chapman. The Cubs farm system became thin as they paid the price for winning, but they struggled to withhold injuries from players and management claimed they could not afford to spend big money on free agents.
While the Cubs nailed a few midseason moves such as acquiring Cole Hamels or Nicholas Castellanos, the Cubs also handed out some pretty bad contracts to Jason Heyward, Daniel Descalso, Brandon Murrow and making bad trades for Ian Stewart, Jose Quintana and others that damaged their development. Then there were moves like Yu Darvish and Craig Kimbrel, that looked bad at first, and as soon as they looked good the Cubs dealt them.
In addition, many of the Cubs' young hitters never quite became what was expected. Kyle Schwarber, Albert Almora Jr., Ian Happ and Jorge Soler never quite reached their expectations in Chicago. Anthony Rizzo, Kris Bryant and Javier Baez were all great, but were not the perennial all-stars and MVP candidates that were expected when they won it all in 2016.
The Cubs still put together six straight winning seasons from 2015-2020, including five playoff appearances, three trips to the NLCS, three division titles, and a World Series win — something that had not happened in over 100 years. Their accomplishments were certainly nothing to hang ahead about, but it simultaneously felt like they underachieved.
Never the less, that 2021 offseason with all of these players becoming free agents approached quickly. After the 2019 season when Joe Maddon left, it seemed apparent that the band was breaking up. After the 2020 season, Theo Epstein departed and Jed Hoyer became President of baseball operations. Jon Lester's contract was bought out and Kyle Schwarber was non-tendered.
Throughout all this time, reports stated that Kris Bryant, Anthony Rizzo, and Javier Baez (the presumed big three) all wanted to stay in Chicago, and all wanted to be extended. While little rumblings of numbers and years and agents came out, no extension was ever agreed upon for any of the three players.
Eventually, the 2021 trading deadline came, and the Cubs dealt Anthony Rizzo, Kris Bryant, and Javier Baez to the Yankees, Giants, and Mets in exchange for prospects. But after the trades, Hoyer did not close the door on a potential return with these Cubs legends.
"Every one of these guys would say they wanted to stay in Chicago, 'we wanted to be a Cub,' but then we would sit down and do negotiations, that wasn't how they acted," Hoyer said.
Hoyer said: "The extensions we offered these guys will hold up exceptionally well...against the open market."
It appears that he was right.
For Baez, reports were that the Cubs offered him $168 million for eight years, and he took six years for $140 million in Detroit. Rizzo was offered five years for $70 million and instead took $32 million over two years in New York. Finally, Kris Bryant was reportedly offered a contract near $200 million dollars, and Bryant settled for seven years, $182 million to play for the Rockies.
Were the players that upset with the way the Cubs handled the end of their tenures? Did they think they deserved more? Did some of these players just bet on themselves and lose?
Not sure. But Jed Hoyer seemed to be correct after all.

Tags: Cubs Baseball
,
Jon Lester
,
Addison Russell
,
Kris Bryant
,
Anthony Rizzo
,
Kyle Schwarber
,
Albert Almora
,
Jorge Soler
,
Aroldis Chapman
,
Cole Hamels
,
Jason Heyward
,
Daniel Descalso
,
Jose Quintana
,
Yu Darvish
,
Craig Kimbrel
,
Ian Happ
,
Joe Maddon
,
Theo Epstein