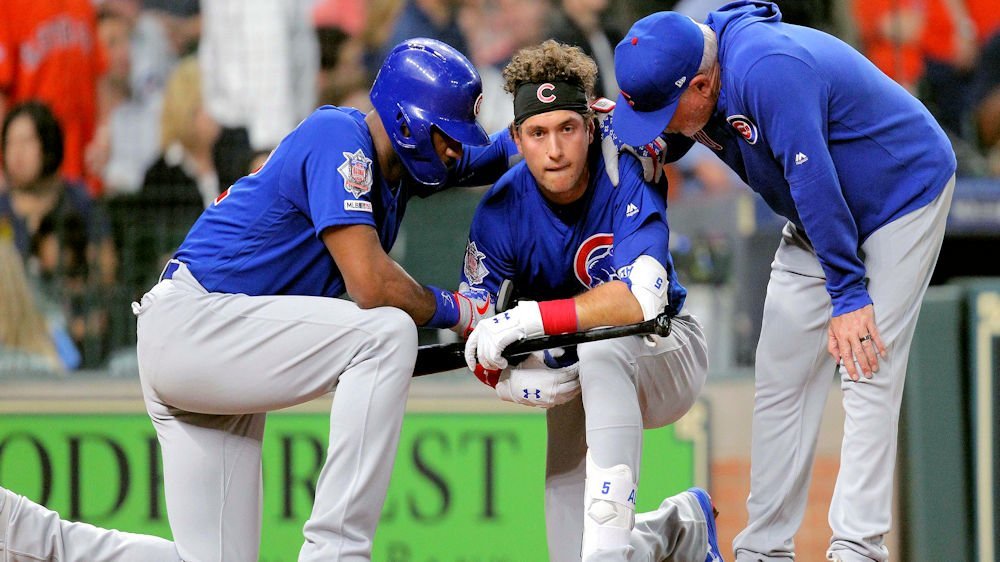 | | |
| --- | --- |
| Cubs News: Almora addresses devastating foul-ball incident in postgame media session | |
---
| | | |
| --- | --- | --- |
| Thursday, May 30, 2019, 12:11 AM | | |
The sad incident involving a little girl being struck by a foul ball that was hit by Chicago Cubs center fielder Albert Almora Jr. understandably overshadowed the Cubs' 2-1 win against the Houston Astros at Minute Maid Park on Wednesday. Almora was beside himself in anguish as a result of the horrible occurrence, which took place in the top of the fourth, and was consoled by his teammates and coaches both on the field and in the dugout as he dealt with the harsh reality of what happened.
Fortunately, media reports released later in the game revealed that the young girl was rushed to the hospital for precautionary reasons and remained conscious and stable throughout the ordeal. A security guard seemed to tell a concerned Almora as much between innings, and Almora broke down in tears while being hugged by the woman. In his postgame media session, Almora was asked about the devastating occurrence.
"As soon as I hit it, the first person I locked eyes on was her," Almora said about the little girl. "Obviously, I didn't want that to happen, and I didn't intend for that to happen."
After a delay that lasted several minutes in order for security and medical personnel to tend to the girl and take her out of the stadium and to the hospital, Almora was somehow able to finish his at-bat. Once Almora struck out and headed back to the dugout, he became highly emotional again and eventually sought out the security guard in search of news pertaining to the girl's condition.
"The rest of that at-bat was kind of a blur," a choked-up Almora told reporters. "I finally kind of came to my senses after the next half-inning, when I went over to the stands."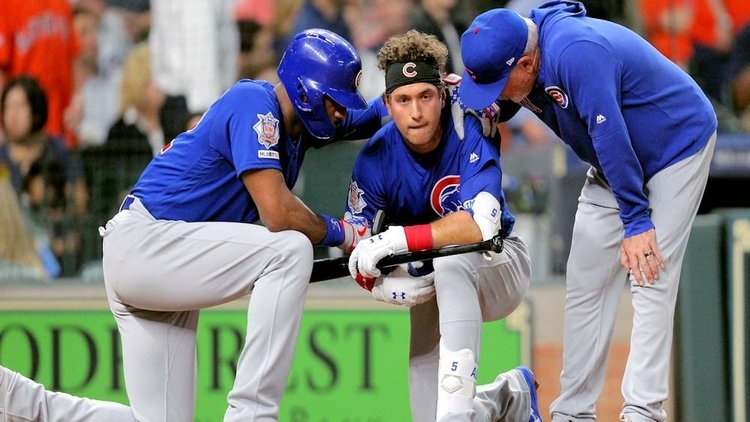 Check this out! It was a SCARY & JARRING moment @MinuteMaidParks last night during #Cubs-#Astros game, when a 4 YO girl was hit by a foul ball! It happened when Cub's player, Albert Almora Jr. hit a foul line drive into the stands. Fortunately, she's OK. #khou11 #htownrush pic.twitter.com/xvrxwmV5c5

— Michelle Choi (@MichelleKHOU) May 30, 2019
The most emotional scene of the tragic series of events was when Almora wept into the shoulder of the security guard, who tried her best to console Almora and help him through the difficult experience. Almora remained in the lineup for the remainder of the game but was rather subdued afterward, fighting back tears throughout his press session.
"I had to try to keep my composure during that at-bat, but when that half-inning was over, I just couldn't hold it anymore," Almora said about the emotional moment that she shared with the security guard.
After Albert Almora Jr. struck a young fan with a foul ball, in between innings he went immediately over to that section to ask about the situation. You can see he is overwhelmed with emotion as him and the security guard have a moment. This is just a terrible & sad situation. pic.twitter.com/Yh3wWmDjhx

— Cubs Live (@Cubs_Live) May 30, 2019
Almora was asked about what he was told by the security guard, but, due to the sensitive nature of the subject, he could not share the specifics. Still in an emotional daze during his somber media sessions due to what can best be described as a hitter's nightmare, Almora, who is a father, was clearly heartbroken by what transpired.
"I wish I could say more," Almora said while addressing what he knew concerning the little girl's condition. "Trust me. I'll be the first to know. But, right now, I'm just praying, and, being a father of two boys, I'm at a loss for words."
Though downtrodden, Almora put a positive spin on the sad scenario by stating that he hopes to have a relationship with the girl and her family for the rest of his life, indicating that he wants something good to come out the terrible incident. Hopefully, the little girl will be just fine and Almora will be able to emotionally heal by establishing a meaningful connection with her and her family.