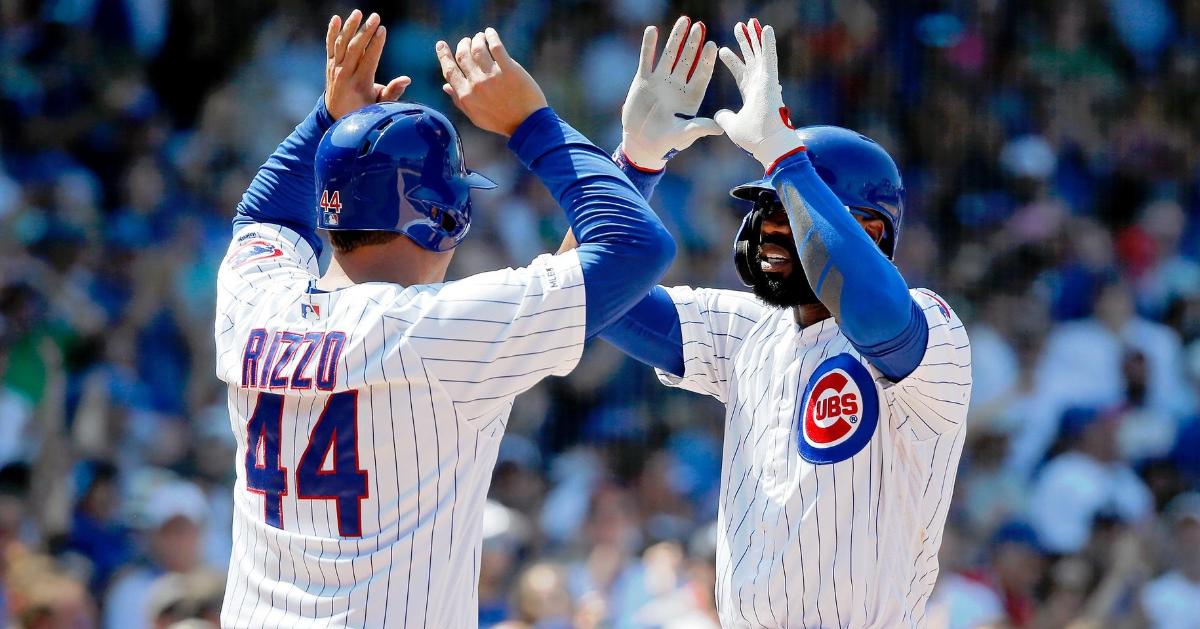 | | |
| --- | --- |
| Cubs News: Anthony Rizzo gives passionate postgame response regarding social injustice | |
---
| | | |
| --- | --- | --- |
| Thursday, August 27, 2020, 12:10 AM | | |
DETROIT — Chicago Cubs right fielder Jason Heyward opted not to play in Wednesday's game between the Cubs and the Detroit Tigers. The Tigers won the series finale at Comerica Park 7-6, but the postgame conversations between media members and members of the Cubs transcended baseball and centered upon the social issues that provoked Heyward to sit out.
Heyward, who is Black, chose not to play as a form of peaceful protest in the wake of the Kenosha shooting, like the NBA and other MLB teams and players also did on Wednesday. Cubs manager David Ross gave his full support to Heyward, who consulted with Ross pregame, and, in turn, Heyward encouraged his supportive teammates to play. As a result, Heyward was a late scratch from the starting lineup.
Postgame, Ross was tearful, saying that he "can't even imagine what he's going through" in regard to Heyward. Cubs first baseman Anthony Rizzo, who is a leader in the locker room, provided the heaviest postgame remarks when he wore his emotions on his sleeve while criticizing politicians and the political climate that stands in the way of change.
Rizzo also discussed Heyward and the support that he and his teammates have for the veteran outfielder, who is the sole African American in the Cubs' regular starting lineup. Describing seeing Heyward's pain as "so real," Rizzo said that Heyward "was encouraging [his teammates] to play."
Superstar @Cubs 1B Anthony Rizzo when asked what he's learned through his time knowing Jason Heyward and regarding the shooting of #JacobBlake.#BlackLivesMatter #GoCubsGo pic.twitter.com/0leSZ7LJrn

— Billy Krumb (@ClubhouseCancer) August 27, 2020
Heyward also spoke with the media, revealing that he received multitudinous texts from supportive players from around MLB. When discussing his thought process behind sitting out Wednesday's game, Heyward said that it is "time for [MLB players] to stand up and be a part of the cause and not just sweep it under the rug."
Read the full quotes below:
Rizzo on Heyward talking to team and eventual decision to play:

"Just seeing the pain, man, it's so real. It's tough. It kind of felt weird. But J-Hey wanted us to play; he was encouraging us to play. So we went out there and played a baseball game."

— Gordon Wittenmyer (@GDubCub) August 27, 2020
David Ross was as emotional as I've ever seen him when speaking about Jason Heyward.

"I can't even imagine what he's going through," a tearful Ross said.

— Russell Dorsey (@Russ_Dorsey1) August 27, 2020
"I feel like I need to be a part of it, or I'm going back on my word." --Jason Heyward

Said he was getting texts pregame from around baseball. Among them, Mookie Betts. Heyward felt tonight was an important day for continuing to bring awareness to social injustice.

— Jordan Bastian (@MLBastian) August 27, 2020
As the Cubs neared game time, Jason Heyward received text messages from players around Major League Baseball, including Mookie Betts, who internalized the NBA walkout.

"It's time for us to stand up and be a part of the cause and not just sweep it under the rug," Heyward said.

— Patrick Mooney (@PJ_Mooney) August 27, 2020
This was as emotional as we've seen Ross, who is supportive of Heyward and in whatever his players want to do. Rizzo was visibly angry at politicians and their non-action. Lester emphasized over and over the Cubs are family. This story is just beginning.

— Paul Sullivan (@PWSullivan) August 27, 2020