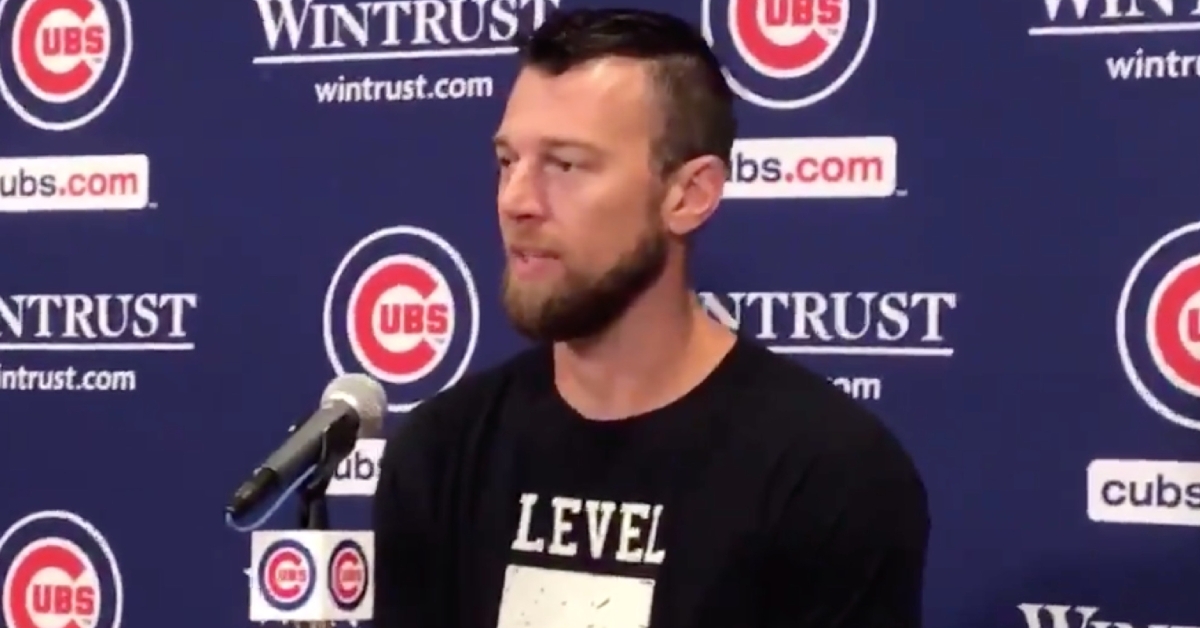 | | |
| --- | --- |
| Ben Zobrist discusses his Cubs return | |
---
| | | |
| --- | --- | --- |
| Sunday, September 1, 2019, 2:58 PM | | |
CHICAGO — Veteran Chicago Cubs utility man Ben Zobrist made his highly anticipated return to the Cubs after being removed from the restricted list and added to the active roster on Sunday.
Zobrist has not played for the North Siders since early May due to personal matters pertaining to his marriage, and he recently completed a month-long rehab stint in the minor leagues. During his leave of absence, Zobrist "checked the scores and checked how guys were doing" and is ecstatic to be back in the fold again.
"I'm nothing but grateful for how they've handled the whole situation," Zobrist said. "They've given me the time and space needed to take care of my situation."
Zobrist addressed the media in a press conference prior to Sunday's contest at Wrigley Field between the Cubs and the Milwaukee Brewers. Upbeat and happy to be a part of the Cubs again, Zobrist, who was not listed in Sunday's starting lineup but could potentially come off the bench to play, talked about his return.
"I'm excited to be back in the clubhouse with the guys," said Zobrist. "I got to go out on the field last night to take a few ground balls. Wrigley Field's a special place. I don't take it for granted. I'm excited to be back."
Zobrist on being back with the #Cubs & here at Wrigley. pic.twitter.com/yhQ8NajhQf

— Kelly Crull (@Kelly_Crull) September 1, 2019
"Zo" told the media that the support that he has received from his teammates throughout the process has been "overwhelming" and talked about how excited he was to be back in the clubhouse for the stretch run.
"The timing is right for me to be here now," Zobrist said, "and I feel good about that. I feel good about just doing what I can to help the club down the stretch here."
Zobrist says he can't say definitely if this is his last year. Talked to #Cubs players in June. Says support from teammates has been overwhelming

— Carrie Muskat (@CarrieMuskat) September 1, 2019
Ben Zobrist on his leave. #Cubs pic.twitter.com/pE2c7BgTwq

— Brian Sandalow (@BrianSandalow) September 1, 2019
While Zobrist did not rule out playing beyond this season, a widespread assumption is that the 38-year-old Zobrist, who is set to be a free agent following the season, could be taking part in one last ride with the Cubs. Zobrist touched on his aspirations for the remainder of the season, which he previously shared with Cubs President of Baseball Operations Theo Epstein.
Zobrist said, "I told Theo, 'While I'm here, I'll give you everything I got. And as soon as I'm out the door, I'm out the door.' He gets 100 percent while I'm here."
More Ben Zobrist video. #Cubs pic.twitter.com/EPxtl1qQ66

— Brian Sandalow (@BrianSandalow) September 1, 2019
The press also questioned Zobrist on his wife, Julianna, and their rumored divorce. Zobrist replied that he is hoping to repair the relationship with Julianna and said that he stepped away from baseball because he knew that he would be unable to be completely focused on the game while dealing with the personal issues.
"You don't plan for struggles or anything like that, but there's no perfect family in life," said Zobrist. "There's no perfect scenario. I'm fortunate in that I'm not alone. I have so much support."
Zobrist said he came and spoke to the team in June to explain his situation. By mid-July he realized if he were going to come back baseball activities would need to resume. He'd been working out up until then, but no baseball work.

— Sahadev Sharma (@sahadevsharma) September 1, 2019
When talking about the reasoning behind his return, Zobrist told the press that he did not feel like he had "anything to prove" as it pertains to his baseball career and simply chalked it up as wanting to resume playing the game that he loves.
"I don't think I have anything to prove, personally, with my career or to anybody else," Zobrist said. "My priorities have always been the same. My faith's important, my family's important, and my career comes after those two things."
Zobrist is expected to garner several starts for the Cubs in September and is also slated to be in the rotation of leadoff hitters for the Cubs during their playoff push. Offering a reality check, Zobrist admitted that he will need to fine-tune his swing after spending so much time away from the big leagues but is confident that he can once again serve as an effective hitter.
"I'm in a good place, physically," said Zobrist, "but my swing, timing-wise, is probably not where I'd love it to be. But that's the kind of thing that changes daily. In season, it changes daily, whether you've been playing for five months by now or not. I'll do the best I can to catch fire."