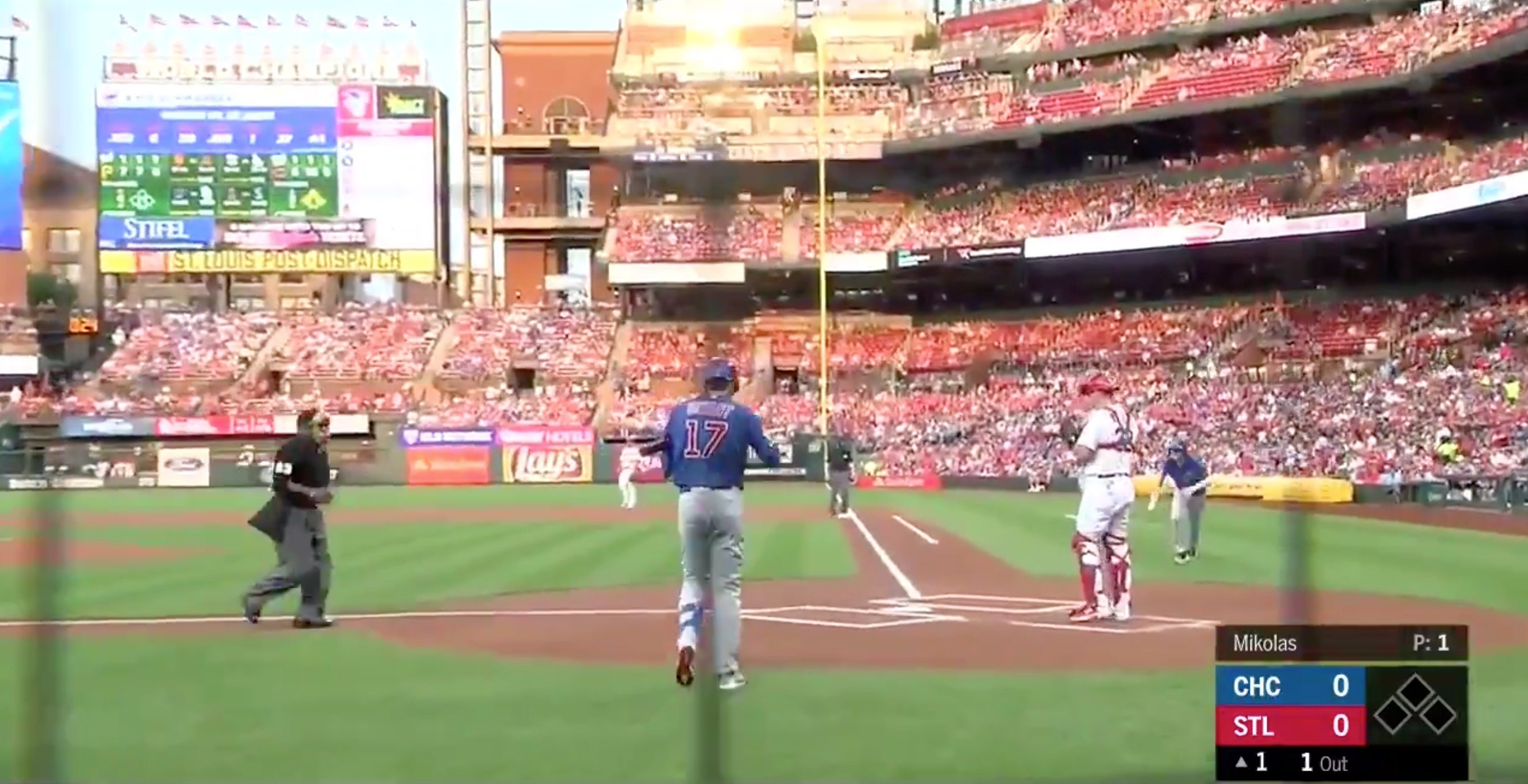 | | |
| --- | --- |
| Cubs News: Bryant calls out Rizzo when asked about being booed by his own team | |
---
| | | |
| --- | --- | --- |
| Saturday, June 1, 2019, 1:50 AM | | |
"Of course, 'Rizz' was behind all that."
That was Chicago Cubs third baseman Kris Bryant's initial response when asked during his postgame media session on Friday night about being booed by his own team. Revealing teammate and best bud Anthony Rizzo, the fun-loving Cubs first baseman, to be the culprit behind the orchestrated booing from the Cubs' dugout, Bryant could not help but laugh when talking about the comical incident.
"I wanted to look to see who all was doing it," Bryant said about his own coaches and teammates booing him, "but we were just having fun with it. To see all the guys join in, it was pretty funny."
In response to calling the city of St. Louis "boring" during an interview at Cubs Convention in the offseason, Bryant was heavily booed by St. Louis Cardinals fans throughout the Cubs' first contest of the season at Busch Stadium on Friday. When Bryant stepped up to the plate for his at-bat in the opening inning, the booing was quite loud, and the Cubs added to it by playfully joining in from the dugout. Unsurprisingly, Rizzo, the team jokester, put everyone up to it.
When asked if he could adequately enact revenge on Rizzo for the prank, Bryant said, "I don't know if I can top that. That was really impressive that he gathered everybody. He even told the bullpen guys to get in on it, but I don't know if they did."
#Cubs having some fun in the dugout knowing what the reaction in STL would be for their guy @KrisBryant_23...??????????????????#MLB pic.twitter.com/jhrVfGypzf

— Kelly Crull (@Kelly_Crull) June 1, 2019
Bryant was also impressed by the cacophony of boos that Cardinals supporters showered with him throughout each of his five plate appearances on the evening. Bryant showed the passionate fans up by hitting a single in the top of the first, but he failed to get on base the rest of the way.
"They were really loud," Bryant said about the boo birds at Busch Stadium. "It was impressive. The stuff I heard today wasn't personal. It was just booing. That's what it should be about."
Back visiting
Our old
Rivals
In St. Louis.
Nice that we've finally
Given locals something to do. pic.twitter.com/PKgbz2V5V0

— Chicago Cubs (@Cubs) June 1, 2019
The impetus for the booing was Bryant's declaration that St. Louis was a boring place without much to do. Bryant claimed at Cubs Convention that he is typically bored during his down time in St. Louis when the Cubs come to town for a series. Since the Cubs arrived in "The Lou" on their off day on Thursday, a reporter asked Bryant following Friday's game what he did to pass the time on Thursday.
"Do I have to answer that?" Bryant playfully asked the reporter. "I didn't do much. I really just rested and recovered."
"I'm like, zero chance in hell. Nothing. No way. Won't even go there as a free agent. Not happening." — Ryan Dempster

"Boring. So boring." — Kris Bryant

Yadier Molina not happy with comments by Bryant and Dempster regarding St. Louis at the annual Cubs Convention pic.twitter.com/irfjz5Hsly

— Sports Illustrated (@SInow) January 19, 2019
Although he is admittedly tired of answering questions about the rather menial controversy, Bryant acknowledged that it will "never really be over," as Cardinals fans are going to continue booing and may never let Bryant live his St. Louis slander down. Bryant is totally fine with that, though, and he thinks that it is an example of what makes rivalries in Major League Baseball so great.
"It's all in good fun," Bryant said. "That's what it's all about."