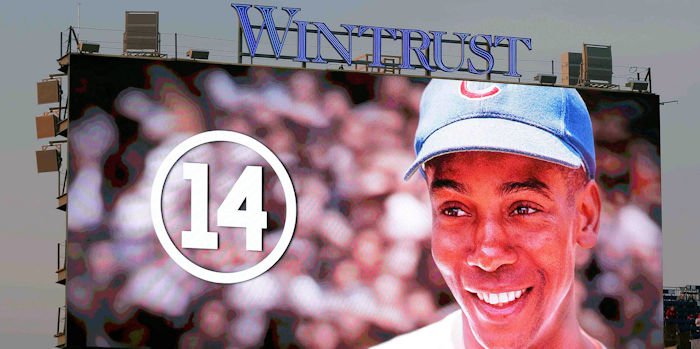 | | |
| --- | --- |
| Chicago Cubs to pay homage to historic 1969 team | |
---
| | | |
| --- | --- | --- |
| Tuesday, August 27, 2019, 11:46 AM | | |
CHICAGO – In celebration of the 50th anniversary of the historic 1969 team, the Chicago Cubs debuted today an interactive web documentary titled "1969 Cubs" that interlaces the story of what Hall of Famer Billy Williams referred to as the "most talked about team that ever finished second" with key historical moments from the moon landing to Woodstock and more.
Through historical articles, archived footage and captivating documentary-style videos that include never-before-seen interviews with beloved Hall of Famers Ernie Banks and Ron Santo, "1969 Cubs" delivers a truly immersive storytelling experience, conveyed through hand-drawn mobile animations, for fans of the team and U.S. history.
"Cubs fans are special in the way they not only support the team on the field today, but also in the way they respect and honor the history and traditions of the past," said Cubs Vice President of Marketing Lauren Fritts. "The beauty of baseball is the generational nature of the fan base, and it is our responsibility to ensure we explore these historic moments in thoughtful ways that will resonate with fans who were there to witness it firsthand as well as for those who are learning about it for the first time."
"1969 Cubs" is the first installment of a new series from the Cubs called "Timeless" that highlights the rich, authentic and timeless stories of the baseball club. Additional installments will be released at a later date.
"'Timeless' is going to be a great storytelling platform for Cubs Productions," said Matt Romito, executive producer, Cubs Productions. "We're excited to be able to tap into one of the richest story banks in all of professional sports and bring the authentic history of the Cubs and Wrigley Field to life for new and current fans."
Broken out into five chapters, the interactive web documentary touches on key moments in history that impacted the Cubs, its fans and the nation in 1969.
• Chapter one titled "Time for a Change" tells the story of the summer of 1969 and how Wrigley Field became the breeding ground for "Cubs Fever."
• Chapter two titled "Shoot for the Moon" highlights the historic moon landing and the pennant race between the Cubs and the New York Mets.
• Chapter three titled "Bunch of Bums" details the rise of the iconic and jubilant Wrigley Field Bleacher Bums during the counterculture movement of the 1960s.
• Chapter four titled "Cub Power" speaks to the growing popularity of the 1969 team and the creation of their debut album which was released at a time when music played a major role in society.
• Chapter five titled "End of an Era" recounts the rise of the red-hot Mets and the demise of the Cubs' season.
Starting today, fans can experience the first installment of the "Timeless" series at www.1969ChicagoCubs.com.
A historic season. A summer for the ages. Take a scroll through history in this interactive documentary of the beloved 1969 Cubs: https://t.co/NnTq1Wtg4y. pic.twitter.com/wp24Qy3362

— Chicago Cubs (@Cubs) August 27, 2019