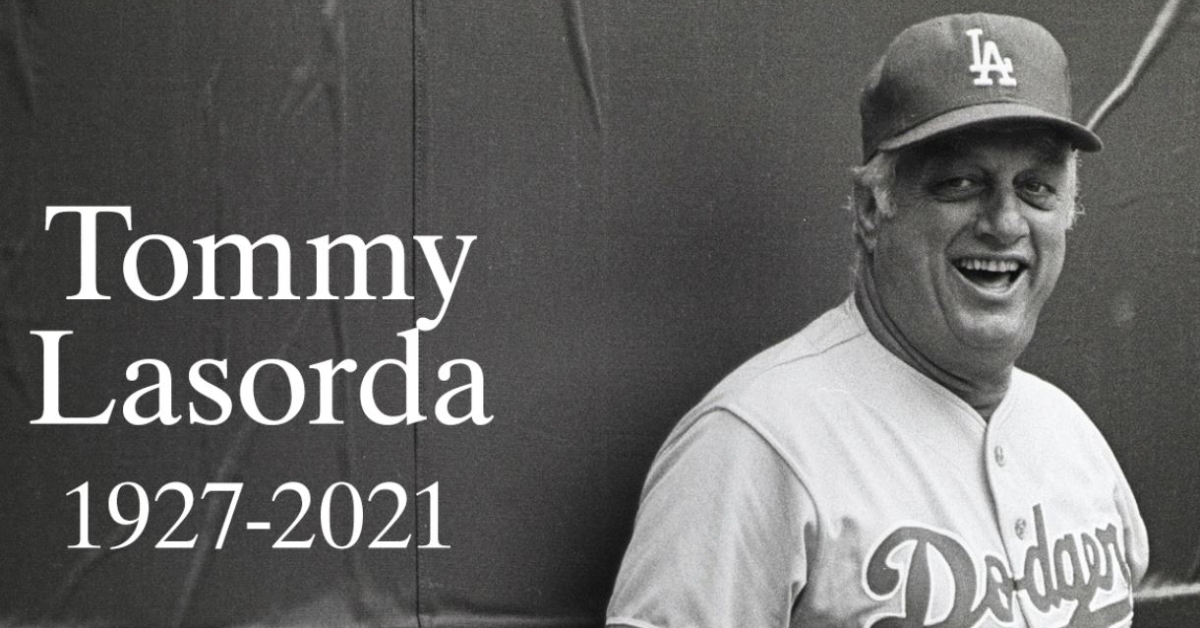 | | |
| --- | --- |
| Cubs News: Hall of Fame manager Tommy Lasorda passes away | |
---
| | | |
| --- | --- | --- |
| Friday, January 8, 2021, 11:56 AM | | |
Sad news to report today.
Hall of Fame manager Tommy Lasorda has passed away on Friday at the age of 93, announced by the Los Angeles Dodgers.
Lasorda suffered a cardiopulmonary arrest at his home last night and was transported to the hospital but was pronounced dead at 10:57 p.m.
He worked for the Dodgers in some capacity for an amazing 71 years.
The Dodgers released the following statement about one of the most beloved icons of all-time:
"My family, my partners and I were blessed to have spent a lot of time with Tommy," Dodgers owner Mark Walter said in a statement. "He was a great ambassador for the team and baseball, a mentor to players and coaches, he always had time for an autograph and a story for his many fans and he was a good friend. He will be dearly missed."
"In a franchise that has celebrated such great legends of the game, no one who wore the uniform embodied the Dodger spirit as much as Tommy Lasorda," Dodger president and CEO Stan Kasten said. "A tireless spokesman for baseball, his dedication to the sport and the team he loved was unmatched. He was a champion who at critical moments seemingly willed his teams to victory. The Dodgers and their fans will miss him terribly. Tommy is quite simply irreplaceable and unforgettable."
"There are two things about Tommy I will always remember," former Hall of Fame broadcaster Vin Scully said. "The first is his boundless enthusiasm. Tommy would get up in the morning full of beans and maintain that as long as he was with anybody else.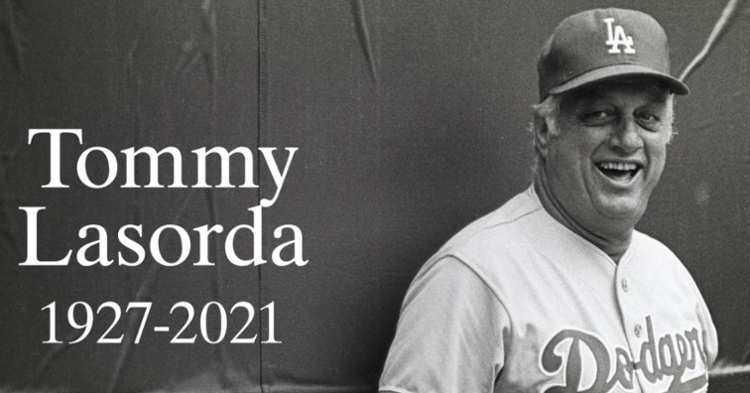 "The other was his determination. He was a fellow with limited ability and he pushed himself to be a very good Triple-A pitcher. He never quite had that something extra that makes a major leaguer, but it wasn't because he didn't try. Those are some of the things: his competitive spirit, his determination, and above all, this boundless energy and self-belief. His heart was bigger than his talent and there were no foul lines for his enthusiasm."
MLB commissioner Robert Manfred Jr. released a heartfelt statement about Lasorda's passing.
"Tommy Lasorda was one of the finest managers our game has ever known. He loved life as a Dodger. His career began as a pitcher in 1949 but he is, of course, best known as the manager of two World Series Champions and four pennant-winning clubs. His passion, success, charisma and sense of humor turned him into an international celebrity, a stature that he used to grow our sport. Tommy welcomed Dodger players from Mexico, the Dominican Republic, Japan, South Korea and elsewhere – making baseball a stronger, more diverse and better game. He served Major League Baseball as the Global Ambassador for the first two editions of the World Baseball Classic and managed Team USA to gold in the 2000 Summer Olympics in Sydney. Tommy loved family, the United States, the National Pastime and the Dodgers, and he made them all proud during a memorable baseball life.
"I am extremely fortunate to have developed a wonderful friendship with Tommy and will miss him. It feels appropriate that in his final months, he saw his beloved Dodgers win the World Series for the first time since his 1988 team. On behalf of Major League Baseball, I send my deepest sympathy to his wife of 70 years, Jo, and their entire family, the Dodger organization and their generations of loyal fans."
Lasorda had a career record of 1599-1439 as a manager for the Dodgers from 1976-1996.
More to come on this breaking news.
We join all of baseball in mourning the loss of @Dodgers icon Tommy Lasorda.

Always a friendly face at the Confines. ?? pic.twitter.com/0cclv3Lkbf

— Chicago Cubs (@Cubs) January 8, 2021
I'm Saddened to hear of the passing of the great Tommy Lasorda, Mr. Dodger. My thoughts and prayers are with the Lasorda Family. pic.twitter.com/J2jjCzZVYl

— Fergie Jenkins (@fergieajenkins) January 8, 2021
Rest in peace, Tommy Lasorda. ?? pic.twitter.com/nNjIVB3Qbe

— The Players' Tribune (@PlayersTribune) January 8, 2021
Hall of Fame manager Tommy Lasorda has died at the age of 93, the Dodgers announced Friday. https://t.co/OFego3Otm3 pic.twitter.com/opHJPJqJO9

— SportsCenter (@SportsCenter) January 8, 2021
#FightOnForever, Tommy Lasorda.

The #TrojanFamily sends its condolences to the @Dodgers and the Lasorda family on the loss of an LA icon. pic.twitter.com/ioJdSE3u8d

— USC Trojans (@USC_Athletics) January 8, 2021
Tommy Lasorda has passed away at the age of 93.

We celebrate the life of the legendary Dodgers manager on 710 AM ESPN https://t.co/Wda75IMccI | #ThankYouTommy pic.twitter.com/cyylDhPKAF

— ESPN Los Angeles (@ESPNLosAngeles) January 8, 2021
RIP #TommyLasorda pic.twitter.com/hDYC2MlU6F

— BaseballHistoryNut (@nut_history) January 8, 2021
Super Sky Point to Tommy Lasorda. I'm sure 'The Big Dodger in the Sky' has already greeted him with a plate of linguini and congratulations on a job well done. #RIP pic.twitter.com/AVZZOvj4TA

— Super 70s Sports (@Super70sSports) January 8, 2021
Hall of Fame Dodgers Manager, LA icon, and my great friend Tommy Lasorda passed away late last night. For the last 8 years I've sat next to Tommy at every Dodgers game and he taught me invaluable lessons on the strategy and history of baseball. pic.twitter.com/6RxmoQ7Che

— Earvin Magic Johnson (@MagicJohnson) January 8, 2021
no one loved anything more than Tommy Lasorda loved the @Dodgers - it was a thrill to know him. Sending love to his family, friends, players and fans.

— Jimmy Kimmel (@jimmykimmel) January 8, 2021