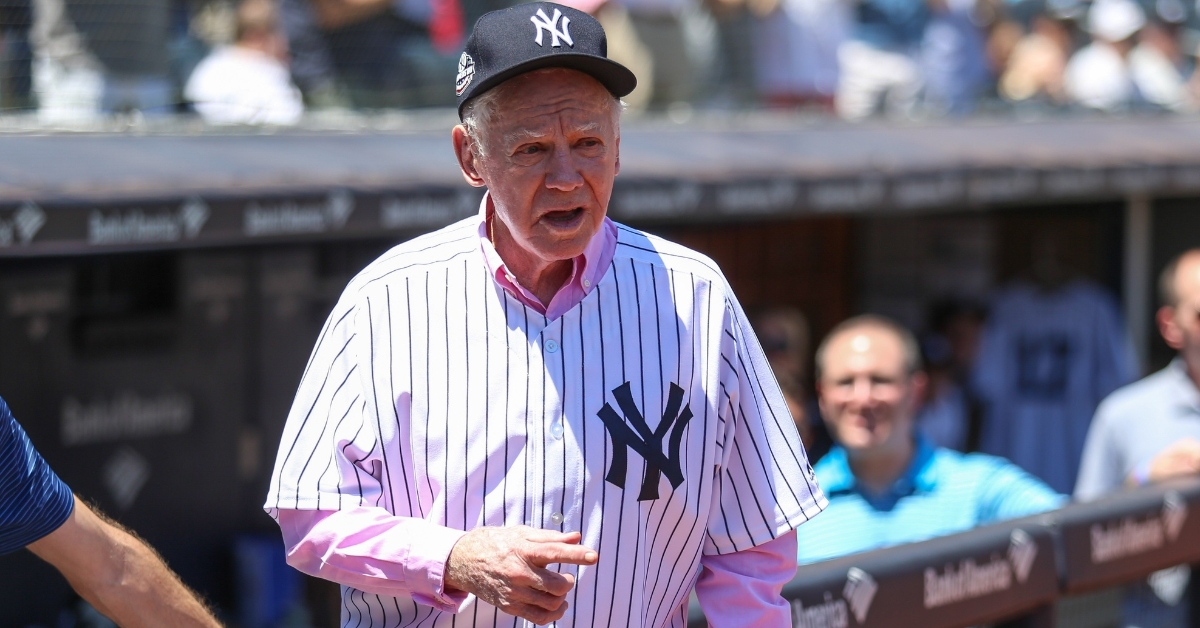 | | |
| --- | --- |
| Cubs News: Hall-of-Famer Whitey Ford passes away | |
---
| | | |
| --- | --- | --- |
| Friday, October 9, 2020, 12:45 PM | | |
The New York Yankees announced on Thursday that Hall-of-Fame pitcher Whitey Ford has died at the age of 91.
"The Yankees are incredibly saddened to learn of the passing of Hall of Famer Whitey Ford," the statement read. "Whitey spent his entire 16-year career as a Yankee. A 6x WS Champion and 10x All-Star, The Chairman of the Board was one of the best lefties to ever toe the rubber. He will be deeply missed."
MLB released the following statement on the passing of the 1961 American League Cy Young Award winner:
"Today all of Major League Baseball mourns the loss of Whitey Ford, a New York City native who became a legend for his hometown team. Whitey earned his status as the ace of some of the most memorable teams in our sport's rich history. Beyond the Chairman of the Board's excellence on the mound, he was a distinguished ambassador for our National Pastime throughout his life. I extend my deepest condolences to Whitey's family, his friends and admirers throughout our game, and all fans of the Yankees."
CubsHQ would like to give our heartfelt condolences to the family and friends of the iconic pitcher.
Rest in Peace Whitey Ford. #RIPWhiteyFord pic.twitter.com/EkTqLWZ386

— Baseball In Pics (@baseballinpix) October 9, 2020
Rest In Peace old friend. We're forever grateful for your legacy. #whiteyford pic.twitter.com/LU7srPznQq

— 70sYankees (@70sYankees) October 9, 2020
We mourn the passing of Edward Charles "Whitey" Ford, a Hall of Famer and six-time World Series champion. He was 91. pic.twitter.com/pPE2u4Qcp1

— MLB (@MLB) October 9, 2020
Whitey Ford (1928-2020): pic.twitter.com/ixKeek84aY

— Michael Beschloss (@BeschlossDC) October 9, 2020
Terrible News,The Greatest Yankee Pitcher of All Time Whitey Ford has passed away at age 91,#Yankees #HOF #RIPWhiteyFord #2020worstyear pic.twitter.com/kFHuIzdfTe

— Tom's Old Days (@sigg20) October 9, 2020
We're so saddened to learn of the passing of Yankee legend Whitey Ford ?? Our thoughts are with Whitey's family, friends and the entire MLB community who loved him.

(Pictured here is Whitey's 1960 Topps card, which was number 35 in the set.) pic.twitter.com/4VvRHVPI5E

— Topps (@Topps) October 9, 2020
You kind of took it for granted around the Yankees that there was always going to be baseball in October. -Whitey Ford pic.twitter.com/sp4j0pFnTz

— Baseball Quotes (@BaseballQuotes1) October 9, 2020
Our thoughts and prayers are with the Ford family and the @Yankees family mourning the loss of Whitey Ford today at the age of 91. Ford was inducted into the @IBM Binghamton Baseball Shrine in 1995. He will be missed to all that knew him. pic.twitter.com/GQtjF12N5w

— Binghamton Rumble Ponies (@RumblePoniesBB) October 9, 2020
New York #Yankees stars Mickey Mantle, Yogi Berra, Whitey Ford & Moose Skowron sing "Take Me Out to the Ball Game" with lyricist Jack Norworth on a classic episode of "The Ed Sullivan Show"! (1958) #MLB #Baseball #History pic.twitter.com/HgsYnGnVLU

— Baseball by BSmile (@BSmile) October 9, 2020
You would be amazed how many important outs you can get by working the count down to where the hitter is sure you're going to throw to his weakness, and then throw to his power instead. -Whitey Ford pic.twitter.com/ZB2hQ788RH

— Baseball Quotes (@BaseballQuotes1) October 9, 2020
Classic Wiffle Ball commercial starring legendary New York #Yankees ace pitcher Whitey Ford! #MLB #Baseball #History pic.twitter.com/mN0lvW4re6

— Baseball by BSmile (@BSmile) September 10, 2020
As an 18-year-old, Whitey Ford fielded his own offers from MLB teams. The Boston Red Sox offered for sign him for $3,000, the NY Giants $6,000 and his favorite team the Yankees offered $7,000.

He still holds the record for the most wins by a Yankee pitcher (236) #RIP pic.twitter.com/b0bsjUIp68

— Darren Rovell (@darrenrovell) October 9, 2020
Whitey Ford won 9 games for as a rookie for the Yankees in 1950. He then enlisted in the Army during the Korean War and served for two years before coming back to the Yankees for 15 seasons #RIP pic.twitter.com/BRoT4RuDjS

— Darren Rovell (@darrenrovell) October 9, 2020