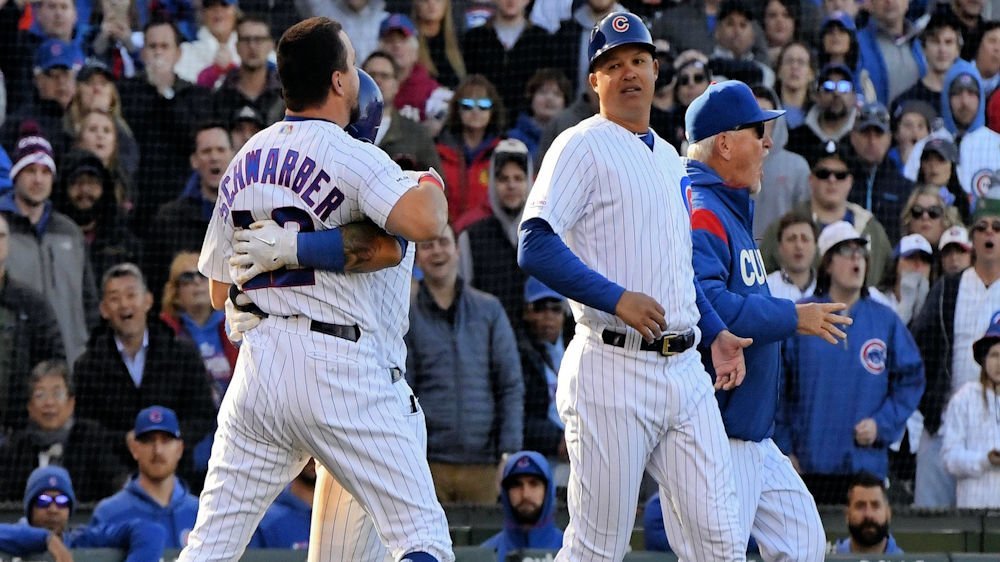 | | |
| --- | --- |
| Cubs News: Javy Baez on blocking angry Schwarber from umpire | |
---
| | | |
| --- | --- | --- |
| Sunday, April 14, 2019, 10:33 PM | | |
Kyle Schwarber was not a happy camper when his checked swing was called a third strike to end the game during Saturday's 6-5 loss to the Angels.
Schwarber went full Hulk at the third base umpire as he went after him, but he was blocked out by the much smaller and faster Javier 'El Mago' Baez.
Baez told reporters after the game about him slowing down Schwarber from getting into an even more intense altercation with the ump.
"He's a pretty big dude," Baez said. "And he played football. I never played football in my life. He kind of took me with him, but I held him pretty good. He moved to the side pretty good. He almost got by me. I played good defense."
Good job by El Mago from saving his teammate from a considerable fine and possible suspension if things would have escalated further by Schwarbs. Sometimes it's better to go into the clubhouse and just take your frustrations out privately on a Gatorade cooler.
Schwarber told reporters how he felt on the final play.
"I just didn't like the way it ended. Grinding out an at-bat against that guy. It's a big situation right there and worked him and got in a hitter's count and spit some pitches and then you gotta battle against him. I thought I didn't go and he thought I did."
"I was a little hot. Able to calm down now, but I wasn't the happiest person in the world."
Watch @kschwarb12 lose his mind as he's called out on a check swing to end the game by 3rd base ump Gabe Morales. Terrible call. @Cubs #GoCubsGo pic.twitter.com/dXCQaA6Bis

— Billy Krumb (@ClubhouseCancer) April 13, 2019