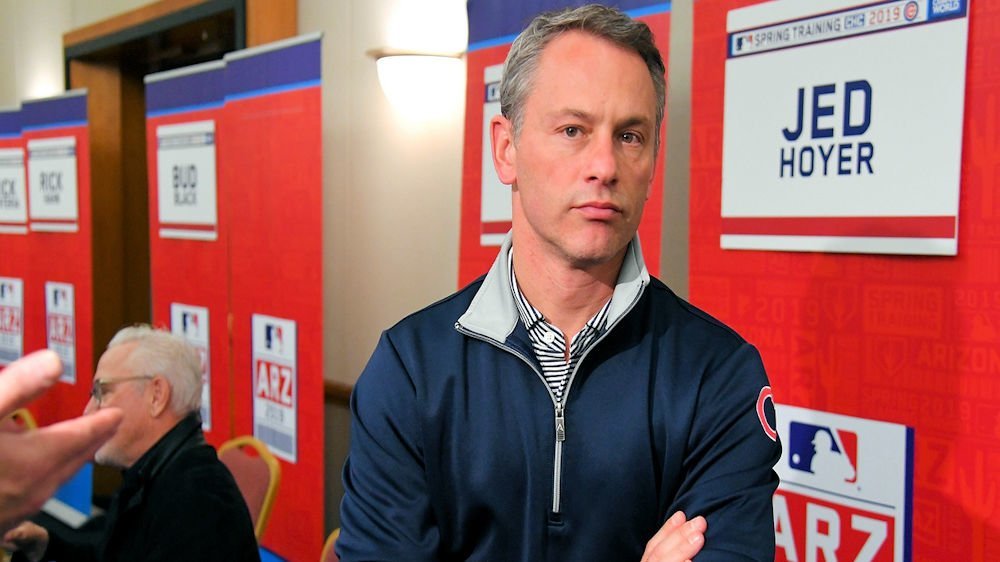 | | |
| --- | --- |
| Cubs News: Jed Hoyer reacts to 1-4 start: "It's not a lot of fun" | |
---
| | | |
| --- | --- | --- |
| Thursday, April 4, 2019, 12:33 PM | | |
The Cubs are off to a 1-4 start to the dismay of their passionate fanbase who are hoping for a deep playoff run this season.
Cubs general manager Jed Hoyer was on 670 The Score's Bernstein & McKnight show on Thursday afternoon and talked about the early season bullpen struggles (8.83 ERA).
"The good news is we probably should've won four of the five games. The seventh and eighth innings have just killed us."
Hoyer knows that the fun is in the winning.
"We need to get back to having fun. Right now, it's not a lot of fun."
Hoyer was asked if Craig Kimbrel or some other external help would be coming for the bullpen in the coming days.
"Like I said before, we have guys that have long track records of success, guys that have pitched in a ton of big games in the postseason," he said. "Our focus has to be on getting those guys right. We have some guys on the DL right now that we think can also come and help us. We have guys in (Triple-A) Iowa who almost made our team that had really good springs that can help us. I feel like right now we're focused on the guys who are on the 25-man roster. We know we're going to need a lot of pitchers to get through the season. Like I said, some of those will come off the DL, some of those will come from Iowa. But that's our focus. Are we spending a lot of time trying to figure that out? Absolutely. But our focus is not on what's out there. It's on what we have."
Hoyer thinks that young catcher Willson Contreras is one of the keys to the team as long as he can handle the ups and downs of a long season.
"No one wants to win more," he said about Contreras. "He's competitive to a fault. He wants to succeed for the team so badly. He's going to mature into a player that will learn to have a better perspective on his struggles. You want players like that."