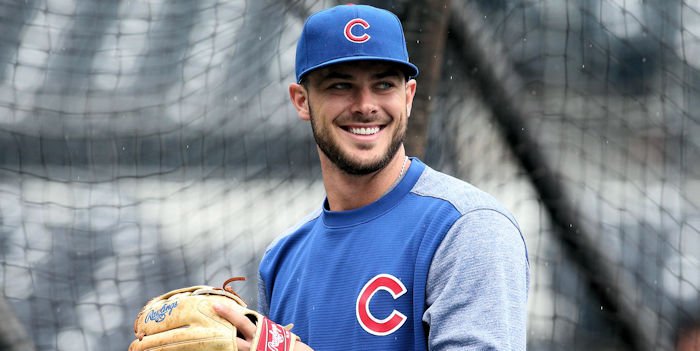 | | |
| --- | --- |
| Cubs News: Kris Bryant offers to bat leadoff, expects to get a chance | |
---
| | | |
| --- | --- | --- |
| Wednesday, February 19, 2020, 10:48 AM | | |
Kris Bryant is ready to roll this season.
The former MVP told reporters on Wednesday morning that he has told manager David Ross that he would bat leadoff to help the ball club and reportedly will get a chance according to multiple reports.
"I think the past 3 years we haven't really had someone that was stuck in the leadoff hole stayed there," Bryant said via the Chicago-Sun Times. "I think we totally took Dexter for granted while he was here. I certainly did, because he was up there working great at-bats. He was always on base. I think we have so much turnover, just trying certain guys out, you don't get that consistency," he said. "If I need to be the guy that's up there that's going to be consistent and get on base, I'll be that guy."
Bryant thinks batting leadoff will give him more opportunities to make an impact on the game.
"I also am excited about getting that extra at-bat leading off."
Despite being a power hitter, Bryant has experience leading off as he did it his junior year at the University of San Diego in which he won the College Player of the Year award.
"I love to do everything," he said. "I've always said that. I love doing anything I can to help the team win."
Bryant has a lifetime .385 on-base percentage which is solid for at the top of the order batter. He has a total of 7 career games at leadoff where he was 9-for-28.
I like Kris Bryant batting in the lead-off spot. It showcases his versatility, shows unselfishness in embracing the role and puts one of #Cubs' best hitters at top of the order. It might not be long-term solution but feels less experimental—and more logical—than Schwarber there.

— David Haugh (@DavidHaugh) February 19, 2020
Bryant 7 career games at leadoff spot, 9-for-28 (.321), .387 OBP, 1 bb, 10 K's. Also batted leadoff during parts of three seasons at U. of San Diego. https://t.co/LypiZG7BpS

— Mark Gonzales (@MDGonzales) February 19, 2020
Having Báez at three might be my favorite part of what this setup allows. You don't necessarily want to rely on him for OBP, but you DO want him up there with guys on base as often as possible.

— Bleacher Nation (@BleacherNation) February 19, 2020
Leading off for the @Cubs, the third baseman, number 17, Kris Bryant! #StrapItOn @BleacherNation pic.twitter.com/UYMNZbvTrL

— MBDChicago (@MBDChicago) February 19, 2020