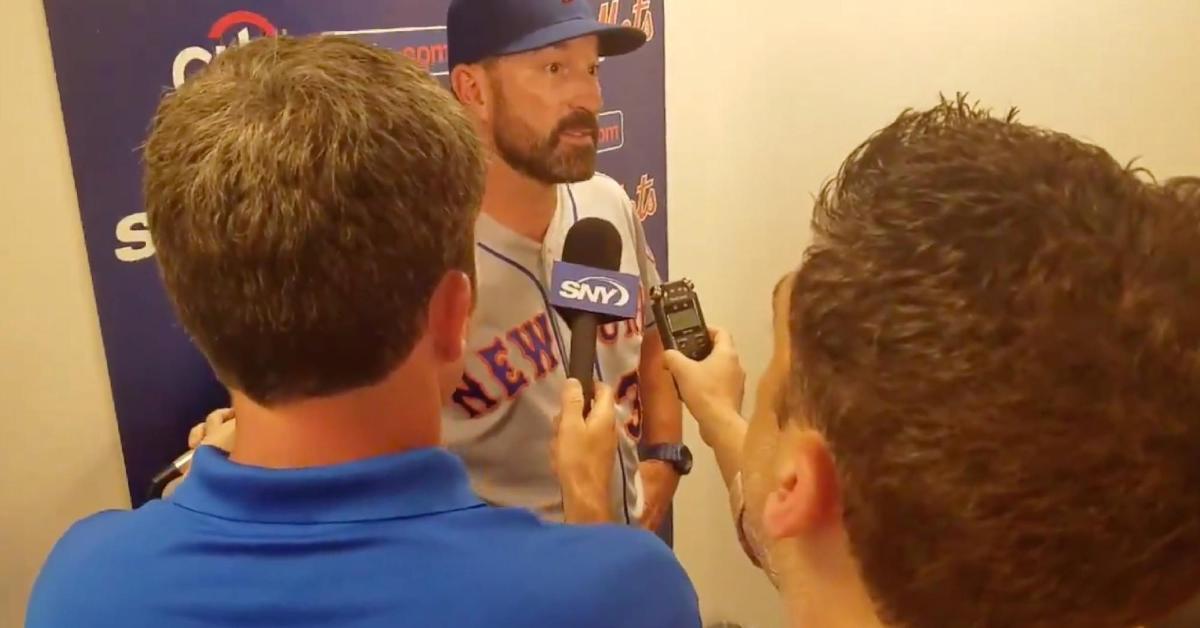 | | |
| --- | --- |
| Mets manager reportedly cusses out reporter while Mets starting pitcher tries to fight him | |
---
| | | |
| --- | --- | --- |
| Sunday, June 23, 2019, 6:45 PM | | |
CHICAGO — Following a frustrating 5-3 loss to the Chicago Cubs on Sunday, in which Cubs shortstop Javier Baez hit a game-winning 3-run home run in the bottom of the eighth, the New York Mets were far from happy in the visiting locker room at Wrigley Field. That unhappiness boiled over into sheer rage, with Mets manager Mickey Callaway and Mets starting pitcher Jason Vargas both getting into heated exchanges with a reporter.
Callaway seemed frustrated when reporters asked him about not inserting star closer Edwin Diaz into the game prior to Baez hitting the go-ahead blast off reliever Seth Lugo, who had been in since the early goings of the bottom half of the seventh inning. While there is no existing video at the moment of the heated exchange that stemmed from Callaway's frustration, multiple sources who were present in the locker room at the time of hubbub reported that Callaway became irate when Newsday reporter Tim Healey made a remark that did not sit well with him.
Callaway on Diaz pic.twitter.com/iE0pfRcsPm

— Matt Ehalt (@MattEhalt) June 23, 2019
Reportedly, Callaway proceeded to curse Healey out, which led to Vargas, who is known for being fiery, charging after Healey and challenging him to a fight. Several of Vargas' teammates had to hold Vargas back in order to prevent him from confronting Healey, and, afterward, Callaway ordered the Mets public relations staff that was on hand to remove Healey from the locker room.
Mickey Callaway and Jason Vargas just cursed out, and in Vargas case, challenged a reporter to a fight in the clubhouse.

— Matt Ehalt (@MattEhalt) June 23, 2019
Vargas then got into a shouting match with the reporter, over a staredown, and said at one point: "Ill knock you the f*** out, bro."

He charged such reporter and had to held back by Gomez and Syndergaard.

— Matt Ehalt (@MattEhalt) June 23, 2019
There were no punches thrown in this incident.

But, after a really bad, 5-3, loss to the Cubs, the manager cursed out a reporter and a starting pitcher told the reporter he'd knock him out.

— Matt Ehalt (@MattEhalt) June 23, 2019
Matt Ehalt, a Mets beat writer for Yahoo Sports, and Justin Toscano, a Mets beat writer for The Record, both tweeted that Healey simply told Callaway that he would see him tomorrow, which, according to Ehalt, is normal for Healey and other reporters to say to Callaway, as well as one another, when the Mets are about to travel. In this case, the Mets are flying out to Philadelphia for a series against the Philadelphia Phillies that begins tomorrow night, so Healey's remark made total sense.
The reporter in question did nothing wrong.

He says that to everyone every day.

We all tell people "see ya tomorrow" or "safe travels" when they are boarding the plane to the next city.

He was in no way out of line.

— Matt Ehalt (@MattEhalt) June 23, 2019
The reporter said: "See you tomorrow, Mickey."

Mickey: "Don't be a smart***." I heard him mouth "mother******" under his breath as he walked away. Then it continued when Mickey came back. He thought the reporter was "antagonizing" people. https://t.co/SigjUVG0D4

— Justin Toscano (@JustinCToscano) June 23, 2019
From what I saw, Jason Vargas went from 0-100. The reporter did not do anything to him, though Vargas thought the reporter "gestured" at him.

"I'll knock you the f*** out, bro!" Vargas shouted.

— Justin Toscano (@JustinCToscano) June 23, 2019
Mickey Callaway eventually asked for the reporter to be removed from the clubhouse.

Jason Vargas: "He'll be here tomorrow! But get him the **** out of here today!"

— Justin Toscano (@JustinCToscano) June 23, 2019
And yes, Jason Vargas actually charged said reporter. He had to be restrained by teammates near the clubhouse couches.

— Justin Toscano (@JustinCToscano) June 23, 2019
Context: Before the mess in the clubhouse, Mickey Callaway was not particularly happy with questions asked about Edwin Diaz not being used for five outs.

"Because you think we should?" he responded to one reporter at one point. He seemed real irked.

— Justin Toscano (@JustinCToscano) June 23, 2019
The Mets organization released an apologetic statement after the fact that reads, "The Mets sincerely regret the incident that took place with one of our beat writers following today's game in the clubhouse. We do not condone this type of behavior from any employee."
The Mets have released a statement following this evening's incident.#LGM pic.twitter.com/kakhxUw9Fp

— Anthony DiGiorno (@DigiornoAnthony) June 23, 2019
Statement from the Mets: pic.twitter.com/RPLO1o4axD

— Tim Britton (@TimBritton) June 24, 2019
Update: The Mets fined Callaway and Vargas for their roles in the incident, and Callaway and Mets general manager Brodie Van Wagenen publicly apologized for the unfortunate occurrence. Vargas was less apologetic, telling reporters that he simply wanted to move on when asked about his confrontation with Healey.