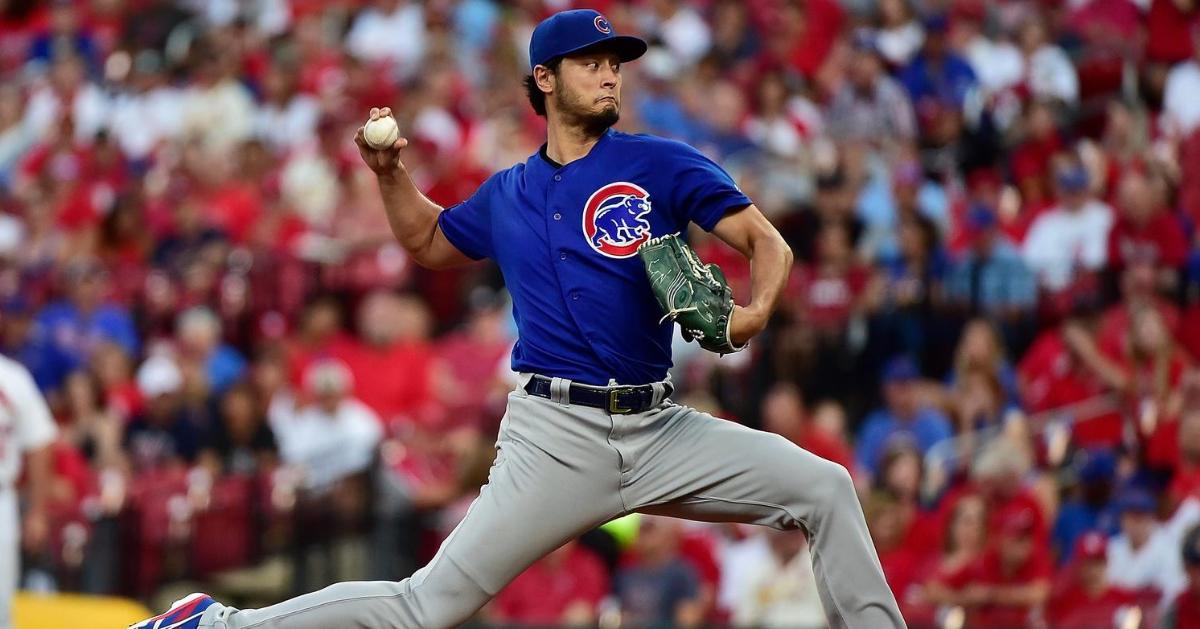 | | |
| --- | --- |
| Nicholas Castellanos, Yu Darvish address their Cubs futures | |
---
| | | |
| --- | --- | --- |
| Sunday, September 29, 2019, 11:33 AM | | |
ST. LOUIS — The Chicago Cubs' front office is in for a busy offseason. While the questions regarding Joe Maddon's status as the manager loom the largest, the contract situations surrounding right fielder Nicholas Castellanos and starting pitcher Yu Darvish are also quite conspicuous. Castellanos, whom the Cubs traded for at the trade deadline, is set to become a free agent at season's end, and Darvish, who has pitched better than any Cubs starter since the All-Star break, will be able to opt out of his contract, should he choose to do so.
Castellanos suffered a groin strain during warmups prior to the Cubs' matchup at Busch Stadium against the St. Louis Cardinals on Friday. Therefore, his season was likely brought to a premature close, as he did not play on Friday or Saturday and is not expected to play in Sunday's season finale. That might not signify the last of Castellanos donning a Cubs uniform, though, as he told reporters that he greatly enjoyed his Cubs experience and felt like it got the best out of him.
Heading into the final day of the regular season, Castellanos leads the majors with 58 doubles, 21 of which were tallied after the Detroit Tigers dealt him to the Cubs on July 31. The 27-year-old outfielder is certain to draw plenty of lucrative offers on the free-agent market, but, based on his comments about how much he has enjoyed his time with the Cubs, the North Siders might have a leg up on the competition.
When asked if he'd like to be back with Cubs, Nick Castellanos replied: "What do you think?"

Said the past two months with Chicago taught him a lot about himself. Raved about Cubs fans and the talent in the room. Felt the heightened pressure/expectations brought best out of him.

— Jordan Bastian (@MLBastian) September 28, 2019
As for Darvish, the right-hander has come into his own over the course of the second half of the season, moving past all of the injury issues and bad-luck starts that plagued his Cubs tenure prior to that. Darvish has put together a deceptively mediocre 6-8 record and 3.29 ERA this year, with the 33-year-old producing some of the greatest starts in Cubs history these last few months. Prior to being scratched from his final start as a precautionary measure pertaining to the forearm tightness that he recently experienced, Darvish struck out a grand total of 229 batters in 2019, including a combined 39 strikeouts from his three most recent starts.
In the offseason, Darvish will have the opportunity to opt out of the remainder of his six-year, $126 million contract that he signed with the Cubs in February of 2018. Based on how well Darvish has pitched as of late, he would almost certainly generate plenty of interest on the free-agent market, but, due to injury concerns, he might not receive as hefty of a contract as the one that he is currently under with the Cubs.
With that being said, Darvish recently told reporters that he had yet to decide on whether or not to opt out but also revealed that, because of how much the Cubs organization helped him get his career back on track, as well as how much his family loves Chicago and the Cubs franchise, he was leaning toward not opting out. If the Cubs are to compete for a World Series in 2020, with or without Maddon, Castellanos and Darvish returning to the mix would greatly help the Cubbies achieve that goal. For now, Cubs executives and fans alike will have to hold out hope that the Cubs experience is enough to convince Castellanos and Darvish to stay.
Here's Darvish's quote on the topic:

"I haven't decided yet. I have to talk to my family and agent, too. My kids and my wife love Chicago, especially the kids. They only care about the Cubbies. So, I don't think [I will opt out]."

— Jordan Bastian (@MLBastian) September 27, 2019