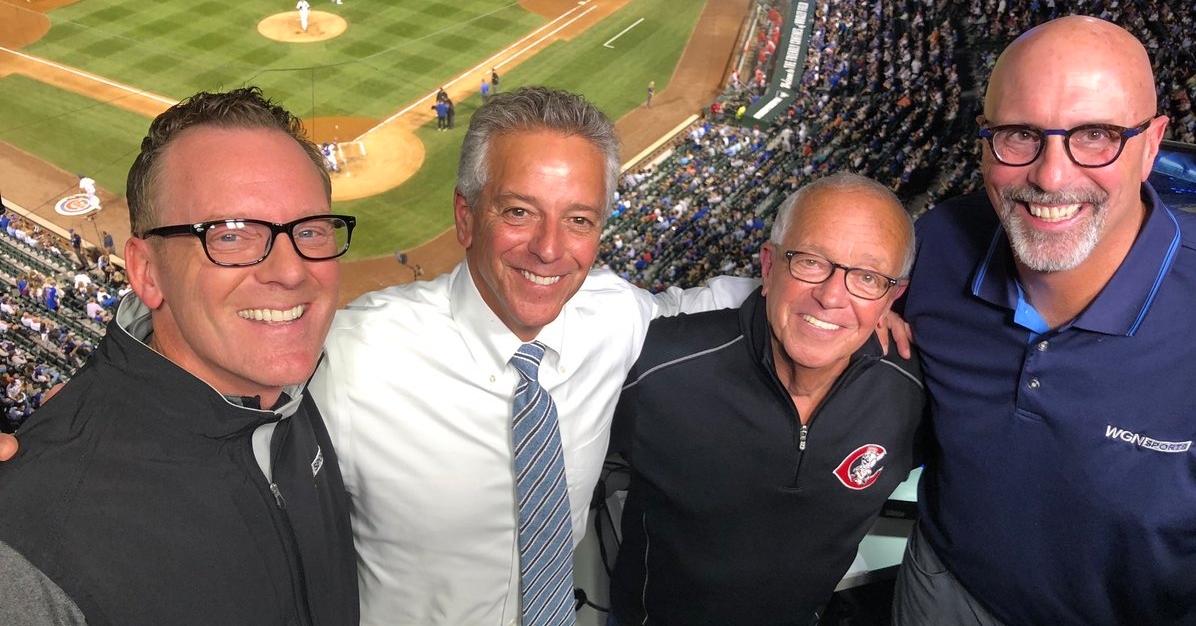 | | |
| --- | --- |
| On night that Cubs honor Marty Brennaman, Thom Brennaman loses his cool | |
---
| | | |
| --- | --- | --- |
| Wednesday, September 18, 2019, 10:06 PM | | |
CHICAGO — Longtime Cincinnati Reds radio broadcaster Marty Brennaman has certainly been critical of the Chicago Cubs and their fans over the years, but, nevertheless, the Cubs honored him at his final Cubs assignment on Wednesday night. Brennaman is set to retire at the end of the season after calling Reds games for 46 years, and Wednesday's game at Wrigley Field served as his final broadcast of a Cubs-Reds game.
Prior to the contest, Cubs radio broadcaster Pat Hughes presented Brennaman with a "46" tile stylized after the numbers on the Wrigley Field scoreboard, with the number, of course, paying homage to Brennaman's 46-year career. The game also marked the final road game of Brennaman's career, as the remainder of the Reds' games this season are set to be played at Great American Ball Park.
Even for lifetime @Reds legend Marty Brennaman, having a piece of Wrigley Field with him in commemoration of his career is something to cherish forever. #BornToBaseball pic.twitter.com/5O3XXZW0Ag

— FOX Sports Ohio (@FOXSportsOH) September 19, 2019
Marty Brennaman signs on for his final road game. Wrigley Field is a fitting finale on the road for the Hall of Famer. #Reds pic.twitter.com/1j8sbLZIiX

— Jim Day (@JimDayTV) September 19, 2019
The Cubs continued to honor Brennaman by having him join the Cubs' television broadcast and do play-by-play for a half-inning in the early goings. Marty's son, Thom, is the play-by-play man for Reds television broadcasts, and he surprised his father by introducing him before the half-inning of work for the Chicago broadcast. Thom was a happy camper when setting up his dad's commentary, but he was far from pleased when Reds shortstop Alex Blandino committed a boneheaded defensive mistake later in the game. Losing his cool, Thom channeled his famously fiery father.
Thanks to HOFer Marty Brennaman and Thom for being with us tonight. pic.twitter.com/Rmq5nCfmSL

— Len and JD (@lenandjd) September 19, 2019
I present to you very angry Thom #Cubs pic.twitter.com/GplBmtjaWk

— drunkharrycaray (@drunkharrycarey) September 19, 2019