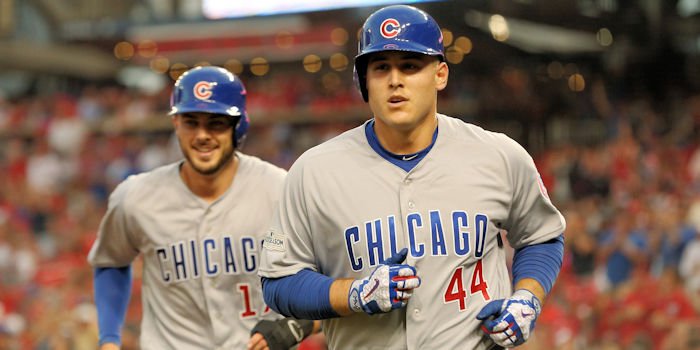 | | |
| --- | --- |
| Cubs News: Rizzo fires back at Kris Bryant trade rumors | |
---
| | | |
| --- | --- | --- |
| Friday, November 9, 2018, 9:59 PM | | |
ESPN senior writer Buster Olney ran an article on Friday about how the Chicago Cubs might be shopping standout slugger Kris Bryant this offseason.
"But it's possible that the Cubs will trade him, perhaps as soon as this winter," Olney said in his latest article. "As part of their early offseason discussions, sources say, the Cubs have indicated to other teams they are willing to discuss trade proposals for almost all of the players on their roster, including Bryant, who struggled in 2018, batting .272 with 13 homers in 102 games."
Cubs first baseman Anthony Rizzo saw all the articles that were saying that Bryant and himself could be traded this offseason and responded with the following tweet.
"'Sources' LOL. Why don't people just own up instead of writing articles for clicks?" he tweeted. "It's football season. Take a brake (sic) and chill."
"Sources" LOL why don't people just own up instead of writing article for clicks? It's football seasons take a brake and chill

— Anthony Rizzo (@ARizzo44) November 10, 2018
You know Olney might have made some Cubs players and coaches upset with his story if they are publicly mocking him on Twitter.
Epstein saw the Bryant headlines and downplayed all of the trade innuendos by Olney.
"I answered a general question about whether we have untouchables," he said via the Chicago Tribune. "Like most every organization, we will listen to anything, but that's just an operating philosophy.
"We are lucky to have some impact players and we are looking to add to them, not subtract."