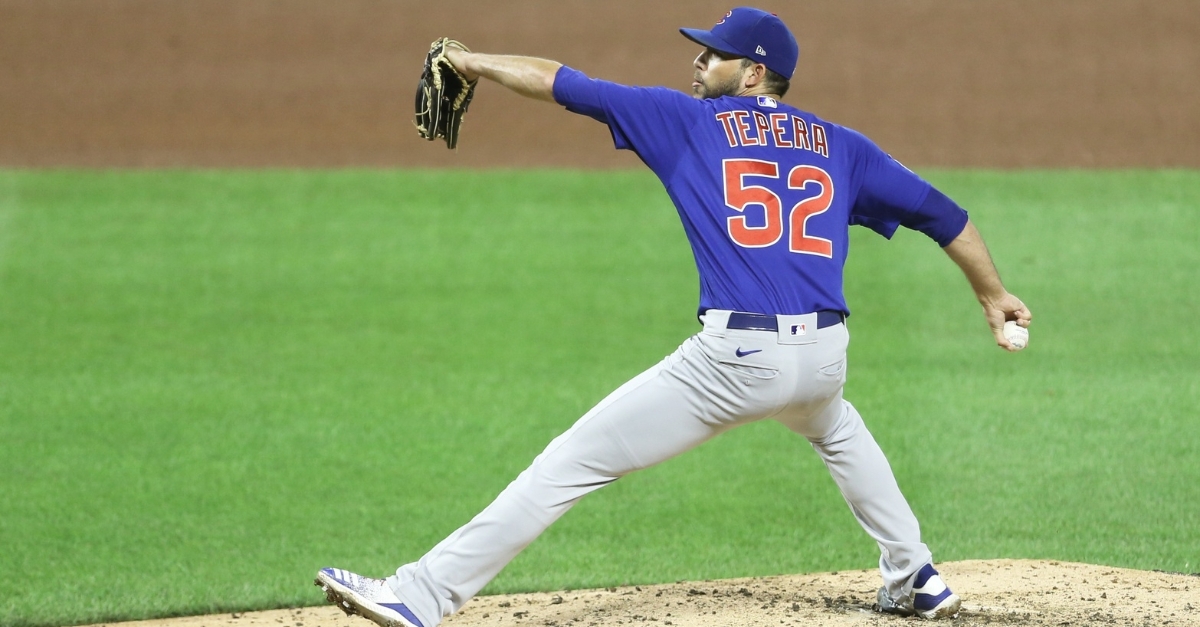 | | |
| --- | --- |
| Cubs News: Ryan Tepera named NL reliever of the month | |
---
| | | |
| --- | --- | --- |
| Wednesday, June 2, 2021, 8:52 PM | | |
Ryan Tepera of the Chicago Cubs has been voted the National League Reliever of the Month for May, and All-Star Liam Hendriks *_of the Chicago White Sox has been voted the *_American League Reliever of the Month for May. The announcements were made earlier today on MLB Network.
Tepera earned his first career monthly award and is the first Cubs winner since Carlos Marmol in September 2010. Overall,
he is the third Cubs reliever to accomplish the feat since 2005, also joining Ryan Dempster (September 2005). Hendriks claimed his third career AL Reliver of the Month award, most recently winning last year in July and August. He became the second White Sox pitcher (third time) since 2005 to claim monthly honors, joining Bobby Jenks (June 2006, June 2010).
Ryan Tepera, Chicago Cubs (@tp_ryan)
Posted a 0.61 ERA across 14 appearances with the Cubs. Tallied 19 strikeouts without permitting a single walk, while only allowing a run on three hits over 14.2 innings pitched.
Finished his dominant month having not permitted a hit or walk while tallying a strikeout in seven consecutive outings of at least 1.0 innings from May 17th-29th. It marked the longest such streak in franchise history, and the longest by a Major League reliever since Kyle Crick in 2018-19.
Became the first hurler in franchise history to post a month in which he logged at least 19 punchouts without giving up a walk.
Recorded his first save of the season on May 27th against the Pittsburgh Pirates, and his first overall since pitching for the Toronto Blue Jays in 2018.
Liam Hendriks, Chicago White Sox (@hendriks_31)
Appeared in 13 games for White Sox, converting all eight of his save opportunities. Did not permit an earned run and posted a 19:2 strikeout-to-walk ratio across 11.2 innings of work.
Enters play today having not allowed a hit in his last six appearances dating back to May 19th.
Recorded three saves from Sunday-Monday, becoming the first White Sox pitcher to record both saves of a doubleheader and the following day since Bobby Thigpen in July 1991. Became the first South Side hurler to convert saves in both games of a doubleheader since Jenks on September 4, 2010.
Became the fourth pitcher in franchise history to record at least eight saves while not permitting an earned run in a single calendar month, joining Dustin Hermanson (May 2005), Matt Karchner (August 1997) and Roberto Hernandez (April 1996).
Others receiving votes for NL Reliever of the Month included Austin Adams (13 G, 2-0, 0.00 ERA, 16 SO) and April's NL Reliever of the Month Mark Melancon (1-0, 0.79 ERA, 8 SV, 11.1 IP) of the San Diego Padres; Giovanny Gallegos (13 G, 1.65 ERA, 18 SO, 3 BB) and Alex Reyes (2-1, 1.15 ERA, 9 SV, 15 SO) of the St. Louis Cardinals; All-Star Josh Hader (1-0, 0.75 ERA, 5 SV, 18 SO) of the Milwaukee Brewers; Andrew Chafin (14 G, 0.66 ERA, 13.2 IP, 12 SO) of the Arizona Diamondbacks; and Tepera's All-Star bullpen-mate Craig Kimbrel (13 G, 1.50 ERA, 8 SV, 21 SO) .
Others receiving votes for AL Reliever of the Month included All-Star Aroldis Chapman (3-0, 0.75 ERA, 7 SV, 18 SO) of the New York Yankees; Ian Kennedy (9 G, 0.96 ERA, 6 SV, 10 SO) of the Texas Rangers; and Scott Barlow (1-1, 1.50 ERA, 12.0 IP, 23 SO) of the Kansas City Royals.