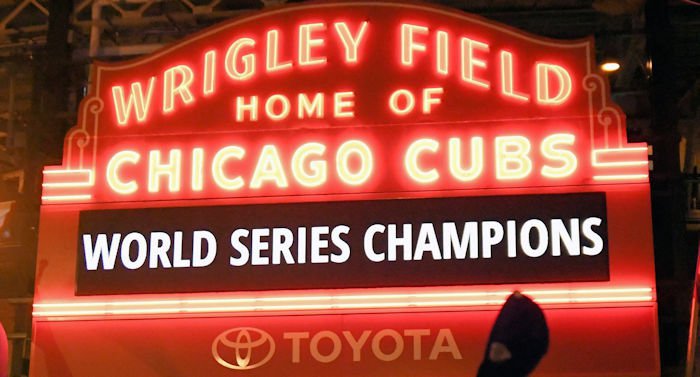 | | |
| --- | --- |
| Vegas odds on Cubs to win 2021 World Series | |
---
| | | |
| --- | --- | --- |
| Wednesday, October 28, 2020, 11:00 AM | | |
The Los Angeles Dodgers are the 2020 World Series Champions as they were crowned last night.
However, a new year opens up new possibilities in the baseball world for 2021.
Do the Cubs have a shot next year?
According to the brand new odds, the Cubs have the 11th best odds in major league baseball to win it all in the October Classic next season.
The Top 10 odds included the Dodgers, followed by the Yankees, Braves, White Sox, Padres, Rays, Reds, Athletics, Indians, and Twins.
Check out the full list below:
Los Angeles Dodgers 43-17 +500
New York Yankees 33-27 +600
Atlanta Braves 35-25 +1200
Chicago White Sox 35-25 +1100
San Diego Padres 37-23 +1100
Tampa Bay Rays 40-20 +1400
Cincinnati Reds 31-29 +1600
Oakland Athletics 36-24 +1600
Cleveland Indians 35-25 +2000
Minnesota Twins 36-24 +2000
Chicago Cubs 34-26 +2500
Houston Astros 29-31 +2500
New York Mets 26-34 +2500
Philadelphia Phillies 28-32 +3000
St. Louis Cardinals 30-28 +3000
Washington Nationals 26-34 +3000
Los Angeles Angels 26-34 +3000
Boston Red Sox 24-36 +4000
Milwaukee Brewers 29-31 +4000
Toronto Blue Jays 32-28 +4000
Detroit Tigers 23-35 +5000
Miami Marlins 31-29 +5000
Arizona Diamondbacks 25-35 +6000
Baltimore Orioles 25-35 +6000
Kansas City Royals 26-34 +6000
San Francisco Giants 29-31 +6000
Colorado Rockies 26-34 +7000
Seattle Mariners 27-33 +8000
Texas Rangers 22-38 +8000
Pittsburgh Pirates 19-41 +10000