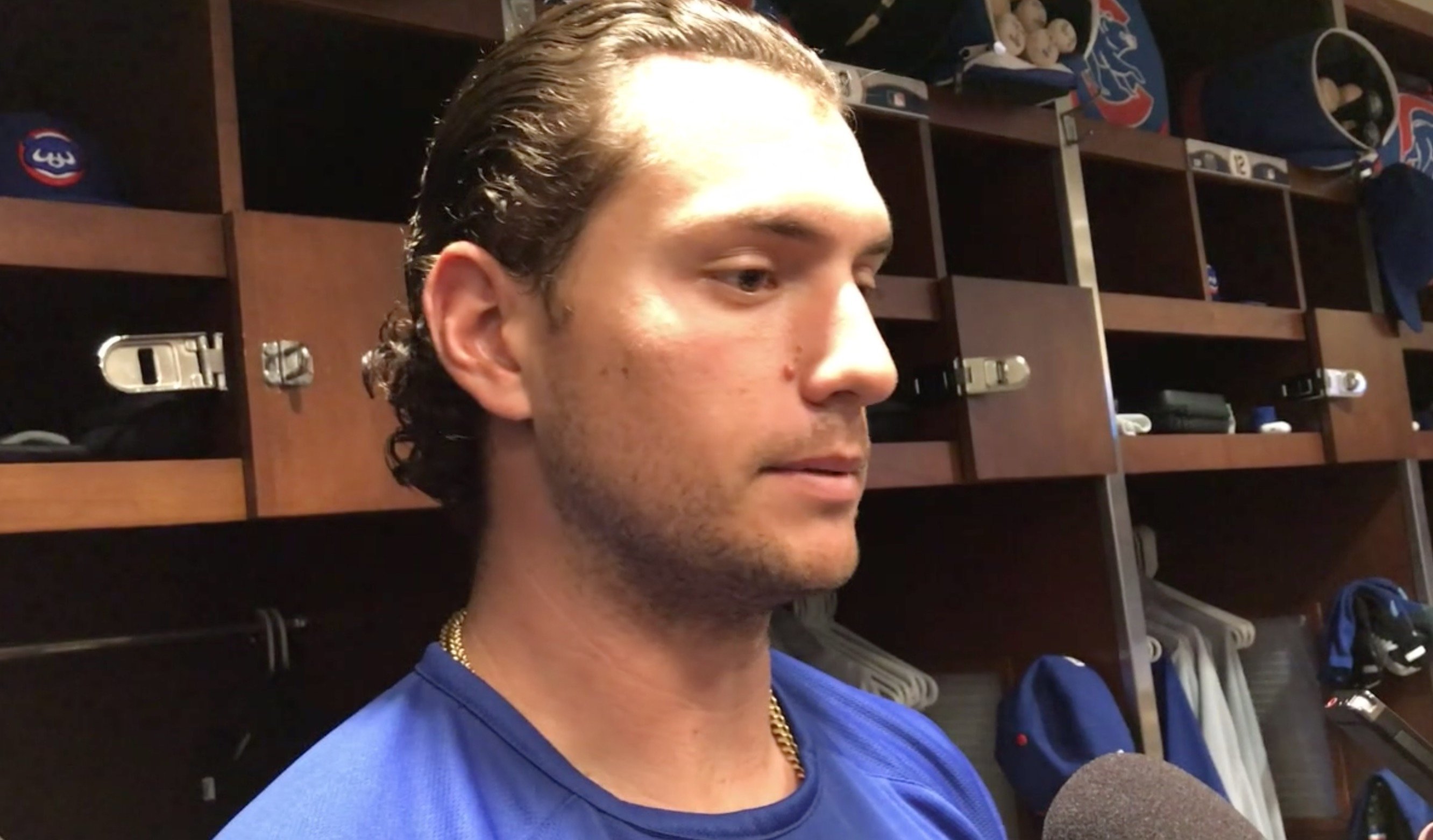 | | |
| --- | --- |
| WATCH: Almora discusses foul-ball incident, shares his opinion on expansion of protective netting | |
---
| | | |
| --- | --- | --- |
| Friday, May 31, 2019, 7:10 PM | | |
Speaking with reporters for the first time since the fateful night when he hit a foul ball that struck a little girl sitting in the stands, Chicago Cubs center fielder Albert Almora Jr. was still rather subdued on Friday afternoon. Wednesday's incident left Almora quite emotional during and after the game, generating a widespread discussion about protective netting at MLB parks.
"I hope this never happens again," Almora said in his locker-room media session. "This has been something that I'll never forget."
Almora made it clear in his postgame remarks on Wednesday that he hoped to establish a relationship with the family of the little girl, who is recovering and doing well, and told reporters on Friday that he still plans to reach out in the near future. Right now, the family members are requesting privacy during the emotional time, but Almora hopes to connect with them when the time is right.
"When they're ready," Almora said, " I'll do whatever I can to put a smile on that little girl's face."
Awful scene in the Cubs/Astros game. A small kid was struck with the baseball in the stands. Almora Jr

Check this out! It was a SCARY & JARRING moment @MinuteMaidParks last night during #Cubs-#Astros game, when a 4 YO girl was hit by a foul ball! It happened when Cub's player, Albert Almora Jr. hit a foul line drive into the stands. Fortunately, she's OK. #khou11 #htownrush pic.twitter.com/xvrxwmV5c5

— Michelle Choi (@MichelleKHOU) May 30, 2019
A father to two young boys, Almora was especially devastated by the sad occurrence, and he told the press that he was deeply touched by how many people reached out to him to offer support while he was struggling to cope with the incident. However, upon being asked about his emotional and mental state, Almora pointed out that the little girl's well-being is still the primary concern.
"It's tough to answer these questions because I'm not the one hurt," Almora said. "People are praying for me, but I'm healthy. My mind's OK. I'm OK. And it's thanks to my teammates and family."
When asked to share his opinion on MLB potentially expanding protective netting down the foul lines in order to prevent horrible situations like the one that took place on Wednesday from unfolding, Almora revealed that he is fully in favor. The outfielder said that no family should have to worry about safety concerns pertaining to their children when opting to attend a big-league game and was adamant that the league office should enact any and all safety measures that will make a fan being hit by a foul ball virtually impossible.
Almora said (via the Astros) that the family of the young girl struck by a foul ball Wednesday is requesting privacy. He wants to reach out when they're ready. Reiterated that he's fully in favor of expanded netting, and praised support shown by his friends, family, teammates. pic.twitter.com/kt2B4XQXlO

— Jordan Bastian (@MLBastian) May 31, 2019