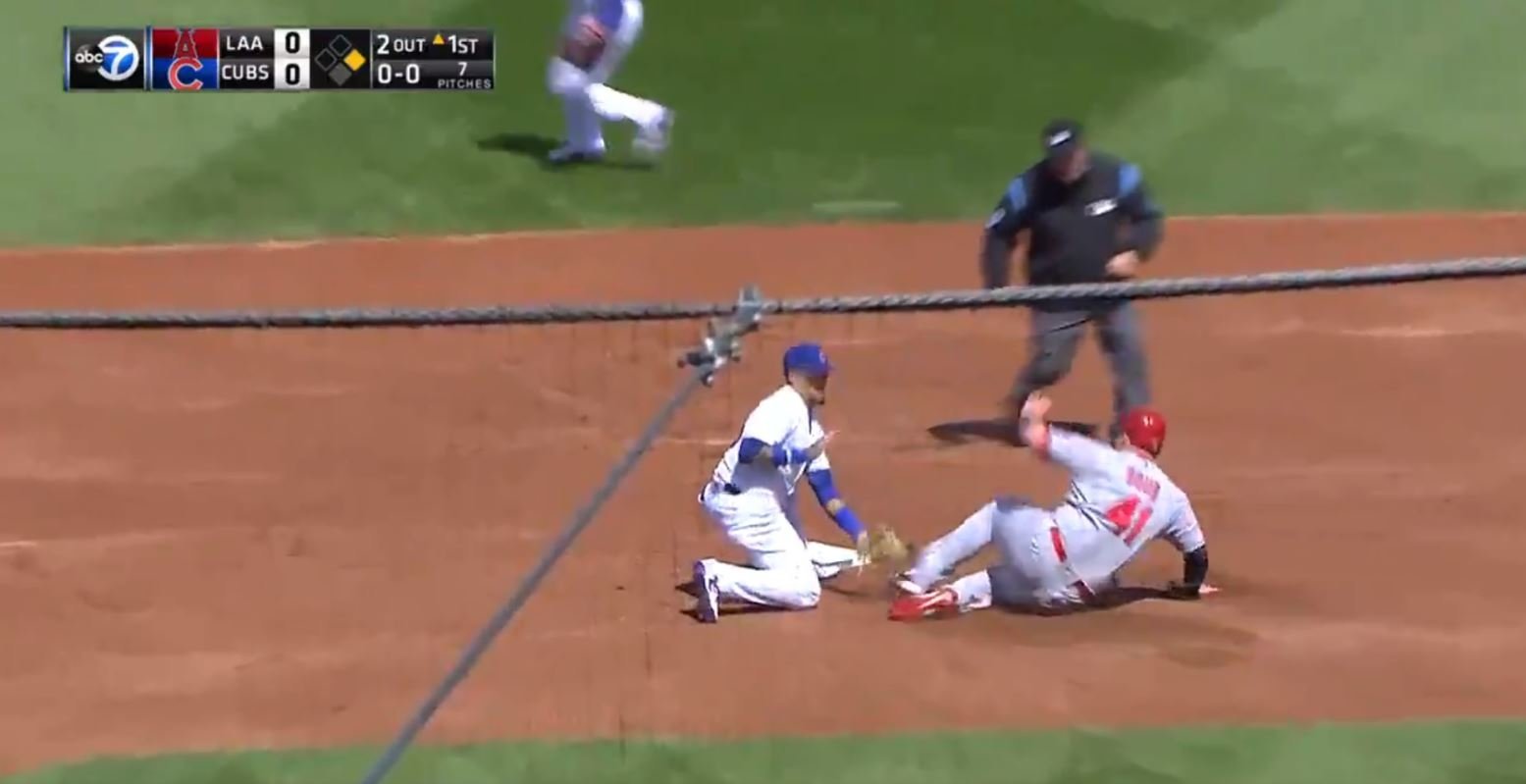 | | |
| --- | --- |
| WATCH: Comedy of errors results in Angels player being tagged out twice | |
---
| | | |
| --- | --- | --- |
| Saturday, April 13, 2019, 3:01 PM | | |
CHICAGO, Illinois — It is not often that a base runner, fielder and umpire all make mistakes on the same play, but the opening inning of the Chicago Cubs-Los Angeles Angels matchup on Saturday featured just that. 250-pound Angels first baseman Justin Bour attempted to reach second base following a single to right field, and the lumbering mountain of a man was ultimately tagged out twice.
With no runners on base, Bour smacked a single to right field that Cubs right fielder Ben Zobrist was quick to field. Bour was caught leaning too far off the bag, and Zobrist rushed a throw to first in an effort to get Bour tagged out. However, Zobrist's throw was off the mark, and it hit Bour's cleat and ricocheted nearly out of play.
Cubs catcher Willson Contreras hustled to corral the baseball while Bour darted for second. Contreras then fired a shot to Baez, who was covering second base, and Baez applied the tag. Inexplicably, the second-base umpire missed the very obvious tag and called Bour safe, but Bour either did not realize that he was called safe or figured that he would have been called out as a result of a Cubs challenge anyway. Therefore, Bour began to slowly walk toward the dugout, and Baez trotted over to him in order to apply the inning-ending tag.
Who's ready for a perfectly normal baseball game today? pic.twitter.com/zGX6ub7tz2

— Chicago Cubs (@Cubs) April 13, 2019
The top of the first ended with quite a bang, as the comedy of errors that featured an errant throw from Zobrist, multiple base-running blunders by an overconfident Bour and a blown call by the second-base umpire resulted in the third out and nothing more. Fortunately for the Cubs, Bour, who was technically tagged out twice on the play, accepted his fate and delayed the inevitable by giving himself up to bring one of the strangest plays of the 2019 season thus far to a close.