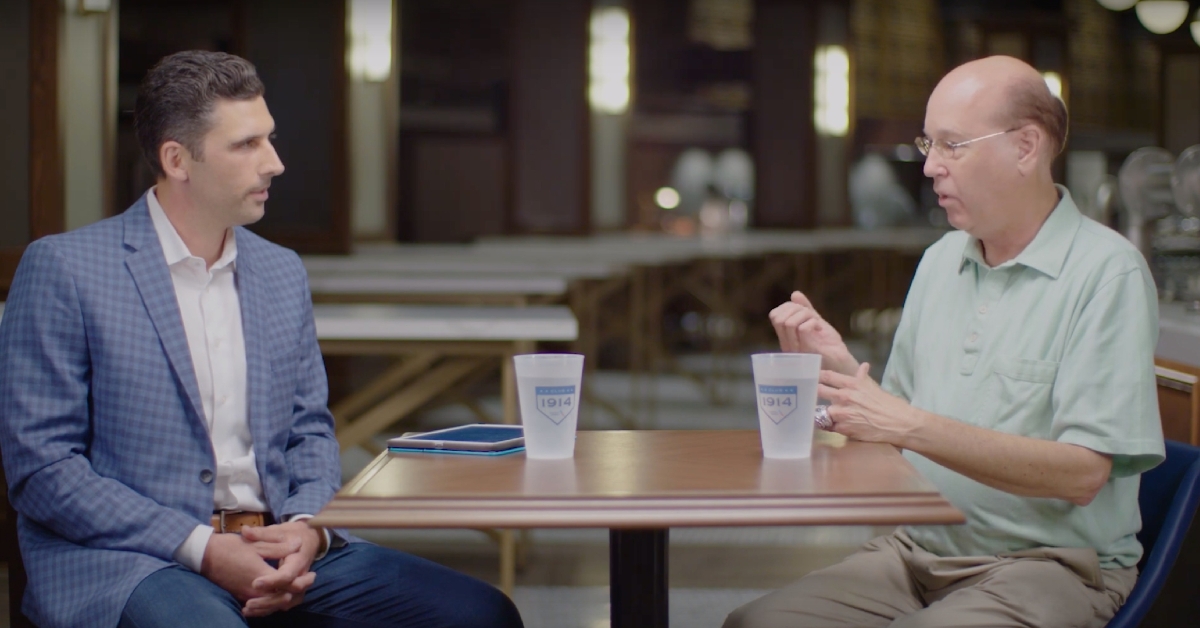 | | |
| --- | --- |
| WATCH: Cubs provide special tributes for Gary Pressy, WGN-TV ahead of final home game | |
---
| | | |
| --- | --- | --- |
| Sunday, September 22, 2019, 2:10 PM | | |
CHICAGO — This weekend marks the end of two different eras regarding the Chicago Cubs. After 33 consecutive years of serving as the organist at Wrigley Field, Gary Pressy, who has entertained Cubs fans at nearly 2,700 consecutive home games is taking part in his final regular-season series at the Friendly Confines. Furthermore, with the inception of the Cubs' new flagship station, the Marquee Network, coming in the offseason, WGN-TV, which has aired Cubs games for 72 years, is also involved with its final home Cubs series.
Pressy recently announced his retirement, and, while he hopes to have his career extended by a Cubs playoff berth, there is a realistic chance that Sunday's game between the Cubs and the St. Louis Cardinals will serve as his final appearance as the Cubs' organist. The final six games of the North Siders' regular season will be on the road, so the Cubs organization opted to tribute Pressy ahead of the final home game. On Sunday, the Cubs released a video of a sit-down conversation between Pressy and Cubs PA announcer Andrew Belleson. Belleson and Pressy have worked together in the same booth at Wrigley Field for the past nine seasons, and the two reminisced while looking back on Pressy's career.
Thank you, @GaryPressy.

Watch the full episode: https://t.co/b7NZT0p0AF pic.twitter.com/3GgP50JuK5

— Chicago Cubs (@Cubs) September 22, 2019
-GP pic.twitter.com/BogfHrqojt

— Gary Pressy (@GaryPressy) September 22, 2019
While WGN will broadcast a few of the Cubs' contests during the 6-game road trip to close out the season, Saturday's Cardinals-Cubs matchup marked the last WGN broadcast of a game played at the Friendly Confines. Even if the Cubs earn a spot in the postseason, all of the playoff games will be aired on other networks. Therefore, the Cubs honored WGN's longstanding commitment to the Cubs on Saturday by having WGN employees sing "Take Me Out to the Ball Game" during the seventh-inning stretch. The touching tribute included WGN's executive producer, Bob Vorwald, singing from the booth and recordings of other WGN employees singing from off-site.
Home stretch. ??

We tip our caps to you, @WGNTV. pic.twitter.com/yaoGdiPpoF

— Chicago Cubs (@Cubs) September 21, 2019
Update: Pressy threw out the ceremonial first pitch at Sunday's game and was also given a commemorative jersey and plaque to honor his 33 years of service to the Cubs.
#Cubs organist @GaryPressy throws out the first pitch. The team is honoring his retirement. pic.twitter.com/wJchzR478N

— Cheryl (Raye) Stout (@Crayestout) September 22, 2019
After 33 seasons and 2,687 consecutive games, @GaryPressy takes the mound. pic.twitter.com/OYi91A5i2u

— Chicago Cubs (@Cubs) September 22, 2019