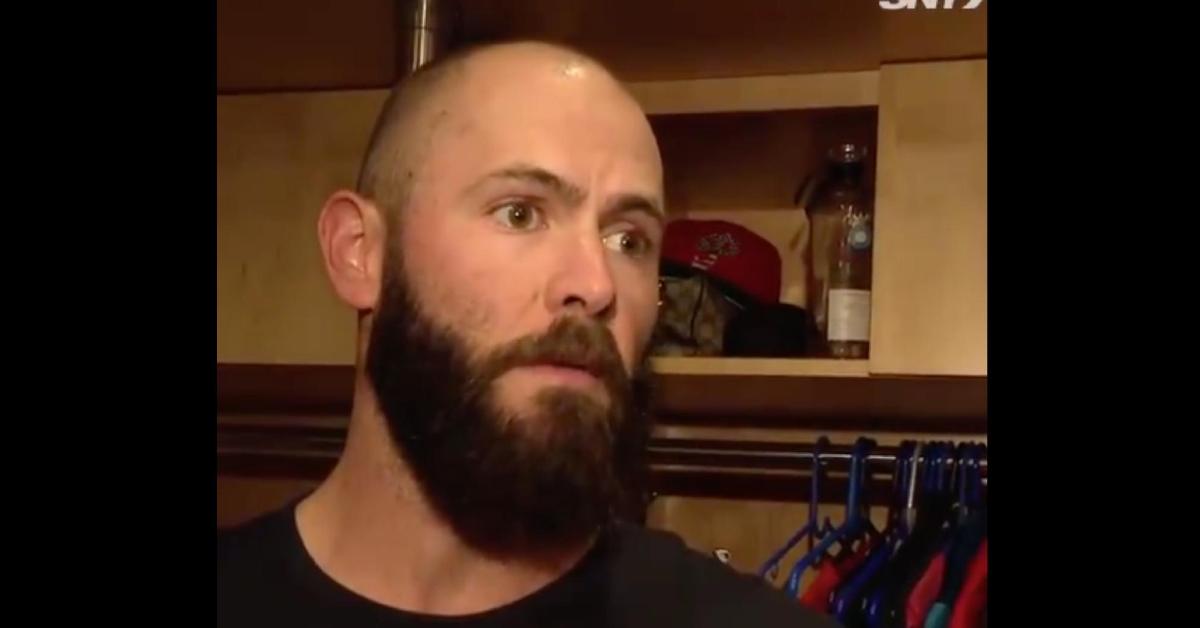 | | |
| --- | --- |
| WATCH: Jake Arrieta threatens Todd Frazier, says he will 'put a dent in his skull' | |
---
| | | |
| --- | --- | --- |
| Sunday, July 7, 2019, 1:01 AM | | |
NEW YORK — The New York Mets defeated the Philadelphia Phillies 6-5 in an exciting National League East battle at Citi Field on Saturday night. Lost in the action, though, was a controversial hit by pitch that former Chicago Cubs ace Jake Arrieta was at the center of. Arrieta, who is currently a starting pitcher for the Phillies, let a pitch get away from him in the bottom of the fifth, and it barely clipped Mets third baseman Todd Frazier's elbow, which led to a war of words.
For some reason, Frazier thought that the 0-1 pitch that was not that far off the plate was intentionally thrown at him, and he proceeded to bark at Arrieta and the home-plate umpire about while slowly sauntering to first base. Eventually, the umpire grew tired of Frazier's mouthing off, so he ejected him from the game. Frazier was restrained by teammates as he continued to shout at Arrieta, and he then threw a tantrum in the dugout before hitting the showers. While Frazier was initially made out to be the donkey of the situation, Arrieta might have changed that by channeling his inner meathead following the game.
Things got heated between Jake Arrieta and Todd Frazier ?? pic.twitter.com/ViqDIzDiA5

— Baseball Bros (@BaseballBros) July 7, 2019
When asked by the press about the hit by pitch, Arrieta said, "If Frazier's not happy about it, he can come see me. I'll put a dent in his skull."
Spoken with a straight face, Arrieta's remark was more befitting of the WWE than MLB. Adding to the ridiculousness of it was the fact that Arrieta uttered the jarring statement while vigorously scratching his beard. Perhaps the best part, though, was an audible gasp from a nearby reporter who was stunned by the "dent" comment, which resulted in Arrieta intensely staring in the off-camera journalist's direction as if to drive home the point that he was very serious about what he had said. Arrieta has endured an up-and-down season, and, perhaps, the cringeworthy threat to Frazier was issued out of irritation over suffering yet another frustrating losing decision.
"Frazier's not happy about it he can come see me. I'll put a dent in his skull."

Jake Arietta is a liiiiiiiittle mad about Todd Frazier being mad pic.twitter.com/OEjy1zo8ZG

— SNY (@SNYtv) July 7, 2019
Update: On Sunday afternoon, Frazier responded to Arrieta's threat, calling it "a little overboard." Frazier also explained his angry reaction to the hit by pitch, citing the fact that he has already been hit four times by Phillies pitchers this season and stating that "enough is enough."