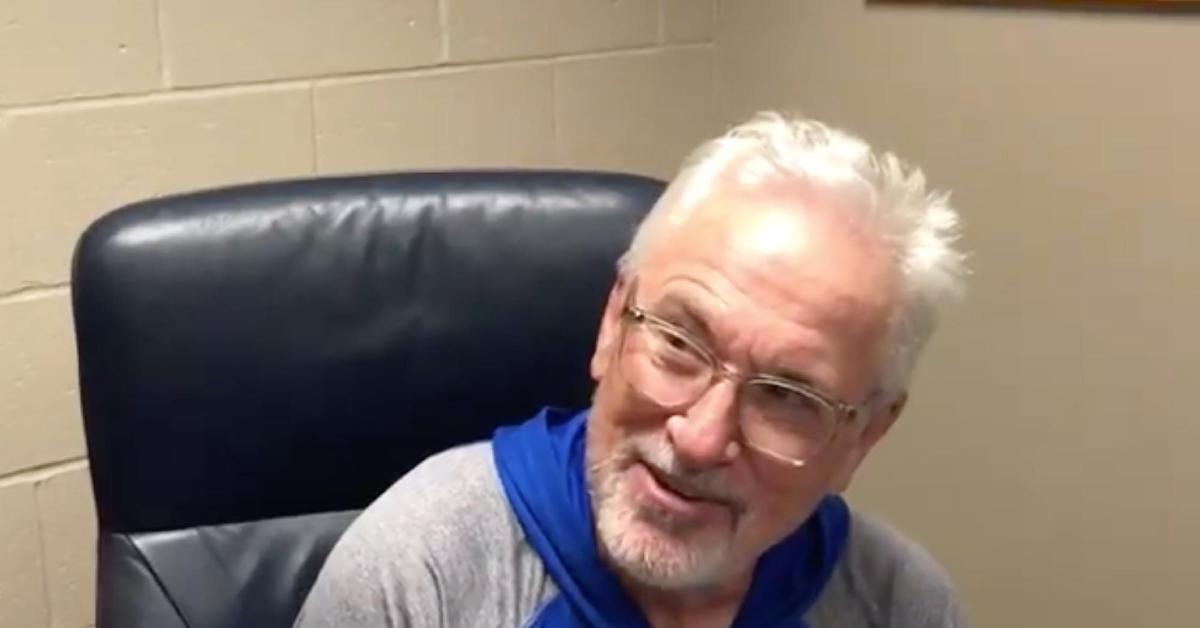 | | |
| --- | --- |
| WATCH: Joe Maddon explains his ejection, makes funny comment about Joe West | |
---
| | | |
| --- | --- | --- |
| Thursday, July 4, 2019, 8:52 PM | | |
PITTSBURGH — Advising the Pittsburgh Pirates to "be careful," Chicago Cubs manager Joe Maddon explained what led to his fiery ejection on Thursday afternoon. Bringing fireworks to the Independence Day duel, Maddon was tossed by crew chief Joe West for complaining about the high, inside pitches consistently coming from Pirates starting pitcher Jordan Lyles, which led to Maddon and Pirates manager Clint Hurdle exchanging words. Maddon then charged out of the dugout after Hurdle and had to be restrained by West and Cubs slugger Kris Bryant.
"If they keep pitching like that," Maddon said of the Pirates' pitchers when speaking to the media following the Cubs' 11-3 beatdown of the Pirates, "a lot of these guys are not going to like their pitching staff."
"These guys" referred to the Cubs' players, as Maddon, in a roundabout way, insinuated that the Cubs and the Buccos might be on the cusp of having a heated rivalry. Maddon was tossed in the top of the fourth after Cubs shortstop Javier Baez was nearly hit by a pitch that caromed off the knob of his bat. Having grown tired of Hurdle's insistence on directing his pitchers to throw up and in throughout the 4-game series, Maddon could not hold in his outrage any longer. If not for the burly West doing an excellent job of blocking Maddon, who attempted an ineffective spin move while trying to get around West, Maddon might have engaged in a fracas with Hurdle.
"Believe me. He'd make a nice left tackle," Maddon told reporters with a smile while discussing West and his excellent blocking technique.
Joe Maddon EJECTED after he's stopped from going after Clint Hurdle. #CHCvsPIT pic.twitter.com/25FacD34I9

— Bob Pompeani (@KDPomp) July 4, 2019
Hurdle defended Lyles in his postgame press conference, saying that he felt like Lyles relied on high, inside pitches because he was trying his best to avoid giving up another home run, as he had already given up three homers before the infamous Baez at-bat. Even after Lyles departed the contest, though, a pitch from Pirates reliever Clay Holmes drilled Cubs third baseman David Bote in the helmet.
"I THINK HE DIDN'T WANT TO GIVE UP ANYMORE HOMERS" -- Clint Hurdle and Jordan Lyles explain their side of the incident that ultimately got Joe Maddon tossed pic.twitter.com/DGDEca2dP9

— Chase Williams WPXI (@chasepwilliams) July 4, 2019
Regardless of Hurdle's proclaimed innocence, a defiant Maddon, who spoke to the press with an empty wine glass sitting on his desk next to him, was not willing to let bygones be bygones. Perhaps as a result of the vim and vigor produced by downing a glass or two of a fermented beverage while watching most of the game from the visiting locker room at PNC Park, Maddon punctuated his media session by exclaiming that he "can't wait" to face the Pirates at Wrigley Field in the Cubs' first series out of the All-Star break.
Joe Maddon's postgame message to the Pirates: "They just need to be careful. I love their players. It's a real good team. And they're good guys...but if they keep pitching like that, a lot of these guys are not going to like their pitching staff."

— Patrick Mooney (@PJ_Mooney) July 5, 2019
Joe Maddon exhaling after getting ejected and watching the end of a four-game losing streak: "Well, it was really hot out there. It was nice and air-conditioned in here, so it wasn't that bad. I was actually pretty pleased with it. I had a nice bottle of wine in here."

— Patrick Mooney (@PJ_Mooney) July 5, 2019
Joe Maddon also gave props to Joe West for blocking his spin move: "Believe me, he'd make a nice left tackle."

— Patrick Mooney (@PJ_Mooney) July 5, 2019