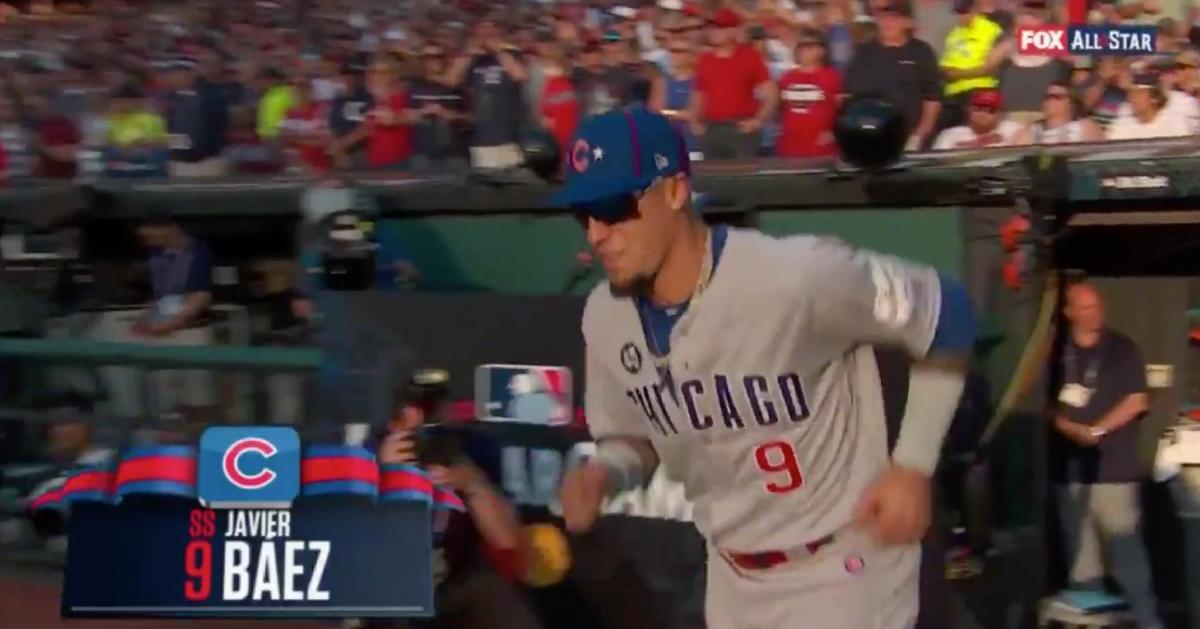 | | |
| --- | --- |
| WATCH: Members of 2016 Cubs booed during All-Star Game introductions | |
---
| | | |
| --- | --- | --- |
| Tuesday, July 9, 2019, 9:41 PM | | |
CLEVELAND — Still salty about the outcome of the 2016 World Series, Cleveland Indians fans in attendance at Progressive Field for Tuesday's All-Star Game heavily booed members of the Chicago Cubs team that defeated the Indians in seven games to claim the 2016 title. While the players were being introduced at the Midsummer Classic, starting National League shortstop Javier Baez and starting National League catcher Willson Contreras were among the four players who were booed.
First, Cubs third baseman Kris Bryant was booed when the National League reserves were introduced. Then, former Cubs reliever Aroldis Chapman, who now pitches for the New York Yankees, was booed when the American League reserves were introduced. Chapman was the closer for the 2016 Cubs team, and he was famously used in the World Series far more than closers are accustomed to being used and ended up earning the winning decision in Game 7.
Baez and Cubs catcher Willson Contreras, who both started for the National League, received plenty of boos when the starting lineups were introduced. Even though Contreras was warming up with the National League's starting pitcher in the bullpen and not on the field when his name was called, he still did not escape the boo birds. None of the four players seemed to be bothered by the jeers. In fact, Chapman, who, like every Yankee playing in the game, was serenaded with boos by the Cleveland faithful, seemed to relish in it, as he smiled and laughed it off.
The Indians supporters did not boo Los Angeles Angels second baseman Tommy La Stella, though. La Stella was a utility man for the 2016 Cubs, and he was named to his first All-Star team this season. However, La Stella broke his leg last week and was therefore on crutches while being introduced on Tuesday evening. Perhaps, the fans opted not to boo La Stella because of his injury. There is also a good chance that many of the fans simply did not know that La Stella was a member of the North Siders in 2016. As for Baez, he opted to shrug and wave to the National League dugout while getting booed prior to his first at-bat, clearly not letting the sore losers in the stands affect him.
The weather was nice this time. pic.twitter.com/PO6aqaGA9d

— Chicago Cubs (@Cubs) July 10, 2019
Lol! They laughed for the booing????cute

????????????????????????????
????#NYY #MasahiroTanaka #???? pic.twitter.com/qmcN3BaoT4

— Roo17 (@goshoheiohtani) July 10, 2019
July 10, 2019
¯\_(?)_/¯ pic.twitter.com/YNO5mK7A92

— All-Star Game (@AllStarGame) July 10, 2019