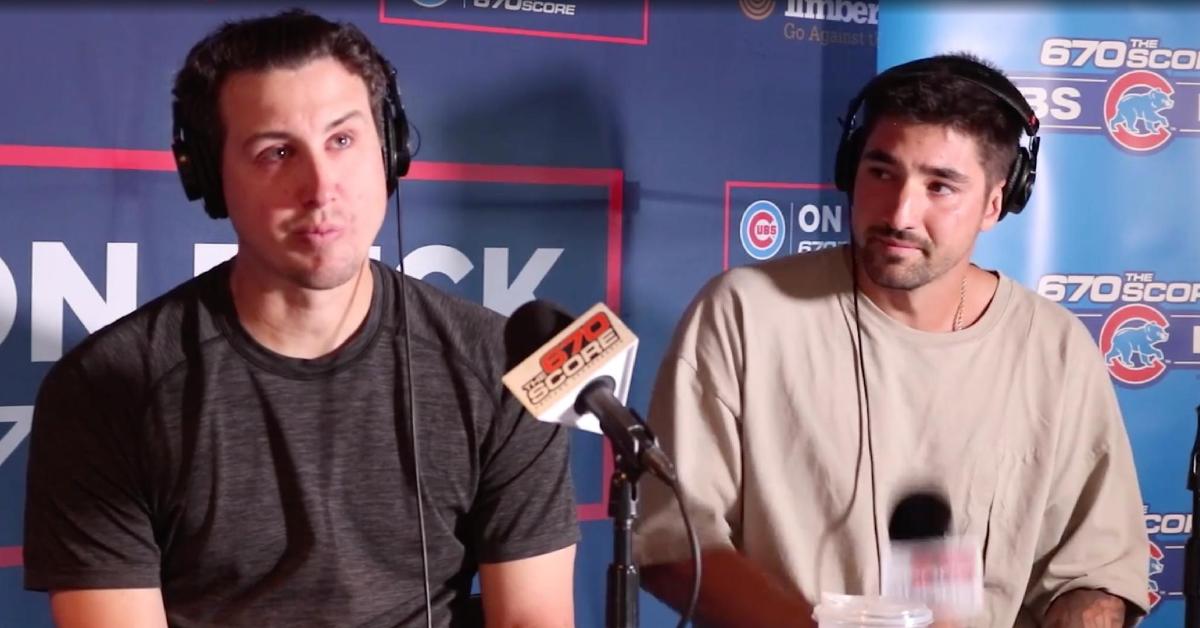 | | |
| --- | --- |
| WATCH: Nicholas Castellanos cries during emotional interview | |
---
| | | |
| --- | --- | --- |
| Tuesday, August 20, 2019, 9:40 PM | | |
CHICAGO — Chicago Cubs manager Joe Maddon recently heaped praise on recently acquired Cubs right fielder Nicholas Castellanos, saying that he approaches every game like it is Opening Day. When Castellanos made an appearance alongside recently acquired Cubs reliever Derek Holland on 670 The Score's Laurence Holmes Show on Tuesday, the sound bite of Maddon complimenting Castellanos was played on air.
Castellanos and Holland were guests on the radio broadcast as part of the Cubs on Deck Luncheon Series, and the interview transcended run-of-the-mill baseball banter when Castellanos began to cry while listening to Maddon's kind words. Once Castellanos got choked up, tears started to well up in Holland's eyes, too. Host Laurence Holmes asked Castellanos why he was so emotional, and Castellanos gave a thoughtful response.
"It's easy for something that we love to get looked at like a business," Castellanos said. "And not just in baseball. In everything in life. So it just makes me feel good to hear (Maddon) say that."
Castellanos received a round of applause from the audience in attendance at the luncheon for his moving remark. Holmes told Castellanos that he appreciated him sharing something that emotional on his show. In addition, Holmes attempted to transition to Holland by asking him what Maddon is like as a manager, but Holland needed a breather, as he was on the verge of being overcome by emotion myself.
"I can't even look at (Castellanos) right now," Holland said with a smirk, "because it's going to make me cry."
Later in the day, Maddon was asked in his press conference about Castellanos' emotional interview and described it as "wonderful." Maddon went on to praise Castellanos as a "bright young man" and pointed out that, due to the constant media exposure that Maddon faces as the manager of an MLB franchise, he never knows just what kind of impact the public statements that he makes about players will have.
"I'm happy that it was taken that way," Maddon said of Castellanos' reaction to his comments. "You never know when you're making a memory. You just don't know. So when you say something, who's it going to impact and how? You just never know. This time, wonderfully, it turned out well."
After a great On Deck series @LaurenceWHolmes show earlier today with Derek Holland and Nick Castellanos, I asked Joe about his impact on his players. pic.twitter.com/oLQ4pOvceH

— Tony Gill (@tonygill670) August 20, 2019