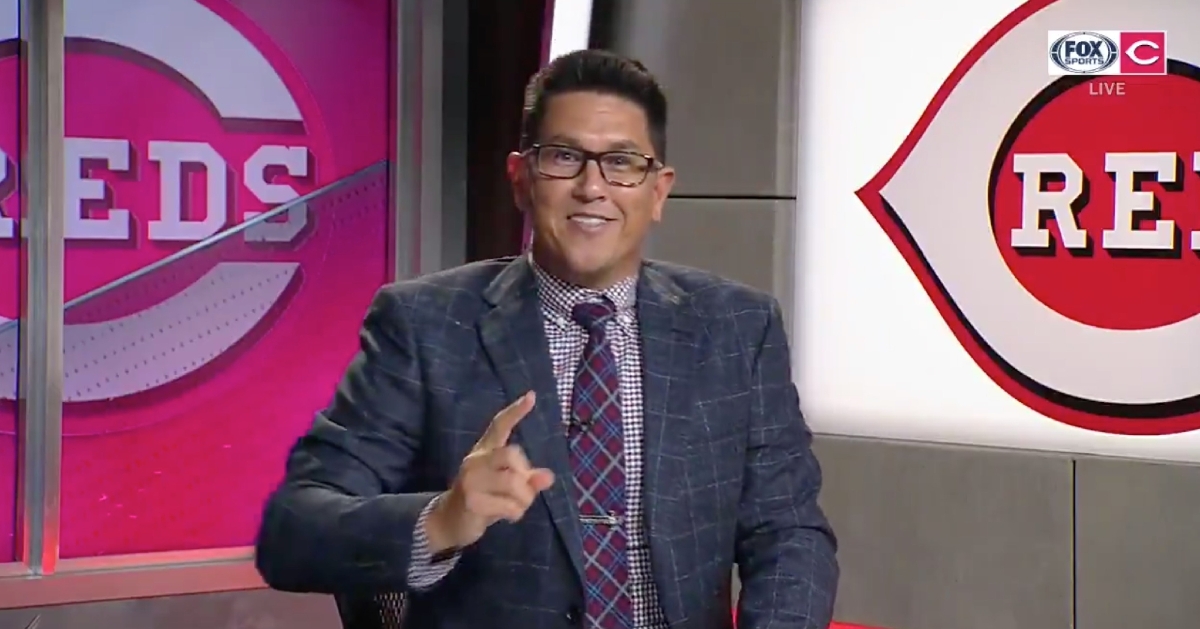 | | |
| --- | --- |
| WATCH: Reds analyst trashes Cubs, calls them 'entitled' | |
---
| | | |
| --- | --- | --- |
| Tuesday, September 1, 2020, 8:45 AM | | |
CINCINNATI — Former Cincinnati Reds closer Danny Graves currently serves as a studio analyst for FOX Sports Cincinnati, and he had some choice words for the Chicago Cubs in the wake of Saturday night's controversial game between the Cubs and the Reds. Five ejections took place in the heated contest, including ejections of Reds manager David Bell and star Reds sluggers Joey Votto and Jesse Winker.
"[The Cubs] are a little bit entitled. That's my opinion," Graves said while discussing the situation. "I feel like when it doesn't go their way, they have something to say. So then when the Reds, or anybody else in baseball, fight back or jump back at them, they start crying a little bit more."
Graves was specifically referring to the Cubs' reaction to Reds pitcher Tejay Antone throwing a pitch over Cubs first baseman Anthony Rizzo's head. The Reds insisted that the errant pitch was incidental, but the Cubs retaliated by having one of their pitchers throw over a Reds batter's head. As a result, an on-field fracas happened. Rizzo and Votto jawed back and forth at each other, and Votto was ejected because of it. Graves clearly did not agree with the Cubs' reaction to the pitch that may or may not have gotten away from Antone, so he disparaged the North Siders in the postgame show.
"That's how I see it, and I think a lot of other people see it, too," Graves continued after accusing the Cubs of crying. "[The Cubs are] not entitled. They think they are. They think that they're America's team, but they're not. They're really not."
So what's really going on between the Reds and Cubs?@dgravy32 offers a player's perspective.#TakeTheCentral pic.twitter.com/NWIsfBWHnp

— FOX Sports Cincinnati (@FOXSportsCincy) August 30, 2020
It is safe to say that Graves, though he delivered the diatribe with a smirk on his face, was quite heated over the incident, as he even balled up a sheet of his notes and threw it at a camera. Perhaps, Graves built up some animosity toward the Cubs during his tenure as a Reds pitcher (1997-2005), since the Cubs took part in three playoff series over that span while the Reds did not play in any.
Whatever the reason, Graves seemed to relish in claiming that the Cubs are not "America's team." While that may be true, the Reds are not even "Ohio's team," as the franchise has not so much as won a playoff series since 1995. Graves' frustration seemed to boil over in the postgame temper tantrum, but he failed to save some of that scorn for the Cincinnati players who broke COVID-19 protocol by leaving the dugout to incite a confrontation. For now, the Reds are 5 1/2 games behind the Cubs in the National League Central, giving Chicago more of a right to be "entitled" than the losing squad formerly known as the "Big Red Machine."