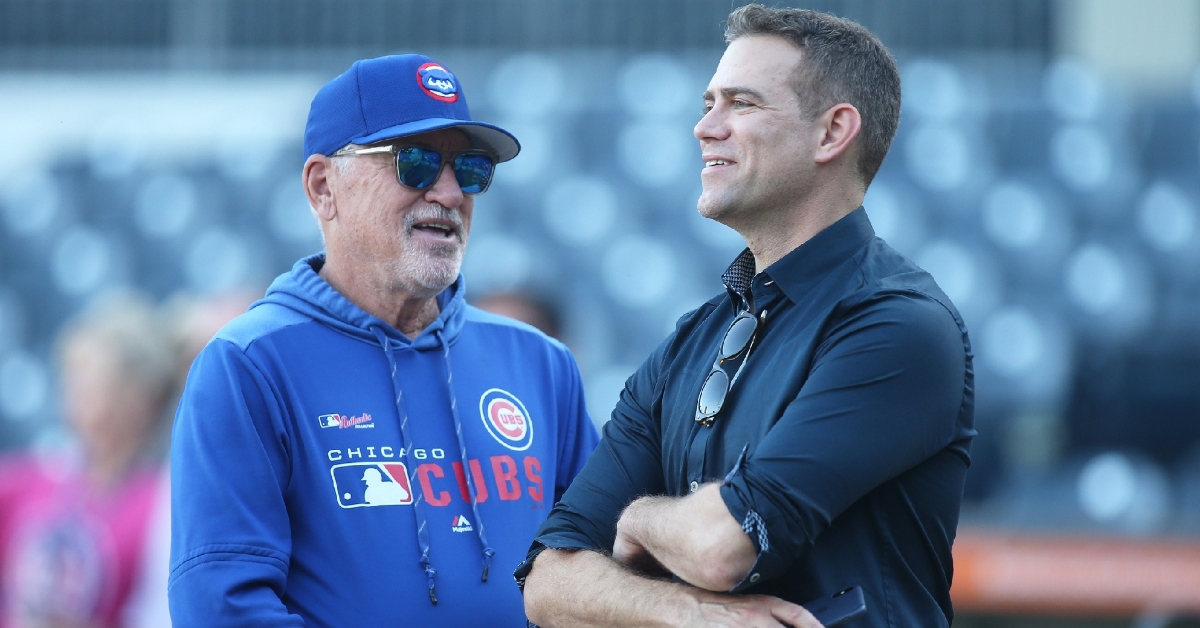 | | |
| --- | --- |
| WATCH: Theo Epstein expects 'bidding war' for Joe Maddon | |
---
| | | |
| --- | --- | --- |
| Sunday, September 29, 2019, 5:05 PM | | |
ST. LOUIS — Marking the end of an era, Chicago Cubs President of Baseball Operations Theo Epstein and manager Joe Maddon announced in a joint press conference on Sunday that Maddon would not be returning as the Cubs' skipper in 2020. Maddon's contract is set to expire at season's end, and both parties decided it to be in the best interests of everyone involved to move on.
Following the Cubs' 8-6 win over the St. Louis Cardinals at Busch Stadium on Saturday night, Epstein and Maddon chatted over wine in Epstein's hotel room and officially decided to part ways. Maddon has been at the helm of the Cubs since 2015, as he led the team to its World Series title since 1908 in 2016, and he will soon become a managing free agent.
"We spent probably 30 or 40 minutes together," Epstein said about the conversation that he had with Maddon on Saturday night, "really celebrating an unbelievable five-year run. We thought back when we first got together at the beach down in Pensacola, and we never could've imagined this working out as well as it did."
After reminiscing about convincing Maddon to leave the Tampa Bay Rays to manage the Cubs in November of 2014, Epstein went on to describe Maddon as "a wonderful partner" and praised Maddon for being so "loyal" and "supportive" to the Cubs organization. With Maddon standing right next to him, Epstein told the press that he considers Maddon a lifelong friend but said that it was time for the Cubs to move in a different direction.
"This type of change is a win-win," Epstein said. "It's going to be great for Joe. He's at a wonderful point in his life. He won't talk about this right now, but I will. There's going to be a bidding war for his services, and there should be. He's in a great position. I so look forward to his next chapter in baseball and in life."
Theo Epstein on the Cubs' decision to part ways with manager Joe Maddon: "We both agreed that it's time, that this time of change is a win-win … There's going to be a bidding war for his services, and there should be." https://t.co/7bbNUb1UXo pic.twitter.com/R8z4lGiiwZ

— Chicago Sun-Times (@Suntimes) September 29, 2019
The full press conference can be viewed here: