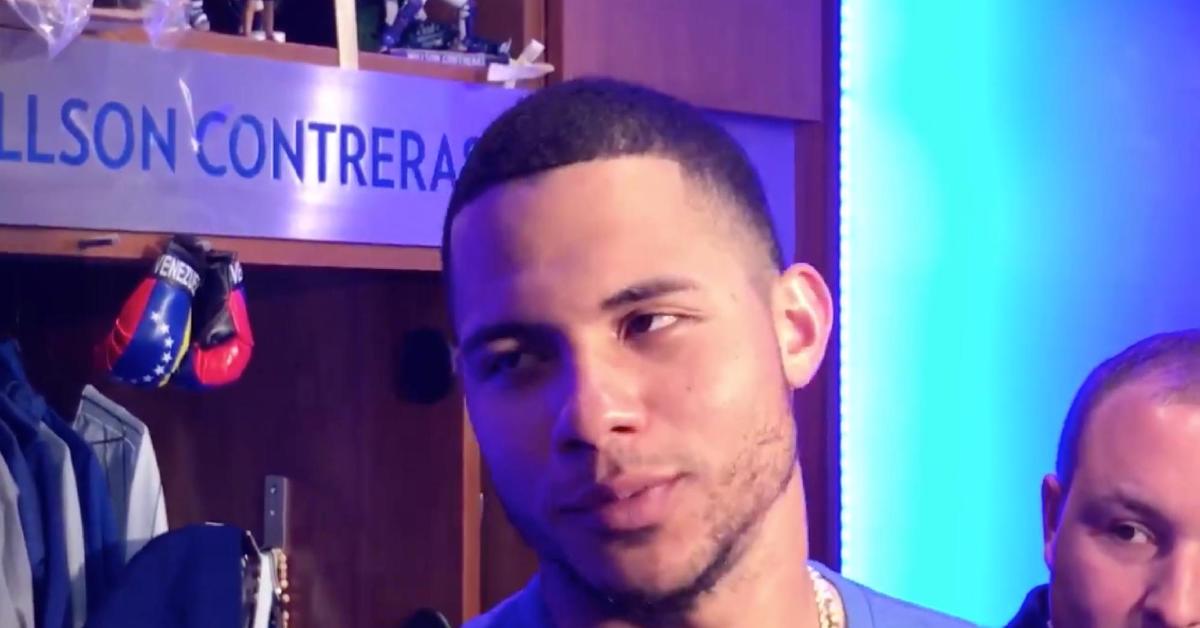 | | |
| --- | --- |
| WATCH: Willson Contreras laughs when asked about Tyler Flowers, says feud 'should be over' | |
---
| | | |
| --- | --- | --- |
| Tuesday, June 25, 2019, 5:54 PM | | |
CHICAGO — Putting to rest the controversial confrontation between him and Atlanta Braves catcher Tyler Flowers, Chicago Cubs backstop Willson Contreras described the quarrel as "part of the game" when asked about it by the media on Tuesday afternoon. However, Contreras could not help but laugh during a moment of reflection on the incident, likely because he thought about his solo home run, which was part of a 3-RBI night for him that ended when Flowers struck out to wrap up the Cubs' 8-3 win over the Braves.
Contreras cited "the heat of the moment" as being the primary factor behind the players engaging in the war of words after Flowers interrupted a conversation Contreras was having with an umpire about a suspect strike call, which led to Contreras barking at Flowers after going yard. For what it is worth, although both benches cleared as a result of the second-inning spitting match, no other heated moments took place for the remainder of the game. Therefore, Contreras telling reporters that "it should be over today" with regard to the Flowers feud will likely be substantiated on Tuesday night.
Willson Contreras: "It should be over today" pic.twitter.com/1EJgT2wO1q

— Mark Gonzales (@MDGonzales) June 25, 2019
"I was just having a conversation with the umpire," Contreras said of the incident with Flowers at the plate that sparked the confrontation. "What bothers me was I was talking to the umpire, not even to Flowers, and he got into the conversation. So I just told him, 'Do your job. I'll do mine.' And, then, when I rounded the bases, I had a reminder when I got to home plate. 'I told you do your job, and I'll do mine.' That's it. But what bothered me was he got into the conversation when I wasn't even talking to him."
Contreras continued, saying, "He's pretty good behind the plate getting pitches (framed for strikes). My conversation was only with the umpire because he called a low pitch on Kyle Schwarber, too, that wasn't close to the strike zone. And that was my complaint. And, all of a sudden, he got into the conversation, which irritated me. I'm glad that I kept my focus on my at-bat. I'm glad I was able to put the barrel on the ball. Then, when I saw the ball go out of the yard, I said, 'OK, I'm going to tell him to do his job and I'll do mine.' It felt so good. It felt so good, especially with my emotions. I was running the bases happy but mad, like 50-50. I think that set the tone for the game."
Remembering what happened in Houston, as a father, Albert Almora Jr. says extending netting to the foul pole is a no-brainer. He's still extremely emotional. #CubsOnDeck pic.twitter.com/ZZ8FJEXuho

— Shane Riordan (@shane_riordan) June 25, 2019