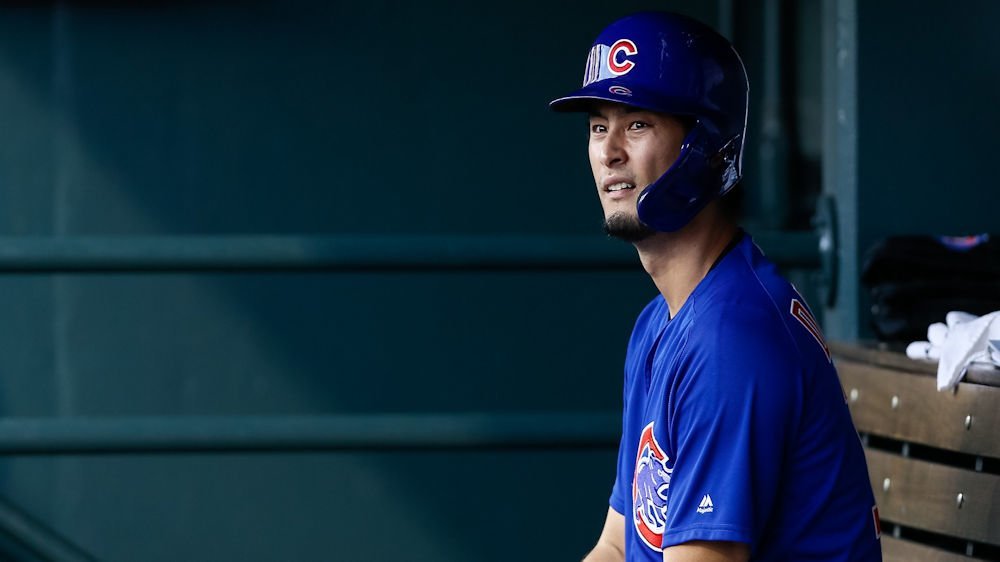 | | |
| --- | --- |
| Cubs News: Yu Darvish hilariously roasts Justin Verlander on Twitter | |
---
| | | |
| --- | --- | --- |
| Wednesday, October 23, 2019, 10:49 PM | | |
Early in the 2018 season, Chicago Cubs starting pitcher Yu Darvish infamously marred his first career double by taking a tumble after rounding second base. The extra-base hit was overshadowed by the blooper, as Darvish fell to the ground while attempted to jog back to the bag when he realized that trying for a triple was not a wise idea.
Houston Astros starting pitcher Justin Verlander had some fun at Darvish's expense by tweeting out a video of the baserunning gaffe with a caption that implied that Darvish was bolstering the stereotype that pitchers lack athleticism. Clearly not one to forget, Darvish enacted Twitter revenge on Verlander a year and a half later, as Verlander suffered a laughable blunder of his own in the World Series.
Yu.... ?????. Not doing a lot here to help us dispel the pitchers aren't athletes thing. https://t.co/685zoAJzXf

— Justin Verlander (@JustinVerlander) April 27, 2018
Toeing the rubber in Game 2 of the Fall Classic at Minute Maid Park on Wednesday, Verlander stumbled on the infield grass during a botched attempt at fielding a chopper of the bat of the Washington Nationals' Ryan Zimmerman. As a result, Verlander fell down and proceeded to make a halfhearted throw to first base that led to nothing more than the baseball hitting Verlander's outstretched leg.
Even Verlander could not help but laugh after getting back to his feet, and Darvish roasted Verlander by captioning a Twitter video of the blooper with essentially the exact same remark that Verlander tweeted about him in April of 2018. While it may not be as funny as Darvish's recent Twitter comeback involving fried chicken, the burn on Verlander is yet another example of Darvish's surprisingly wicked sense of humor.
Justin.... ?????. Not doing a lot here to help us dispel the pitchers aren't athletes thing.https://t.co/Ne5E1FXEe2 https://t.co/5UyZlpLyg9

— ???????(Yu Darvish) (@faridyu) October 24, 2019
October 24, 2019