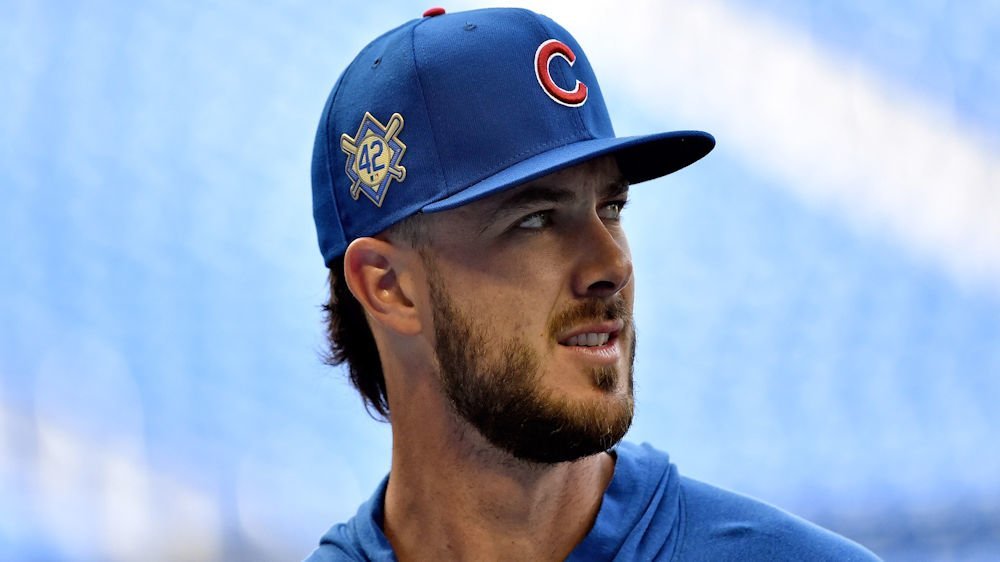 | | |
| --- | --- |
| Cubs News and Notes: Arenado-Bryant trade talk, Cubs reportedly sign 2B, David Bote, more | |
---
Next Game: Next Game: 22 days – Saturday, February 22, 2020: Athletics vs Cubs (Sloan Park)
Opening Day: 56 days – Thursday, March 26, 2020: Cubs vs. Brewers (Miller Park)
Will KB or Arenado go east? According to Ken Rosenthal, there is a strong possibility that either Kris Bryant or Nolan Arenado could wind up with an NL East team. I've said it would be the Braves from the start, but Rosenthal cites an AL club's internal projection that has the Braves, Mets, Nationals and Phillies separated by fewer than five wins in 2020.
I've maintained all along that I thought Bryant would be donning a Braves' uniform come Opening Day, but as Rosenthal points out, none of those four names have a superstar at third base.
Corban Joseph The Cubs have reportedly signed 2B Corban Joseph to a minor league deal. This continues the odd pattern this winter of the NL Central teams swapping players from last year; Joseph was most recently with Pittsburgh.
Joseph has been in the league for three years (2013; 2018-2019) and has played for five teams (six including the Cubs). Last year he spent time with Oakland, Seattle, and Pittsburgh. Not much to see here if you're looking for a hitter, as his career slash line (88 at-bats, 94 plate appearances) is just .170/.213/.273 with an OPS of .474. Not sure what Theo's seeing here, but if there's a diamond in the rough, I do not see it.
Casey Sadler: I had a chance to ask a question of new Cubs' reliever Casey Sadler about how he viewed his trade to Chicago. Here was his reply:
Proverbs 16:9 my man.
I loved my time with LA but I couldn't be more excited for this next step and the 2020 season. Playoffs are always the goal, and I hope to contribute to making that happen. https://t.co/d8Y3cV17Ss

— Casey Sadler (@sadler_squared) January 31, 2020
Bote's role: I read an interesting article yesterday which talked about David Bote having no defined role for the Cubs this season. Initially I laughed, as Bote really hasn't had much of a defined role since coming up to the majors on April 21, 2018. Over the course of his 201-game professional career, Bote's played 123 games at third, 63 games at second, 11 games at shot, two games at first and one game each in right and left. Had it not been for the injury to Kris Bryant, Bote would have never netted that many games at third, and had it not been for the demise of Addison Russell, he'd have never seen that much time at second.
Bote could be an everyday player, but a roster with depth has limited his role to more of what I'd call a bench-utilityman and an emergency guy whom you can plug in almost everywhere – much like Tommy La Stella was. For the record, Bote also says he can catch. The one problem is, he's been hero or zero at the plate at times, slashing just .235/.330/.388 as a starter, whereas (according to the article), he's slashing .343/.440/.586 off the bench.
With more consistent playing time and another year of service under his belt, I think Bote will mature this year. If Bryant is traded for anyone other than Arenado, Bote could find himself at the position, or you could see him at second, though that's less likely. I still think Nico Hoerner has a better shot than anyone to earn that slot coming out of Spring Training.
Cubs' Birthdays: Celebrating yesterday, were ex-Cubs Tommy Ls Stella (31) and posthumously, Hank Aguirre (89), Ernie Banks (89), Charlie Wiedemeyer (106), Ray Brown (131), and Bob Ferguson (175).
Cheers to baseball's #GreatestBirthday

Three of the game's all-time elite, born January 31:

Jackie Robinson, 1919
Ernie Banks, 1931
Nolan Ryan, 1947 pic.twitter.com/DjHTYaeDg5

— MLB Network Radio on SiriusXM (@MLBNetworkRadio) January 31, 2020
"He's an ambassador to baseball, to the Chicago Cubs. There's no doubt he is Mr. Cub." – Ron Santo

Happy birthday, Ernie! #LetsPlayTwo pic.twitter.com/TRLHtytvDC

— Chicago Cubs (@Cubs) January 31, 2020
Baseball Quotes: "I can't tell you about moments because I wasn't into that. I just played every day and enjoyed what I was doing. When I made a great catch, it was just routine. I didn't worry about it. Winning was important. Winning." -Willie Mays
Some incredible footage of Babe Ruth and Lou Gehrig take batting practice! ????

pic.twitter.com/yvXP3Mpqmw

— Baseball Quotes (@BaseballQuotes1) January 9, 2020
MLB News and Notes:
Pirates: Former Cubs' reliever Derek Holland has signed a minor league deal with the Pirates. Holland made 51 relief outings last year for Cubs & Giants: 6.08 ERA, 1.51 WHIP, 8.8 K/9. The Pirates have also signed infielder JT Riddle to a Major League deal.
In a pair of late moves on Friday, the Bucs also added minor league deals for both OF Charlie Tilson and catcher Andrew Susac.
Curtis Granderson: After playing in part or all of 16 seasons from 2004 to 2019, Curtis Granderson has announced his retirement.
It's been an incredible journey! Thanks for the ride of a lifetime, @MLB @MLB_PLAYERS pic.twitter.com/0AgOgSjWSC

— Curtis Granderson (@cgrand3) January 31, 2020