| | |
| --- | --- |
| Cubs to host Opening Homestand of 2017 season | |
---
| | |
| --- | --- |
| Tuesday, April 4, 2017 4:18 PM | |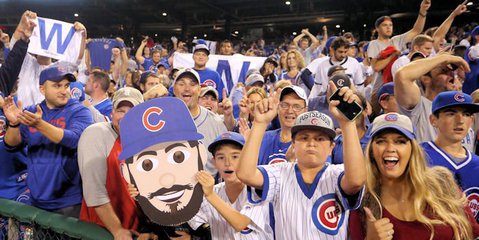 CHICAGO – The World Series Champion Chicago Cubs will host their Home Opener at Wrigley Field Monday, April 10, at 7:05 p.m. vs. the Los Angeles Dodgers following a six-game road trip to begin the 2017 season. The Dodgers series continues with the team's World Series Ring Ceremony Wednesday, April 12, and series finale the next day, followed by visits from the Pittsburgh Pirates April 14-16 and Milwaukee Brewers April 17-19.

The team's opening homestand will include several celebrations of the 2016 World Series team, including the raising of the 2016 championship banner and National League pennant for the Home Opener and distribution of the team's World Series rings April 12. Following league tradition, Cubs players and coaches will open the home schedule wearing celebratory gold versions of their jerseys and caps April 10 and 12. Bases and baseballs used during these two games will feature commemorative stamps and base jewels as well. Fans looking to purchase an authentic piece of team history may preorder these game-used items by contacting Cubs Authentics, with net proceeds benefiting the Cubs Charities Diamond Project. Replica gold Majestic jerseys and New Era hats are available for purchase at retail outlets including MLB Shop and official Cubs Store locations on Michigan Avenue and at the Park at Wrigley.

On April 12, Cubs players will receive their World Series rings from 20 fans serving as honorary "Championship Ring Bearers." These dedicated fans were selected from more than 1,500 video nominations by family members, coworkers and friends this offseason.

Fans will have the opportunity to collect promotional items honoring the 2016 Championship Team this season, beginning with a Replica Championship Banner presented by Mastercard April 12, as well as a Replica World Series Trophy presented by Starwood Preferred Guest Saturday, April 15.

Tickets remain available at www.cubs.com or 800-THE-CUBS (800-843-2827). New attractions at Wrigley Field and highlights of the homestand follow.

Ballpark Updates:
This season, fans can enter Wrigley Field's new western Gate H through the Park at Wrigley, which opens to the public April 10 prior to the Cubs' Home Opener. Hickory Street Capital, a real estate development company owned by the Ricketts family, designed and built the Park at Wrigley and office and retail building adjacent to Wrigley Field to provide a year-round, family-friendly gathering place for neighbors, Cubs fans and visitors.

Cubs fans will enjoy several tenants in the new space, which also will host community festivals, farmers markets, music, family movie nights and dining throughout the year.

The Trophy Room presented by Motorola will house the 2016 Chicago Cubs' World Championship Trophy throughout the 2017 regular season. Fans can take pictures alongside the Commissioner's Trophy starting Thursday, April 13, with hours subject to availability. Fans can visit the Trophy Room page at www.parkatwrigley.com for the latest scheduling updates.

Following the Cubs' April 12 Championship Ring Ceremony, Jostens, the "Official Designer of Chicago Cubs World Championship Ring," will open the Jostens Jewelry Store at the Park. The store will provide Cubs fans of all ages with the opportunity to buy a piece of history by offering high-quality, masterfully crafted jewelry, keepsakes and collectibles that commemorate the Cubs' historic 2016 season.

The Park at Wrigley also will be home to the Cubs Store at the Park, a two-story retail shop with 8,400 total square feet featuring authentic Chicago Cubs gear, merchandise and memorabilia, with some items exclusive to this location.

Fans who have purchased their tickets and selected the instant mobile ticketing option will want to ensure they've downloaded the MLB.com Ballpark app for scanning into Wrigley Field prior to their arrival at the ballpark. Mobile ticketing has replaced print-at-home as a more secure and convenient delivery option for fans who carry their smartphone everywhere, and the MLB.com Ballpark app is free to download and use with an MLB.com account. Fans still have the choice to receive hard copy tickets in the mail or at Will Call when purchasing their tickets at www.cubs.com. More details about Cubs mobile ticketing, including a video tutorial and detailed FAQ section, can be found at www.cubs.com/ballparkapp.

Inside the ballpark, fans will find a newly branded Jim Beam Patio on the upper deck level behind home plate, featuring upgraded furniture, décor and the new Jim Beam signature bar. The Jim Beam Patio is the perfect place for a view of Wrigleyville and the iconic Chicago skyline.

Crate and Barrel joins as the Official Home Furnishings Partner of the Chicago Cubs, supplying comfortable outdoor furniture in group spaces throughout Wrigley Field.

Chicago Cubs Legacy Partners Nuveen and Wintrust will provide an added benefit to watching where Cubs home runs travel once again this season, as each partner has committed to a sizeable donation to Cubs Charities if a batted baseball strikes their sign at Wrigley Field during the 2017 regular season or postseason. If a Cubs batter hits any letter of the Wintrust sign above the left field videoboard, Cubs Charities will receive a $1 million donation from Wintrust for the feat. Nuveen will donate $10,000 to Cubs Charities if a Cubs player hits their sign, which has been updated to reflect their new logo. The sign is a likely target, as it rests just inside the left field foul pole behind the Budweiser Bleachers. Former catcher David Ross netted Cubs Charities a $10,000 donation in 2016 when he struck the sign with his 100th career home run.

Guests and Entertainment:
Singer Julianna Zobrist, wife of Cubs infielder Ben Zobrist, will kick off a special Home Opener pregame ceremony with God Bless America followed by Wayne Messmer singing the national anthem for his 33rd consecutive year. The team will raise championship banners with Cubs alumni before members of the Ricketts family throw a ceremonial first pitch. Cubs Hall of Famers Fergie Jenkins, Ryne Sandberg and Billy Williams will lead the 7th inning stretch. Fans are encouraged to arrive early for Home Opener pregame festivities, which will start at approximately 6:15 p.m. CDT.

Former Cubs catcher David Ross will throw a first pitch and sing the stretch during the Ring Ceremony Game Wednesday, April 12.

On Thursday, April 13, Chicago-native actor from NBC's "Great News" and comedian Brad Morris will throw a first pitch and Jeff Garlin, star of ABC's "The Goldbergs," will lead the stretch.

Chicago Bears quarterback Mike Glennon will throw a ceremonial first pitch and sing the stretch Friday, April 14.

On Saturday, April 15, television and movie star Mila Kunis, guest of Jim Beam, will throw the ceremonial first pitch. Miss Illinois USA Whitney Wandland will sing the national anthem.

Chicago-native actress Aimee Garcia, known for her roles on "Dexter" and "Lucifer," will throw a first pitch and lead the 7th inning stretch Tuesday, April 18.

Former Cubs outfielder and current CSN Chicago studio analyst David DeJesus will throw a first pitch and lead the stretch Wednesday, April 19.

Promotional Items:
For the April 10 Home Opener, up to the first 30,000 fans will receive a Cubs Magnet Schedule presented by Giordano's. Wendella will present a Cubs Magnet Schedule giveaway for up to the first 30,000 fans Friday, April 14, as well.

Up to the first 30,000 fans will receive a Replica Championship Banner presented by Mastercard Wednesday, April 12.

On Saturday, April 15, up to the first 10,000 fans will receive a Replica World Series Trophy presented by Starwood Preferred Guest.

Kids Sundays kick off April 16, with up to the first 1,000 kids 13-and-younger receiving the chance to run the bases postgame, weather permitting.

In addition to the regular schedule of promotional items, fans can purchase tickets to themed Community Nights presented by PEAK Antifreeze with specialty giveaways. These tickets can be purchased through www.cubs.com/communitynights, or groups of 15 or more can contact a Group Sales representative at 773-404-4242 or cubsgrouptickets@cubs.com. For each shutout recorded by the Chicago Cubs during a 2017 Community Night, PEAK will donate $1,000 to Cubs Charities.

Jim Beam, the Official Bourbon of the Chicago Cubs, presents Industry Night Monday, April 17. Tickets purchased for guests 21-and-older include a wooden coaster set with a built-in bottle opener.

The Cubs proudly present Scout Nights April 17-18, with a portion of tickets sold April 17 for Boy Scout Night benefiting Boy Scouts Chicagoland Area Councils and April 18 for Girl Scout Night benefiting the Girl Scouts of America. Purchasers will receive a Cubs-themed scout patch at each event.

Food and Beverage Offerings:
Following the addition of an 8,870-square-foot kitchen and commissary space as part of the 1060 Project, the Cubs and hospitality partner Levy have enhanced the menus across dining destinations in the grandstand and Budweiser Bleachers, adding top local restaurants, creative Chicago tastes, globally-inspired loaded hot dogs, and signature brews and cocktails. Many of the new locations and menus will debut at the Home Opener, while full dining enhancements, including a special guest chef series, will open in June.

A new Craft Hot Dog Lineup at Sheffield Counter (formerly the Decade Diner) features a rotating lineup of loaded hot dogs reflecting global flavors, featuring Vienna Beef hot dogs served in a toasted, split-top New England-style bun. Examples include the Bao Wao Dog with pickled daikon and carrot, Sriracha aioli, cilantro and mint; the Kimchi Dog with crisp braised pork belly, pickled ginger aioli and kimchi; the Pilsen Dog with roasted corn, lime-cilantro aioli and Tajin seasoning; and the Wrigley Dog as an "easy to eat" version of the Chicago Dog with chopped Chicago relish mixing tomato, onion, pickles, neon relish, sport peppers, celery salt and mustard.

Also at the Sheffield Counter, Levy will dish up seasoned Al Pastor Chicken Tacos topped with pickled red onions, cilantro, sliced radish and queso fresco; the Aloha Chicken Sandwich with sweet chili glaze, Asian slaw and sautéed pineapple on toasted Hawaiian bread; and the double-patty Catalina Burger topped with American cheese, Applewood smoked bacon, sliced onions, tomatoes, lettuce, pickle and Catalina sauce on toasted brioche bun.

The Marquee Grill, located behind the famed Wrigley Field Marquee on the terrace level, adds the Marquee Melter – a decadent grilled cheese sandwich made with Butterkase and cheddar, house-smoked brisket and caramelized onions.

Several partners will continue to add their delicious offerings to Wrigley Field, with additional high-profile chefs joining this June for an exciting visiting Chef Series.

Pork & Mindy's, a local spot known for 14-hour smoked meats and globally inspired sandwiches from Food Network Star Jeff Mauro, will serve its signature dishes in several locations throughout the ballpark. Bao to the Pork, with hickory-smoked pulled pork, Asian sauce, pickled daikon and carrot, cucumbers and jalapeño relish on steamed bao bun, will be served at Platform 14 in the Budweiser Bleachers and Marquee Classics, a new Wrigley Field concession stand located near home plate on the main concourse coming in June. Platform 14 also will serve Pork & Mindy's Buffalo Chicken Sandwich with smoked pulled chicken tossed in fire sauce, topped with gorgonzola, pickled carrots and celery, and ranch dressing on buttered New England roll; Pig Candy, which is sweet and savory brown sugar-coated bacon bites; and Pig Candy BLT featuring Pig Candy bacon with lettuce, tomato, dry rub mayo and balsamic onions on a buttered brioche bun.

Hot Doug's will continue to serve its decadent, alumni player-inspired sausages on a rotating basis at Platform 14, while Gilbert's Craft Sausages are available at Gilbert's Grill Cart in the main concourse.

Fans can still find their favorite Chicago staples, such as Vienna Beef hot dogs, sausages and Wrigley Field Smokies. Giordano's classic deep dish pizza returns to a new Giordano's Pizza Kitchen Stand near Aisle 102-104. Buona Beef will return to Platform 14, along with a new specialty combo cart located in the right field concourse.

Whether fans want to wash down their cuisine with an ice-cold Budweiser, signature draft or a craft cocktail, Wrigley Field's selection has them covered. Beam Suntory becomes the official spirits partner of the Cubs and Wrigley Field, mixing up cocktails throughout the ballpark with recognizable brands including Jim Beam, Maker's Mark, EFFEN Vodka, Cruzan Rum and Hornitos Tequila. Hand-batched, seasonal Billy Sunday Craft Cocktails inspired by the Logan Square staple will be served in the Budweiser Bleachers and Sheffield Counter in right field as well. Beer lovers will enjoy Goose Island's new 1060 Wit, a signature blend for Wrigley Field inspired by traditional Belgian Wits using un-malted wheat, orange peel and coriander.

Cubs Charities and Community Events:
Cubs manager Joe Maddon will once again support Chicago nonprofit organizations through his "Respect Community" charity T-shirt initiative. After every Friday home game, Maddon will represent a different Chicago nonprofit by wearing the organization's T-shirt during his post-game press conference. Joe Maddon's first "Respect Community" shirt April 14 will represent Chicago Run, which promotes the health and wellness of Chicago children through innovative, engaging and sustainable youth running programs. The organization implements free physical activity programs in 40 Chicago Public Schools, serving more than 15,000 students. Kids from the Chicago Run's Running Mates program will be participating in the 12th Annual Race to Wrigley 5K benefiting Cubs Charities Saturday, April 29.

On Saturday, April 15, the Cubs will join all of Major League Baseball by hosting Jackie Robinson Day at Wrigley Field. Jackie Robinson's legacy is memorialized each year on April 15 to recognize the anniversary of the Hall of Famer breaking baseball's color barrier. Uniformed players and personnel at each ballpark will wear Jackie Robinson's retired No. 42 on their jerseys that day. These game-used No. 42 jerseys will be available through an online Cubs Authentics auction benefiting Cubs Charities. The team will present the 11th annual Jackie Robinson Most Valuable Diverse Business Partner Award, which recognizes diverse business partners who exhibit and continue the legacy of Jackie Robinson. A pregame ceremony will include video highlighting Jackie Robinson's career and legacy.

On Wednesday, April 19, Cubs Charities will host the Seventh Annual Bricks and Ivy Ball at Navy Pier's Grand Ballroom. Attendees will enjoy live music, exciting auction packages, specialty cocktails and a seated dinner with the 2016 World Champion Chicago Cubs. The sold-event will benefit Cubs Charities, which harnesses the passion of Cubs fans to improve the lives of children and families across Chicago and beyond. Cubs Charities' goal is to provide increased access to sports opportunities and target improvements in health, fitness and education for those at risk. For more information, visit www.cubs.com/bricksandivy.

Homestand Recap, April 10-19:
Monday, April 10, Chicago Cubs vs. Los Angeles Dodgers, 7:08 p.m.
· Pregame: Championship Banner Ceremony
· Promotion: Cubs Magnet Schedule presented by Giordano's, up to the first 30,000 fans
· God Bless America: Julianna Zobrist
· National Anthem: Wayne Messmer
· First pitch: Ricketts family
· 7th inning stretch: Cubs Hall of Famers Fergie Jenkins, Ryne Sandberg and Billy Williams
· Broadcast: ESPN, 670 The Score, Cubs.com

Wednesday, April 12, Chicago Cubs vs. Los Angeles Dodgers, 7:05 p.m.
· Pregame: Championship Ring Ceremony
· Promotion: Replica Championship Banner presented by Mastercard, up to the first 30,000 fans
· First pitch and 7th inning stretch: Former Cubs catcher David Ross
· Broadcast: ABC 7, MLB Network, 670 The Score, NBC Sports app, CSNChicago.com, Cubs.com

Thursday, April 13, Chicago Cubs vs. Los Angeles Dodgers, 1:20 p.m.
· First pitch: Chicago-native actor and comedian Brad Morris
· 7th inning stretch: Actor and comedian Jeff Garlin
· Broadcast: CSN Chicago, MLB Network, 670 The Score, NBC Sports app, CSNChicago.com, Cubs.com

Friday, April 14, Chicago Cubs vs. Pittsburgh Pirates, 1:20 p.m.
· Promotion: Cubs Magnet Schedule presented by Wendella
· First pitch and 7th inning stretch: Chicago Bears quarterback Mike Glennon
· Broadcast: WGN, MLB Network, 670 The Score, Cubs.com

Saturday, April 15, Chicago Cubs vs. Pittsburgh Pirates, 1:20 p.m.
· National anthem: Miss Illinois USA Whitney Wandland
· First pitch: Television and movie star Mila Kunis
· Broadcast: CSN Chicago, 670 The Score, NBC Sports app, CSNChicago.com, Cubs.com

Sunday, April 16, Chicago Cubs vs. Pittsburgh Pirates, 1:20 p.m.
· Broadcast: WGN, 670 The Score, Cubs.com
Postgame: Kids Run the Bases, first 1,000 kids 13-and-under

Monday, April 17, Chicago Cubs vs. Milwaukee Brewers, 7:05 p.m.
· Broadcast: CSN Chicago, 670 The Score, NBC Sports app, CSNChicago.com, Cubs.com

Tuesday, April 18, Chicago Cubs vs. Milwaukee Brewers, 7:05 p.m.
· First pitch and 7th inning stretch: Chicago-native actress Aimee Garcia
· Broadcast: WGN, 670 The Score, Cubs.com

Wednesday, April 19, Chicago Cubs vs. Milwaukee Brewers, 1:20 p.m.
· First pitch and 7th inning stretch: Former Cubs outfielder and current CSN Chicago studio analyst David DeJesus
· Broadcast: CSN Chicago, MLB Network, 670 The Score, NBC Sports app, CSNChicago.com, Cubs.com
· Postgame: Cubs Charities Bricks and Ivy Ball