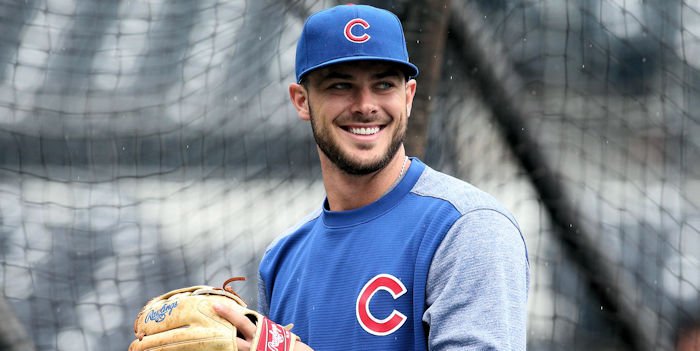 | | |
| --- | --- |
| Cubs News: Kris Bryant rumors finally over, maybe extension time? | |
---
| | | |
| --- | --- | --- |
| Saturday, February 20, 2021, 9:16 AM | | |
A name swirling around in trade rumors for what feels like years now has been Cubs' third basemen Kris Bryant.
Bryant's story is one that has been well documented.
The early years of his career began with a sweep of the quartet of best possible awards he could win as an individual — 2013 College Player of the Year, 2014 Minor League Player of the Year, 2015 National League Rookie of the Year, 2016 National League Most Valuable Player — and culminated with a World Series Championship.
Bryant has since made two all-star games but also battled injuries, struggles at the plate, and been the frequent subject of trade rumors. He has always remained unselfish, whether it be moving positions or slots in the batting order or with talks about his career. The third baseman has also never wavered about his love for the City of Chicago and his want to continue playing baseball with the Cubs.
"I really can't put into words what Chicago means to me," Bryant said. "Obviously, the goal is to play in one area, one city your whole life, and that's my goal too."
But this offseason has featured numerous reports about the Cubs trying to trade Bryant as a part of their reset. Rumored teams interested in a trade have included the Atlanta Braves, Boston Red Sox, and San Diego Padres. Reports have also revealed that the Los Angeles Dodgers, Washington Nationals, and Toronto Blue Jays were at one time interested in acquiring the talented third baseman.
The latest team that was reported to check-in, the New York Mets.
As spring training has begun and Jed Hoyer has met with the media, the topic of Kris Bryant, of course, came up.
"Things are quiet, and they have been for some time," Hoyer said of Bryant's trade market.
Hoyer mentioned that he can not guarantee that Bryant will be in a Cubs uniform on opening day because all it could take is one call with a very sweet offer to change his mind — but he did mention that as things are going right now, he expects the group the Cubs have right now to be the group that opens the season in the Cubs' uniforms against Pittsburgh.
Despite all of the rumors, reports, and predictions, it appears Bryant will be a Cub on Opening Day in 2021.
Spring Training is often a time for contract extension talks as well, as we have already seen with Fernando Tatis' 14 year, $340 million deal.
Although Bryant's agent, Scott Boras, has a reputation for taking his clients to free agency and getting every last possible dollar, there should be some optimism in Bryant, a new father, craving some financial stability on a team and in a city he loves signing an extension before he hits the open market in a collective bargaining agreement year.
If not, Bryant should be motivated by an impending free agency to earn a contract in the years to come — which should leave the Cubs with a perplexing decision to ponder come the July 31st trade deadline.
But as it stands right now — and as it has stood for the last six years — Kris Bryant is a Cub, and it is trending to stay that way.