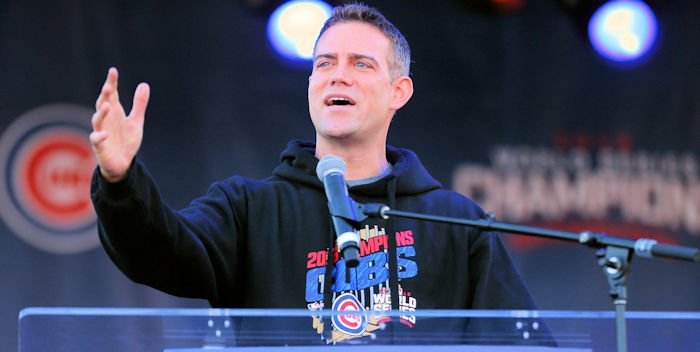 | | |
| --- | --- |
| Cubs News: Theo Epstein is a no-brainer Hall of Famer | |
---
| | | |
| --- | --- | --- |
| Friday, February 12, 2021, 8:27 AM | | |
Another year has come and gone in the MLB in terms of Hall of Fame voting, and this particular season did not have a new addition the baseball immortality. There are multiple players still on the brink of making it to Cooperstown — some of which undoubtedly would if their reputations hadn't been tainted by their involvement in performance-enhancing drugs or with domestic incidents.
But at the end of the day, no new Hall of Famers have been chosen to enter Cooperstown for the year 2021 — but the class of 2020 that features Derek Jeter will get their induction in the summer of 2021. But for us here at Cubs HQ, this led us to question the potential futures of some of our most recent Cub players/personnel and their chances at the Hall of Fame.
Last offseason, we discussed the potential of Sammy Sosa, Alfonso Soriano, Aramis Ramirez, Jon Lester, Cole Hamels, Craig Kimbrel, and more — and we will continue our analysis of some of the futures of some other people with ties to the Chicago Cubs.
Today? The question is whether or not Theo Epstein is ticketed for baseball immortality in Cooperstown.
The short answer is yes, absolutely.
Theo Epstein has been one of the most influential executives in modern-day sports history, arguably the best baseball general manager has seen over the last twenty years. Epstein is brilliant and has the education to back it up. But Epstein has also shown a remarkable ability to build a winning culture in various organizations.
Two of the most well-documented "curses" that baseball has faced over the last 100 plus years has been the Boston Red Sox's Curse of the Bambino and the Chicago Cubs' Curse of the Billy Goat. Epstein was the man in charge who put the plan in place to reverse both of those curses.
Whoever was the top executive of the Red Sox when they finally broke their curse was likely ticketed to the Hall of Fame. And it was even more of a sure thing that whoever was the top executive of the "Lovable Losers" Cubs when they ultimately won their World Series would be a Hall of Famer. It's just a tribute to Theo's excellence that it was the same man who did both.
Epstein originally started in baseball as a public relations assistant with the Orioles. That job intimately led him to become the Director of Player Development with the Padres — while also studying law. Next, for Epstein, it was a trip to Boston to become the Red Sox General Manager — a job Epstein won over Billy Beane. A pair of World Series titles highlighted Epstein's time in Boston.
Then it was a trip to Chicago in the cards for Epstein, who was hired as the President of Baseball Operations for the Cubs. Epstein spent nine years in Chicago — including a total cleanse of the organization, a rebuild, and the most successful six-year stretch in Chicago Cubs history. That tenure was capped by the epic World Series win that so many men before Theo tried to win but couldn't.
Epstein's brilliance leaves him as a no doubt, slam dunk candidate to become a Hall of Fame executive.
Now, Epstein has moved on to a new challenge. Although he seemed set on joining an ownership group, Epstein has signed off to become a special assistant to the commissioner in MLB's front office. For Theo, he will specialize in rule changes that aim to pick up the pace in baseball — and save a game that Epstein and fellow general managers partially broke. After that? Maybe Epstein becomes an owner and helps to bring another championship to a town hungry for one? Or perhaps Epstein graduates and becomes MLB's next commissioner?
Ultimately, Epstein is in another role where he has an opportunity to play savior in his career. A career that is undoubtedly a Hall of Fame one.