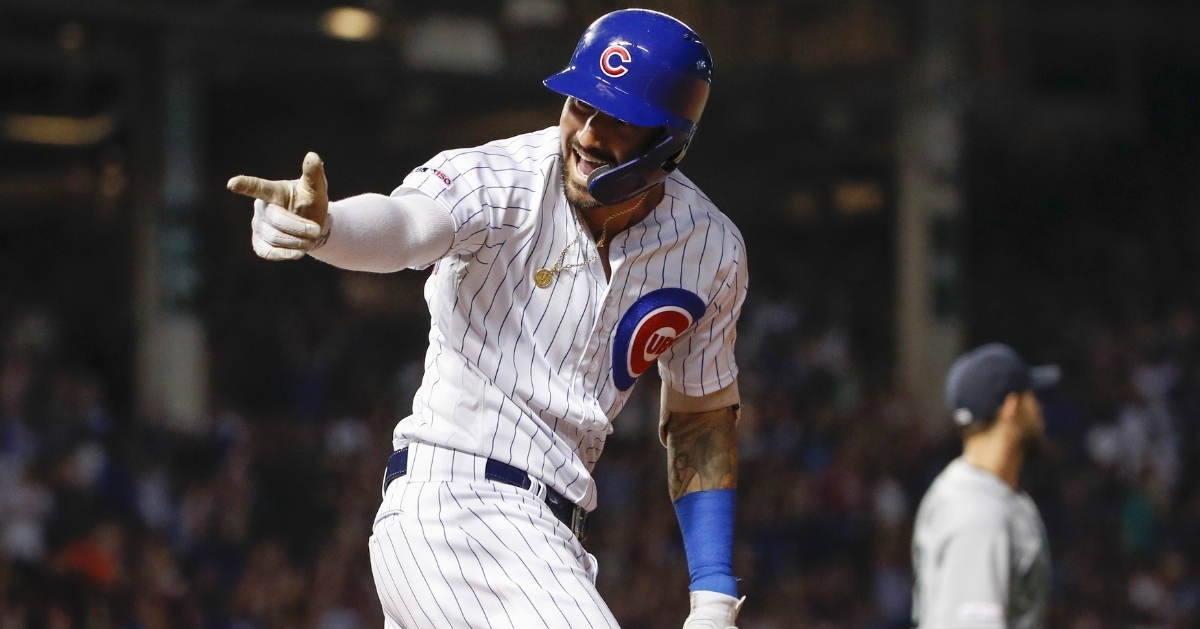 | | |
| --- | --- |
| 12 Days of Christmas: Cubs version Part 2 | |
---
| | | |
| --- | --- | --- |
| Thursday, December 26, 2019, 7:11 AM | | |
In honor of the Christmas season, I thought we could countdown the Cubs offseason wish list.
Here we go on Part II from No. 6 all the way to the top spot:
6. RE-SIGN Nicholas Castellanos
This is such a no brainer move. I have never seen a player fit so well on a team that he was only on for a couple of months. Castellanos' excitement, production, and attitude all fit the mold of precisely who the Cubs want — not to mention he had one of the best second halves in recent history. His "play every day like opening day" attitude will play on a team that wants accountability, and his leadership is extremely valuable. Castellanos would provide some offense the Cubs desperately need and an answer in center field, even though we mentioned Jason Heyward wouldn't love to be there, the Cubs lineup would look very scary.
5. GET A LEADOFF MAN
This may be one of the off season's main priorities. The Cubs need an answer at the top of the order, and odds are it is not a player on the team, as just about all of them have tried it. Anthony Rizzo is the only player who has been somewhat successful in this role, but he is far more valuable later in the Cubs' order. The perfect scenario is finding a player who fits the leadoff hitter mold, who also plays center field or second base — the Cubs' most significant holes.
4. GET A SECOND BASEMAN
Second base has been a hole for the Cubs since Javier Baez moved from second base to shortstop permanently. Ben Zobrist filled the role temporarily but will never be an everyday player again, so even if the Cubs do resign him, this would be a tight spot to fill. The Ian Happ/Daniel Descalso/David Bote/Addison Russell experiment combined to rank near the bottom in the MLB, and some of those guys won't be on the team next year. Nico Hoerner is a young and potential solution as he provided some spark down the stretch, but it would be difficult to place that much trust in a 22-year-old who has hardly even played in the minor leagues yet. Odds are the Cubs may look for an answer at second base via trade or free agency.
3. TRADE FOR WHIT MERRIFIELD
Number five and number four get answered if the Cubs do number three, which is to trade for Royals second basemen, Whit Merrifield. The 30-year-old was a target of the Cubs around the trade deadline and is said to be a "top priority" of the Cubs this offseason. Merrifield is precisely what the Cubs want, a speedy, contact-oriented top of the order bat who plays second base or center field. Last year, Merrifield hit .302 with 105 runs. He led the American League with 206 hits and hit 16 homers and stole 20 bases. This is exactly what the Cubs are looking for and need. Plus, he is under control through 2023.
If we're talking wishes, the Cubs' dream is to keep Bryant and keep him longer than 2021. Resigning the 2015 rookie of the year, the 2016 NL MVP, the three-time all-star, the versatile five tooler, the guy who was part of the last out in the biggest game in the franchises' history is a great part of a plan to stay good for a while. Bryant is one of the game's best players, and re-signing him is an excellent step in sustaining future success.
1. RE-SIGN Javier Baez
The same goes for Javier Baez, who seems to be the Cubs' priority over Bryant. Baez is not only a fan favorite and perennial MVP candidate, but he also electrifies Wrigley Field with his loud and flashy playing style that features huge swings, epic tags, amazing slides, jaw-dropping defensive plays, and just pure magic. Locking up Javy long term not only helps to ensure that the Cubs will stay competitive but at least makes sure all tickets are worth their price.
We hope you enjoyed our version of 12 days of Christmas.
Happy Holidays from us here at CubsHQ!