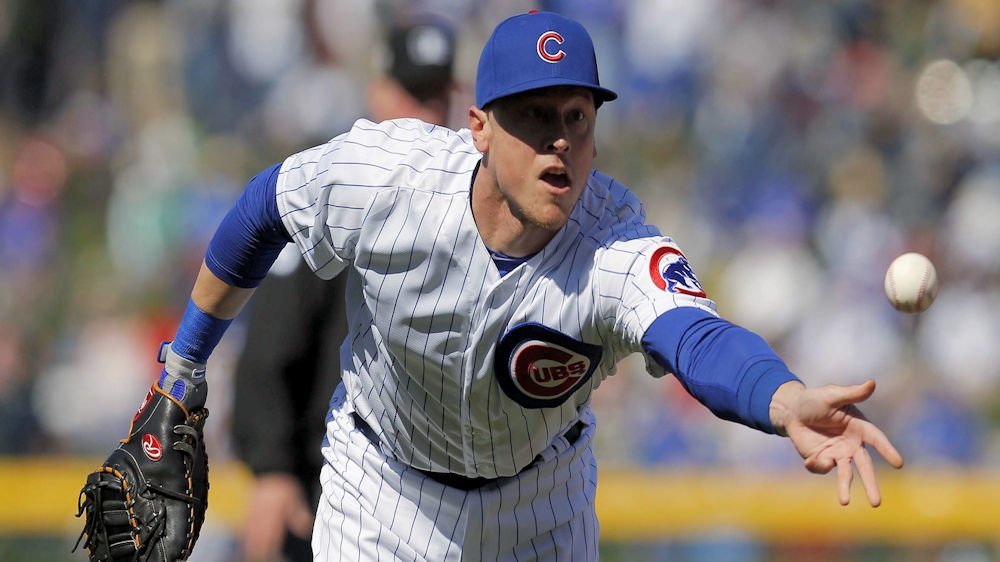 | | |
| --- | --- |
| 2019 Report Card Grades: Cubs first base prospects | |
---
| | | |
| --- | --- | --- |
| Wednesday, October 9, 2019, 4:04 PM | | |
As we continue to grade each player in the Cubs organization under a microscope, we continue with the first basemen who are in the system. This time we are shifting to the minors as the Cubs had plenty of talented players who contributed all season at their respective levels.
JIM ADDUCI: Listed as an outfielder by trade, Adduci spent most of his season playing first base for Iowa as they never had a steady first baseman. Known as a minor league journeyman and veteran, Adduci quietly put together one of his best seasons in a while, eventually earning a mid-season call-up in Houston for one season. He went 0-4 with 3K's in the game before being sent back down but continued to put together a strong campaign.
Season Grade B+: Adduci had a great year as he finished with a team-best .301 average. His 14 Homers and 52 RBI's was also good to see as his power numbers remained consistent all year. The thing that stood out the most during the year was his patience at the plate. Not only did he put together a career-best 15 game hitting streak, but he also reached base in 21 of 23 games in June and July as he was essential to the Iowa Cubs playoff run in 2019.
GIOSKAR AMAYA: When we see the last name Amaya, most people immediately think Miguel, who is the Cubs top catching prospect. However, there is another Amaya in the system who calls first base home with Tennessee. That would be Gioskar, who put together a decent season in 2019.
After three years away from baseball, the 26-year-old Amaya returned to action with the Smokies in 2019, where he participated in 84 games. That is over half of the team's contests, and he played well all season. Even with a batting average at .245 and just two homers and 24 RBI's. Amaya did get better as the season went on, leaving a big question mark for his future going forward.
Season Grade C+: I very easily could have given him a higher grade considering how he did not play baseball for three seasons, but the numbers are the numbers, and this is where he falls. At 26 years old, Amaya is rather old for the Southern League but is still young as experience goes. He has a ton of work to do both at the plate and in the field, but should he not be away from the action for another three years and expect good improvement in 2020.
JARED YOUNG: A name that Cubs fans should get familiar with in the next few months, Young put together a solid season in Tennessee before heading to Arizona to grab some more at bats in the Fall league. Much like Amaya, Young split time at first base but did play in a team-high 123 games, meaning he was considered the starting 1B for the year.
Take his .235 batting average and 33 BB/100K ratio aside, and you will see the kind of season Young had at the plate. His five homers were second on the team only behind Robel Garcia, and his 57 RBI's led the way as his offense certainly wasn't lacking what his average and plate discipline did. The biggest thing for Young continues to be his patience at the plate as he is still learning what exactly his strike zone is. Once that is figured out, look for an increase in overall numbers.
Season Grade B: Young gets a solid B for the season as often he came through for Tennessee. Although he would have liked his average to be much higher, the Southern League is one of the toughest leagues to hit in, so he looks at that with a grain of salt. I expect him to open the season in Tennessee once again next year, as he will be more familiar with how things are next season.
CAM BALEGO: One of the more consistent players for Myrtle Beach, Balego, played in 113 games for the Pelicans with most of those at first base. Despite a slow start to the season as did much of the team, the second half is when Balego took off as he looked like a possible big-league role player by Sept.
A .247 average is nothing to get excited about, but his 12 HRS and 48 RBI's certainly can be something he builds off. Those are some great power numbers for a guy still trying to figure things out. Once he does, he will be a perennial 20 homer guy who would give the Cubs a nice offensive piece down the road.
Season grade B+: Balego had a great season, and there is no denying that. From above-average defense to many clutch hits during the year, there is no telling what the future holds for this player. He is a long way away from big league action, but this is one name to watch for the next couple of years, whether he remains in the system or is traded out.
TYLER DURNA: One of the many promoted players in 2019, the 22- year old Durna entered his second professional season with South Bend before moving to Myrtle Beach in late July. After putting together a ridiculous .304 average, four homers and 42 RBI's in 76 games with South Bend, the Cubs organization felt he was ready to take the next step and head to Myrtle Beach.
Although he only saw action in 26 games, Durna proved to everyone that he will be a force to watch soon. His .253 average was a good start when it comes to adjusting to a new league, but his power numbers didn't carry over. Durna finished with 0 HRS and 10 RBI's for the Pelicans but is not concerned at all given his limited role with Myrtle Beach.
Season grade A: This was an easy grade to give out, given how fast Durna has come through the system. In just two seasons, Durna has played in four different levels in the Cubs minor League system and continues to produce at each level. Next season may be the first time he finds himself at one level for a full season as I expect him to play significantly more with Myrtle Beach. Should he continue to hit around .300 and show any power, the top 30 prospect list will be calling his name in 2021.
JAKE SLAUGHTER: The 2019 Midwest League champions benefitted from a plethora of players producing for them, with some of them not even on the opening day roster. Slaughter fits that bill as he was promoted mid-season from Eugene to help South Bend down the stretch.
Coming off a 42-game stretch in which he led Eugene with a .308 average, three homers, and 27 RBI's, his promotion to South Bend was only a matter of time as Northwoods League pitching was doing nothing for him. That promotion proved to be the right idea as not only did Slaughter fit right in but produced immediately.
In 29 games, not counting playoffs, Slaughter picked up right where he left off at Eugene, hitting a .276 with South Bend. His one homer and 13 RBI's is something to look at as I expect power numbers to increase with more experience.
Season Grade. A-: Much like Durna listed above, Slaughter had a tremendous season and continues to rise through the system. His power numbers may not be where some expect them to be, but his high average continues to be something that sets him apart from most of the 1B in the system. The one thing he does need to work on is his plate discipline, but that will come with experience as does everything else.