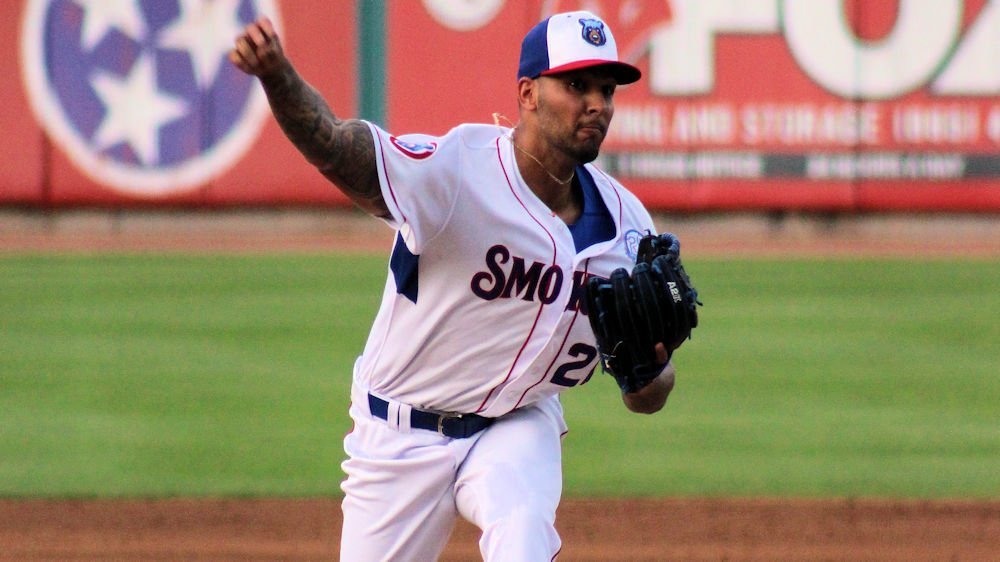 | | |
| --- | --- |
| Cubs News: 5 Potential Breakout candidates to watch in 2020 | |
---
| | | |
| --- | --- | --- |
| Monday, February 3, 2020, 5:25 PM | | |
Earlier this week, a story was written about the Cubs having four of their prospects ranked in the top 100 in all of baseball. With that being the case, you would expect all those guys to have some breakout performance this season to prove why they are ranked where they are.
That leads me to the rest of the Cubs prospect bunch as they still have a plethora of guys fighting to show their worth in the organization. With Nico Hoerner, Miguel Amaya, Brennan Davis, Brailyn Marquez, and Adbert Alzolay stealing most of the prospect news daily, here are five other prospects that could have a breakout season and start to make their move towards the top 100 prospect list.
TYSON MILLER: Ranked No. 12 on the Cubs prospect list, Miller is an interesting piece this season as he may have landed higher had his numbers from the first half continued through the second. After starting the season with AA Tennessee, Miller quickly established himself as a top of the rotation arm for the Smokies, going 4-3 with a team-best 2.56 ERA in 15 starts. What was most impressive was his command of 18 walks to 80 strikeouts as his velocity doesn't overpower you.
His excellent first-half performance was enough to earn a promotion to Iowa late in the season, where the results were less than appealing. In his 11 starts for Iowa, Miller was knocked around going 3-5 with a 7.58 ERA 25 walks and 43 strikeouts. A lot of that has to do with adjusting to a new league as Miller did get better during his final few starts, where he posted a 4.35 ERA over his last four outings.
Armed with a heater that sits 90-92 MPH, Miller can top out at 95 MPH but uses a high spin rate on both his four and two-seam fastballs to get swings and misses. He is working on both his slider and changeup for his secondary pitches as he looks to become a much more complete arm on the mound. In 74 career minor league starts thus far, Miller has gone 24-25 with a respectable 4.07 ERA. Look for him to battle for a spot in the Iowa rotation with hopes of building on his late-season adjustments.
PEDRO MARTINEZ: The 19-year-old middle infielder was not on anyone's radar a season ago, but after what he did last year, he should be now. When we broke down the minor league team previews earlier this month, Martinez was a guy I highlighted with Eugene as he has the potential to reach South Bend and beyond this season.
Although his games were limited to just 54 a season ago, Martinez certainly proved he could handle a more full-time role hitting a combined .311 with two homers and 24 RBIs across 27 games with the AZL Cubs and then 27 more with Eugene. What stood out the most with Martinez was not his eye necessarily, but his ability to work the count even if it didn't end in his favor. Not to mention his 19 steals make him a threat on the bases, and you can see why he has a very high ceiling.
Martinez can not only play multiple infield positions but plays them well while offering a switch-hitting bat that delivers a line drive approach. He is equally as good from each side and has shown the ability to not only work the count but to use all fields. Martinez has all the tools to be a difference-maker.
MICHAEL MCAVENE: Taken in the third round in last year's draft out of Louisville, the Cubs 25th ranked prospect has a chance to take the minors by storm this season after not pitching until early August last year. In his limited action with Eugene, McAvene logged six starts compiling 12 2/3 innings, where he posted a sparkling 1.42 ERA. What was most impressive about his outings is that he allowed just five hits to go with four walks and 20 strikeouts, which gives you some insight as to what he would do with a full season under his belt.
The difficult part about McAvene is precisely where does he fit in terms of pitching. Ideally, the Cubs would love for him to pan out and turn into a starter, but I think this guy could be the closer of the future for the Cubs, especially considering that is the role he thrived in during his tenure with the Cardinals.
If you don't believe me, turn on his film from last season College world Series and look at what he did to some of those hitters in the late innings. Not only does he throw hard with a fastball that reaches 95-97 MPH consistently and can touch 100 at times, but his wipeout slider could become one of the best in all of baseball. Not only does his slider have an elite spin rate, but it averages around 82 MPH that comes out looking like a curve only to break like a slider.
At 6-3 and 210 pounds, McAvene is undoubtedly built to be a starter, but the flashes he showed out of the pen makes me want him long term in the back end of games. Right now, McAvene is just a two-pitch man, which is why the bullpen suits him well. Should he develop even an average changeup at best, then you could see him take that next step.
ETHAN HEARN: With all the talk surrounding Miguel Amaya as the Cubs best catcher in the system, one player flew under the radar, and that was last year's sixth-round pick in catcher Ethan Hearn. I am here to tell you that Hearn shouldn't be under the radar too much longer and could supplant Amaya as the top catcher in the system should he continue to do what he did last year.
Looking at Hearn's numbers, and you will see a .163 hitter who hit two homers and drove in 14 runners over a 23-game professional stint. You may think those are horrible numbers, which they are on paper, but keep in mind Hearn was taken directly out of high school, so that was his first taste of pro ball.
Hearn was the top-ranked catcher coming out of high school and was projected as a third-round talent. Luckily for the Cubs, he fell to the sixth round, and the Cubs awarded him with second-round money. Not only does Hearn possess extremely raw power from the left side of the plate, but he also adds a plus arm, which is currently his two best traits. Being a left-handed hitter, Hearn generates tons of pop to the pull side of the field, but he needs to expand his game more to use all parts of the field.
Not only does he have a great arm, but he provides a quick release and a 1.9 second pop time, which is going to make it tough to steal bases off him. Hearn will certainly need time to develop both his overall offensive and defensive skills, but considering he was just a high school kid a season ago, look for him to make strides forward this season.
RYAN JENSEN: Last year's first-round pick, Jensen has leapfrogged into the Cubs No. 7 prospect spot and is now ranked the third-best pitcher in the system. Kind of remarkable to think about considering he started only six games for Eugene throwing a total of 12 innings. What Jensen did in his 12 innings was nothing short of impressive posting a 2.25 ERA despite his command being well down from where the Cubs hoped it would be 14 walks to 19 strikeouts.
Still, the potential for Jensen to crack the rotation is there if he can harness those command issues from last season. Jensen struggled his first two seasons at Fresno State, where he posted an ERA near 6.00. Then during his junior year, Jensen became one of the hottest pitchers down the stretch, going 9-0 in his final nine starts to become the first Fresno State pitcher selected in the first round since former Cub Matt Garza in 2005.
Although Jensen didn't grade out as a first-round talent by most, he did average the best fastball in the draft, where he consistently sat around 96 MPH topping out at 98 in some starts with great running action. He also adds a two-seamer around 92-94 MPH with sink as that compliments his four-seamer very well.
What continued to plague him last season in terms of command was his secondary pitches being a slider and change. His changeup averages 88 MPH, while his slider sits around 82-85 and has gotten much better with an altered grip. The Cubs believe Jensen can even get better with his slider once he continues to work on it, and if he uses his changeup more than he has in the past, it can only make him better.
The Cubs have long term visions of him being a middle of the rotation arm going forward, but that can only happen with constant improvement. Let's see if a full season of pro ball can get the most out of Jensen as the Cubs are hoping young pitching help is on the way.