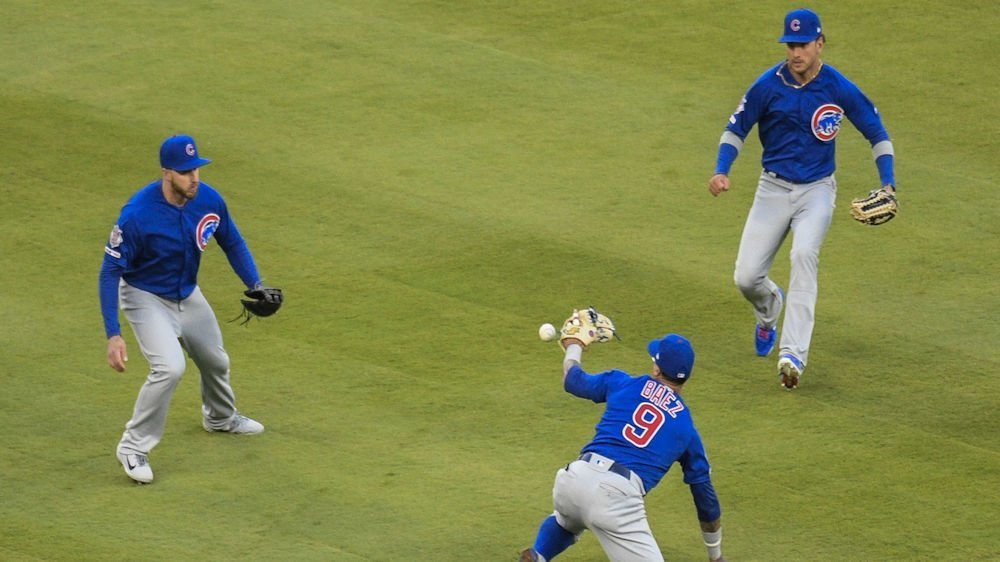 | | |
| --- | --- |
| April Fools: Cubs commit six errors in shutout loss to Braves | |
---
| | | |
| --- | --- | --- |
| Monday, April 1, 2019, 10:35 PM | | |
CUMBERLAND, Ga. — On April Fools' Day, the Chicago Cubs (1-3) lived up the occasion on Monday with a comically bad performance against the Atlanta Braves (1-3) at SunTrust Park. Committing six errors for just the second time in the last 35 years, the Cubs were a disaster while playing the field and paid the price by getting shut out 8-0 in the Braves' home opener.
The Cubs last committed six errors in a game in 2006, and in Monday's shutout loss, Chicago started suffering from defensive blunders at the start and did not right the ship at any point during the game. Only two of the Braves' eight runs went down as earned runs. Javier Baez, David Bote, Kris Bryant, Anthony Rizzo and Mark Zagunis were each charged with at least one error for the Cubs, with Rizzo committing two errors on the same play in the third inning.
I'm not one to panic because I'm over 21 and can buy all the beer I want, but something's wrong with the Cubs pic.twitter.com/S2EhO9k3no

— Greatest Show on Dirt Baseball Podcast (@greatestondirt) April 2, 2019
Kyle Hendricks started on the bump for the Cubs and did not receive any support from his teammates in the field or at the plate. Giving up 10 hits in 4 1/3 innings pitched, Hendricks certainly left a lot to be desired in his first start of 2019, but the Cubs' batters did not help his cause by leaving 10 runners stranded on base. Braves pitcher Sean Newcomb lasted just four innings and allowed six hits, but the Cubs were unable to score any runs off him.
The Braves put together a 4-run first inning that allowed them to coast the victory, and the scoring barrage was sparked by Zagunis dropping a fly ball in foul territory. Braves leadoff man Ender Inciarte proceeded to smack a home run on the very next pitch to put Atlanta up 1-0. Later in the frame, Baez's throwing error brought a run in, and a 2-run single by catcher Brian McCann made the lead 4-0.
Outfield sensation Ronald Acuña Jr. tagged a leadoff solo shot in the third to put the Braves ahead 5-0. Afterward, a throwing error by Bote in the fifth and an infield single from Ozzie Albies in the sixth contributed to the final score of 8-0. In the top of the eighth, a questionable slide by Bote that was slightly out of the basepath between first and second led to a minor kerfuffle but no ejections. All in all, the game brought with it nothing but negativity for a floundering Cubs team that has now lost three in a row and given up 27 runs during that stretch.
Chicago Cubs at Atlanta Braves
Apr 1, 2019
1
2
3
4
5
6
7
8
9
R
H
E
Chicago (1-3)
0
0
0
0
0
0
0
0
0
0
9
6
Atlanta (1-3)
4
0
1
0
2
1
0
0
-
8
12
1
W: Wes Parsons (1-1, 6.75 L: Kyle Hendricks (0-1, 4.15)