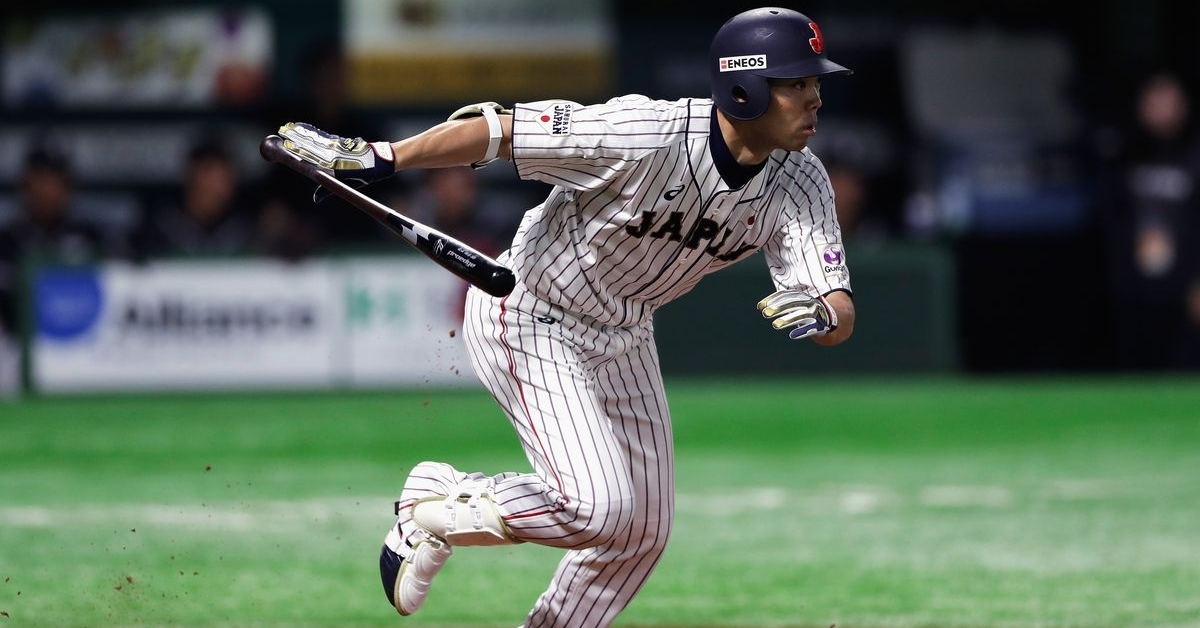 | | |
| --- | --- |
| Are Cubs in on possibly two Japanese free-agents? | |
---
| | | |
| --- | --- | --- |
| Wednesday, November 20, 2019, 7:47 AM | | |
With most of the free agency rumors surrounding the Cubs being linked to Japanese lefty center fielder Shogo Akiyama, it appears they may be in on another Japanese star as the Cubs are looking deeply into solidifying their roster for 2020.
Joining Akiyama, you have slugger Yoshitomo Tsutsugo, defensive wizard, Ryosuke Kikuchi, and righty pitcher Shun Yamaguchi as the other trio of Japanese stars whom all have just been posted for free agency. While Akiyama makes the most sense for what the Cubs need, you could make a case that either one of these players, given the right price, could be a valuable asset for the team.
Look at Tsutsugo, who projects to be high power, big strikeout caliber player like what the Cubs have in Kyle Schwarber and most of their roster. Then you look at Kikuchi, and although a defensive wizard that could shore up second base long term, his underwhelming line at the plate would make him an offensive liability that the Cubs cannot afford to take on.
That you have Yamaguchi, who would be intriguing to use as a swingman in the pen. However, with a fastball sitting around 90 MPH, it would make sense for the Cubs to stick with Alec Mills in that role instead of going to get another swing type of pitcher. Given that these are the four known Japanese players coming to the States, it would make sense that the Cubs would-be all-over Shogo at this point, but may not be as high on him as others, much like the Arizona Diamondbacks who view Shogo as a top priority at this point.
With that being said and the Cubs very much likely to pursue Shogo, who is the second player the Cubs may be targeting from Japan. Is it one of the other three posted, or do the Cubs have their sights set on someone different who has not posted quite yet? As of right now, Shogo is technically the lone free agent as the other three are still employed by their current teams but can negotiate with USA teams as part of the collective bargaining agreement.
Even though Shogo seems like the most obvious fit for the Cubs, Gordan Wittenmyer has a hunch that the Cubs may have their sights set on another posting with Tsutsugo being the possible choice. If that is indeed the name, the Cubs would rather have, you would love it in the sense that he is just 28 years old as opposed to 32 of Shogo. Given the power numbers that Tsutsugo has demonstrated in the NPB, I would undoubtedly take his bat on a reasonable deal.
However, signing him is not as clear cut as it seems as most people project him to be a left fielder which is currently occupied by Schwarber. Unless the Cubs do something crazy like sending Schwarber to the Yankees for Miguel Andujar, it is hard to imagine the Cubs pursuing Tsutsugo especially when other teams have holes in left field, first base and DH, all what the Cubs have permanent mainstays or don't need on the roster.
With him being defensively limited, higher than average strikeout numbers, and his asking price clearly higher than the rest pursuing Tsutsugo may be the least of the Cubs concerns. That could all change depending on what happens with Schwarber should he be dealt, which would leave not only a hole in LF but a power leftie bat that the Cubs desperately need. Should the Andujar for Schwarber rumored deal go through, then I wouldn't be surprised to see the Cubs sign Tsutsugo despite higher than average strikeout numbers.
Not only could they plug him in left field, but he provides tremendous power to all fields and hits from the left side all things the Cubs had with Schwarber. I know many Cubs fans are on the fence about Japanese professional players, especially since the Kosuke Fukudome days. Still, he was overhyped back then, while nowadays, we tend to know what we are getting in foreign players.
Ultimately, the only way I sign Tsutsugo is if Schwarber is indeed on the move; otherwise, I put my focus on Shogo as he fills more holes for what the Cubs are looking for. Either way, expect the Cubs to be actively talking to the NPA free-agent market as they look to bring in cheap, but reliable free-agent options to many different positions.
It should be an interesting offseason so stick with CubsHQ as we keep you posted on all the latest news.