---
| | | |
| --- | --- | --- |
| Saturday, March 2, 2019, 6:36 PM | | |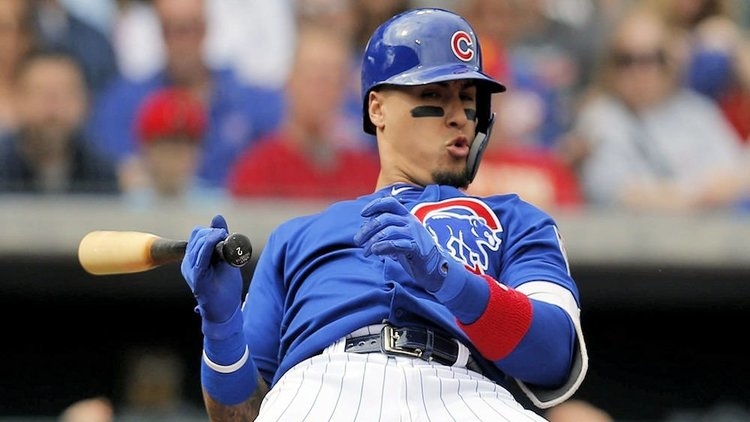 The Cubs, coming off a blowout win against Arizona on Friday, returned home to Sloan Park to face Milwaukee in their second matchup of the spring. Jon Lester would lead a familiar list of names onto the field, with Jason Heyward becoming a late scratch due to illness.
The Cubs would never lead in this game, losing by a final score of 7-4.
T-1: Jon Lester got off to a rough start today. With one out, Yelich would single and Shaw would back him up with a two-run homer that saw Albert Almora just about leap over the center field fence trying to make a play. Lester would collect two strikeouts though (Aguilar, Moustakas), throwing 21 total pitches in the inning.
B-1: Facing Chase Anderson to start the game, the Cubs would fail to score, wasting a one-out, Zobrist double to right. Cubs trail 2-0.
T-2: Lester would toss only 13 pitches in the inning, collecting his third K of the day (Gamel) to end the frame. A leadoff walk would be erased when the Cubs turned a 6-4-3 (Baez, Descalso, Rizzo) double-play.
B-2: A more patient Javier Baez would start the inning with a walk, then advanced to second on a check-swing by Daniel Descalso. Chase Anderson would collect another pair of strikeouts (Contreras, Zagunis) to end the inning without any damage. Cubs down 2-0.
T-3: Lester would reemerge for the third inning and escape without any further harm, despite Yelich tagging him for a second single. Total of 13 pitches.
B-3: Facing Anderson again in the third, the Cubs would go down in order, leaving themselves with a two-run deficit.
T-4: Steve Cishek would throw a scoreless fourth, but not without issues. A pair of leadoff singles and a two-out walk would load the bases, before he'd finally get out number three on a flyout to left. 24 pitches, one strikeout (Grandal).
B-4: Zach Davies would take the mound for Milwaukee, and the Cubs wouldn't fare any better against him, going down in order. Cubs still trail 2-0.
T-5: Rowan Wick would toss a scoreless fourth on 15 pitches, denying Yelich of his third hit of the day. The only problem he had, came when he nailed Aguilar in the forearm, courtesy of an errant pitch.
B-5: The Cubs would get on the board in the fifth after Willson Contreras' one-out walk was followed by a Mark Zagunis double, scoring Contreras from first. The Cubs would tie it up with two out, when Charcer Burks (pinch-running for Zagunis) would score from second on an Almora single to right. Game tied at 2.
Feel free to tell me if this audio level is too low. pic.twitter.com/92mh8NWscx

— Billy Krumb (@ClubhouseCancer) March 2, 2019
T-6: Matt Carasiti would give up a leadoff single (Moustakas), followed by a walk to Grandal. After loading the bases with a walk, Gamel would double, scoring two runs. Kratz would single, putting the Brewers up 5-2 before Maddon replaced Carasiti with right-hander, Christian Bergman. Brewers lead 5-2.
B-6: Phillip Evans would start things off with a leadoff double, then take third on a groundout by Taylor Davis. A sac-fly by Christhian Adames would score Evans, bringing the Cubs to within two. With two out, Trent Giambrone would cut the Brewers' lead to one, with a solo-homerun to left. Cubs down 5-4.
T-7: Bergman would allow a leadoff homer (Erceg) to start the inning, but that's all they'd get, with the inning ending with a score of 6-4 in favor of Milwaukee.
B-7: Righty, Aaron Wilkerson, would retire the Cubs in order in the seventh, leaving the Brewers up 6-4, with two innings to play.
T-8: Ian Clarkin would take the mound in the eighth, issuing a leadoff walk (Lutz) and then hitting a batter (Kratz) to start the inning. Things would go from bad to worse when Tyrone Taylor doubled, scoring another run. Clarkin would escape the jam without giving up another run. Brewers lead 7-4.
B-8: Wilkerson would pitch the seventh for Milwaukee, issuing a walk to Taylor Davis, but striking out Amaya, Evans and Adames to retire the side. Cubs down 7-4.
T-9: Alberto Baldonado would pitch the ninth for Chicago, racking up a pair of strikeouts (Orf, Grisham) on his way to a 1-2-3 inning.
B9: The Cubs would fail to produce again in the ninth, losing by a final score of 7-4.
The Cubs, now 5-5 this spring, will stay home to take on the White Sox tomorrow at 3:05 PM. (Banuelos vs Darvish)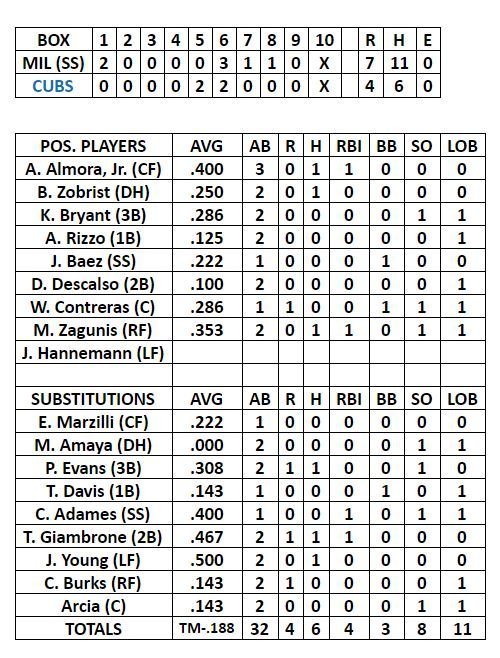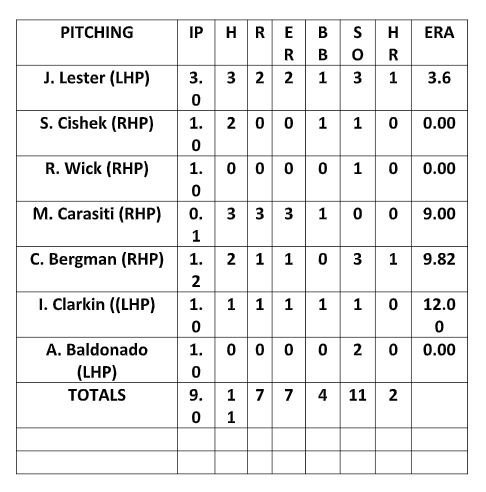 A newly shorn Captain Tony Rizzo cozies up to @CubsJoeMadd who was speaking with @lenandjd. @LenKasper #GoCubsGo pic.twitter.com/xhYl5LdEDo

— Billy Krumb (@ClubhouseCancer) March 3, 2019
Final: Brewers 7, Cubs 4. #SpringTraining pic.twitter.com/17DFL15DcN

— Chicago Cubs (@Cubs) March 2, 2019
That's a wrap from Mesa!

Final: #CactusCrew 7, Cubs 4. pic.twitter.com/yKjYm0kF25

— Milwaukee Brewers (@Brewers) March 2, 2019