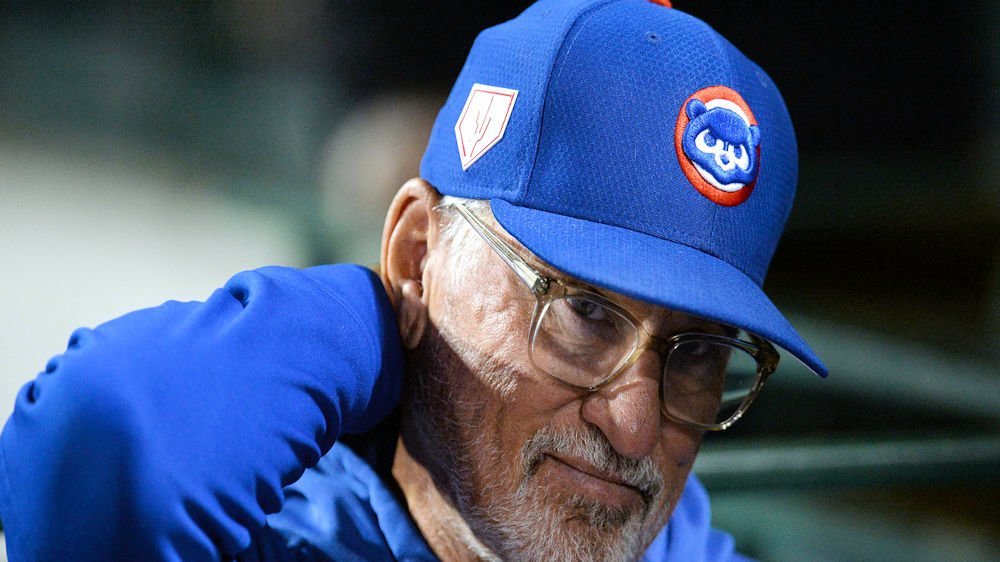 | | |
| --- | --- |
| Cubs News: Camp Maddon: The good, the bad and the ugly | |
---
| | | |
| --- | --- | --- |
| Wednesday, March 27, 2019, 5:23 PM | | |
It's over. The Cubs (and every other MLB team), packed up the equipment in Arizona (or Florida) yesterday, cleaned out their training facilities, and headed for the location of their first regular season games of 2019. Spring training has ended.
I watched, listened to and scrutinized, every move made by Joe Maddon, Theo Epstein, Jed Hoyer and the Ricketts' family this winter and spring. While there was a ton of good, in some cases, I'm left scratching my head in disbelief.
Here's my countdown with 17 takes on the best of the good, the bad and the ugly from Camp Maddon.
THE GOOD:
7. Mark Zagunis: If anyone has made an indelible mark this spring, it's been Zagunis. Slashing .357/.440/.738 (15 for 50) this spring, Zagunis has tallied 4 doubles, 4 dingers, 13 RBI, 3 SB and 4 BB. Trust me, he'll be on the plane to Texas.
6. Nico Hoerner: Wow. Hoerner appeared in 13 games this spring and slashed .533/.611/.1.200 (8 for 18), with a homer, triple, three doubles, and 4 RBI. He's lightning fast, and considering that he only played 14 games in the minors and 21 in the AZFL last year, he seemed to fit right in with the big boys.
5. Kyle Schwarber: Slimmed down and looking more like an outfielder than a linebacker, Schwarber has increased his bat speed (and overall speed) and has improved his swing. More patient at the plate, he's also taking walks.
4. Albert Almora, Jr.: Joe Maddon said a month ago that Almora wasn't ready to be an everyday player (no idea what would ever make him think that), but after a monstrous spring, aided in part by Ian Happ's demotion (more on that later), Almora is about to get the playing time and respect that he deserves.
3. Kris Bryant: The shoulder is better, the swing is improved, and KB, although struggling at the plate a little recently, seems to be in top-form. My prediction: 30+ homers and 100+ RBI.
2. Tyler Chatwood: I don't even know where to start: "Dear Tyler, I'm really sorry for being so brutal to you last year…" Anthony Bass told me 3 months ago that if anyone could turn Chatty around, it would be Tommy Hottovy, and he wasn't wrong. Chatwood's spring: 14 IP, 2.57 ERA, 10 H, 4 ER, 1 HR, 9 K, 4 BB.
1. Yu Darvish: The pain is gone (other than from a blister he suffered recently), the velocity and control are up, he's broken out of his quiet shell, and Darvish has the attitude of a guy who wants to win, both on the field and in the court of public opinion.
THE BAD:
5. Brandon Kintzler: Some guys can't win- in Kintzler's case, he's losing with the fans. Kintzler was an all-star two years ago but had a rough transition when he came to Chicago. Joe Maddon used him to clean up dirty innings in 2018, which wasn't Kintzler's forte'. He's worked 7.2 innings this spring, only allowing 3 ER, despite giving up nine hits. He's fanned 9 while walking only 1, and yet he still can't get any support from the fans.
4. Junichi Tazawa: Last week, the Cubs released veteran, right-handed reliever, Junichi Tazawa. Through 5.2 innings of work this spring, Tazawa posted a 0.00 ERA, allowing only two hits, while striking out 9 (no BB, R, ER, HBP and no wild-pitches). With a bullpen relatively unfortified this winter, and already considerably strained due to injury, it wasn't ideal to release someone that could possibly help out on the big league level. (This did turn into a "good thing" as Tazawa re-signed with the Cubs for a minor league deal Tuesday.)
3. Steve Cishek: Cishek has been knocked around like a pinball. His 9.64 ERA stems from allowing 5 ER in 4.2 IP, and he's walking almost 1 per inning, while allowing just over a run per inning.
2. Joe Maddon: Joe's job is in jeopardy, period, end of story. He's in a position that anything short of a World Series appearance (maybe anything short of a WS title) will probably spell-out the end of his reign with Chicago. There are already articles being written, suggesting he's gone by the All-Star break if the Cubs aren't in the top of the standings, and it looks as though Theo Epstein is taking more and more control away from him (coaches, roster assignments, etc.).
1. Free-agent injuries: RHP Kendall Graveman (out all year due to Tommy John surgery), LHP Xavier Cedeno (wrist), RHP Tony Barnette (shoulder).
THE UGLY:
5. Jon Lester: You can say spring doesn't matter, but Jon Lester cannot be pleased with his outings this spring. 15.1 IP, ERA 10.57, 23 H, 18 ER, 6 BB, 17K, 1 HBP, and his velocity is really down this year as well. He'll settle in when the season starts, but for now it sure looks ugly.
4. Brian Duensing: In eight appearances, Duensing only managed to pitch 7 innings, and got rocked along the way: ERA 10.29, 9 H, 8 ER 2 HR, 2 BB, 3 K, leading to his DFA last week.
3. Mike Zagurski: What possessed the Cubs to sign him, I'll never know. The only thing uglier than Zagurski's spring (9 hits, 4 ER, 2 HR, and four walks in 6.2 IP), was his sole appearance for Milwaukee last year, when he gave up seven runs in his only inning, securing himself an ERA of 63.00.
2. Jason Heyward: While his fielding continues to shine, Heyward is getting worse and worse at the plate, managing only a .132 batting average this spring (5 for 42), with only 3 RBI and 8 strikeouts.
1. Ian Happ: After spiraling himself into a .135 batting average this spring, which included going 7 for 56 with 14 strikeouts, the Cubs had seen enough. Happ was optioned to Iowa on Saturday, for an undetermined amount of time. Depending on your view, this could have fallen under "the bad," although I was almost leaning toward listing this under "the good." Hap has been underperforming for two years now, and the time had come to realize that either he needed a minor league assignment to figure it out, or that maybe, just maybe, he was a flash-in-the-pan. This cleared a path for Almora and, presumably, Zagunis, to be able to shine while contributing to many additional wins.
That's it; spring's over. Let's play ball, and let's "own it now."

Tags: Cubs Baseball
,
Mark Zagunis
,
Kyle Schwarber
,
,
,
Tyler Chatwood
,
Yu Darvish
,
Brandon Kintzler
,
Steve Cishek
,
Kendall Graveman
,
Xavier Cedeno
,
Tony Barnette
,
,
Brian Duensing
,
Jason Heyward
,
Joe Maddon
,
Theo Epstein
,
Tommy Hottovy