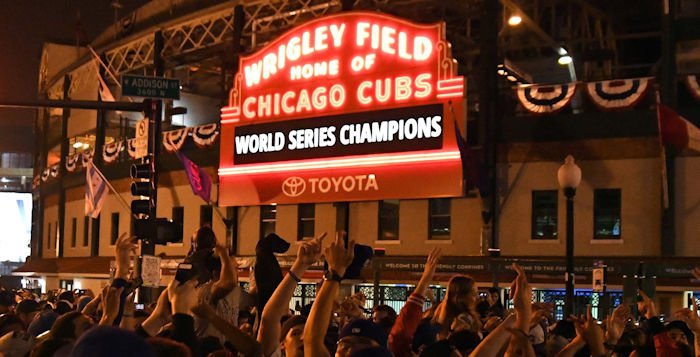 | | |
| --- | --- |
| Can the Cubs ever win enough for their fans? | |
---
| | | |
| --- | --- | --- |
| Sunday, February 3, 2019, 2:36 PM | | |
A friend asked me several questions this morning about the Cubs, their future and their fans. He's a smart guy, but it feels to me that he is almost suffering some type of identity crisis as a Cubs' fan.
Who could forget those years that the Cubs were in last place, only because there was no place lower to be? The 1981 team went 35-63-3 (.369) in a strike-shortened season, and 31 years later (2012) they weren't much better, playing to a 61-101 (.377) record. The amount of anguish you've suffered personally as a fan is directly proportionate to your age. I'm 53, my friend is 48; that's a lot of heartache between us.
For the Cubs' fan it was always about waiting 'til next year, but "next year" never seemed to come. After losing the 1945 World Series to the Tigers (4-3), the Cubs would go into a 39-year hibernation, not seeing the playoffs again until 1984, when they lost the NLCS to the Padres (3-2). From there on, the Cubs would see the playoffs a total of six times through the 2015 season, advancing as far as the NLCS, and amassing a pathetic playoff record of 4-21 over thirty years, which included being swept a total of four times.
Then 2016 happened.
After a total drought of 108 years, the Cubs won a World Series. The win represented the vindication of a team and its fanbase who had struggled together for over a century. Some lifelong fans, like my dad who passed away in 2014, would never see it happen. As great as it was, it often seems that 2016, alone, still wasn't good enough for some fans.
Question: "Why has this off-season frustrated Cubs' fans so much, and what was it the fans were expecting to see this winter?"
The short answer is that the fans wanted to see the Cubs fix the issues of 2018 via trades and free-agent signings, but that wasn't going to happen. With a payroll already looming around $228M for 2018, the team has little room to vie for upper-echelon players through free-agency (like Bryce Harper), and due to a poor offensive showing by a good portion of the position players in 2018, trades became unlikely due to decreased trade values.
Make no mistake, my friend, this team still has a significant amount of talent, but as Theo Epstein said in October, "…[their] offense broke." Epstein didn't think so then, nor does he think now, that it was permanently fractured, which is why the Cubs have elected to go on with 90% of last year's roster. There's no question that Anthony Iapoce, the team's new hitting coach, will have his work cut out for him as the Cubs try to revamp and rejuvenate both their power and their approach to hitting.
That was a relatively easy question to answer, but then my friend's questions became a little more cerebral: "How do you think the Cubs want the 2016 World Series win to define the future?"
After some thought, I realized that 2016 might not have been so much about defining the future as it was about dispelling the past. Indeed, for the Cubs to enjoy a run like the Bulls' teams of the nineties did, would be nothing short of utopia for the fans, but I don't think it needs to be their destiny. For the fans, one ring wasn't enough. Had the Cubs won the World Series in 2017 and 2018, three rings still wouldn't have been enough. How many would be?
While no one can say with 100% certainty, a guy named Steve Bartman probably cost the Cubs a trip to the big dance in 2003. Instead of the Cubs and Yankees slugging it out for the world championship, it was the Marlins who would play New York, winning the series 4-2. Had the Cubs advanced to the World Series and won in 2003, we'd have been having this same conversation about repeats and dynasties 16 years ago, as it seems that no number of rings will ever completely compensate Cubs' fans for their decades of misery and discontent.
"Ken, do you think it's time to lose that "loveable loser" moniker and redefine their identity, or do they end up folding and embrace the name?
I don't think there's any real answer to that question. I don't think they'll fold in their attempts to remain relevant, but I also don't think they will ever be a team like the Yankees who seem to stay a relevant World Series type team year in and year out. That's not necessarily a bad thing though. New York tends to buy a new team just about every year to stay in the loop, whereas the Cubs seem to be more willing to stick by their players in hopes of cohesion and continued success.
The "loveable loser" title still seems to fit in some ways, if for no other reason than history and infamy, but in different ways, it seems to have vanished in 2015. Four straight years of playoffs is the best run in the franchise's history, surpassing their previous record of three consecutive years, dating back to 1906-1908.
As far as redefinition is concerned, I believe that started with the arrival of Joe Maddon in 2015. He's unconventional, he's eccentric in some ways, and ingenious in others. He's enjoyed quality rosters and endured injuries and relative collapse, but he plays the hand he's dealt, even if he doesn't always seem to play it effectively. For the team and their fans, Maddon's "way" has meant a 387-261 (.597) record, a World Series win, a wildcard appearance, and two NLCS bids.
Whether Maddon stays or goes after the 2019 season, the Ricketts family, Theo Epstein and Jed Hoyer have not only made a statement, but they've set a precedent. I don't think we'll always see a team who finishes first or second, nor do I think we'll see teams who languish in last for decades at a time anymore.
The Ricketts family isn't opposed to spending money, despite what some fans may think at times. The Cubs currently own the fourth highest payroll in all of Major League Baseball, but that fact has been masked by a lack of purchasing during this off-season.
Almost resolved to settle for a potentially dismal future, my friend asked me how I thought the fans would feel if they never won another World Series.
Without a doubt, disheartened, cheated and forlorn, but at the same time, they must remember that this group of Cubs' fans has already seen something that people, much like my father, never got to see: A World Series Championship.