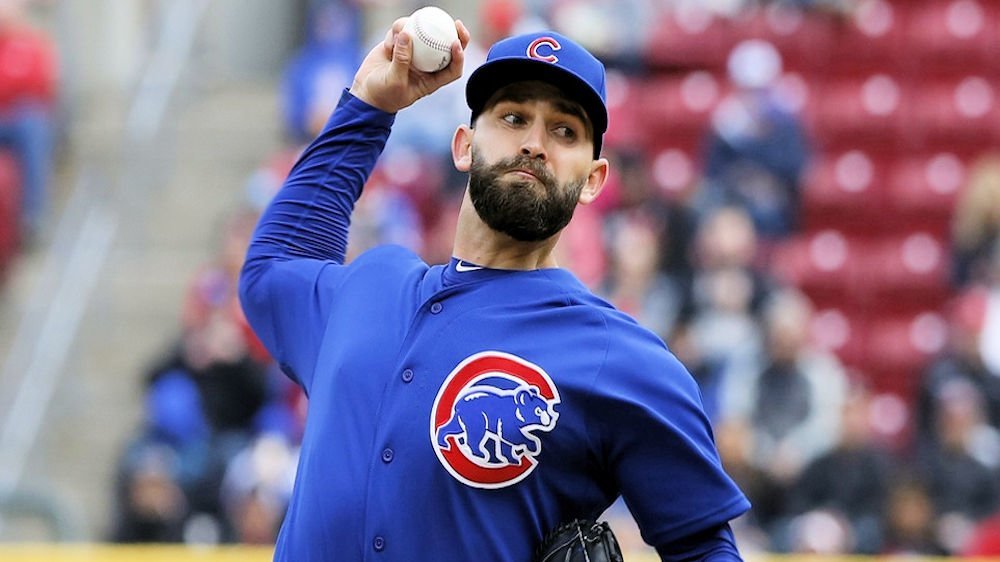 | | |
| --- | --- |
| Chatwood "better," Cubs offense explodes while heat takes its toll | |
---
| | | |
| --- | --- | --- |
| Sunday, July 1, 2018, 8:01 AM | | |
Tyler Chatwood made his first start Saturday against Minnesota, since taking paternity leave last Sunday. The results? Much improved, though he gave up seven runs in five innings of work. I watch Chatwood very closely, as I don't want to be unfair to him, and as a result, I sat and tallied every pitch of his 103 pitch outing. While Chatwood was originally the subject of this article, his day would become overshadowed by a see-saw battle for the lead, an exploding Cubs offense, the outrageous heat, and the major-league debut of Willians Astudillo.
Chatwood looked good in the first, issuing no walks and more importantly, not demonstrating any control issues. His breaking balls looked solid, and he controlled his mid-90 mph fastballs. The second inning would prove to be his worst of five, hurling 31 pitches that included an eight-pitch at-bat to Adalberto Mejia, the Twins starting pitcher. After giving up a walk to load the bases, Chatwood gave up a base-clearing double to the Twins first-baseman, Joe Mauer, giving Minnesota a 3-0 lead in the top of the second.
The Cubs answered in the bottom half of the third to tie it with a three-run rally of their own. Chatwood would help his own cause by moving David Bote from first to second on a beautiful sacrifice bunt. Bote would then take third on a wild pitch and eventually score on an Almora sacrifice fly to center-field.
Chatwood had an outstanding 11 pitch third inning, and was equally impressive with his 12 pitch fourth inning, retiring six in a row. Back to work in the fifth, he issued a leadoff walk to Escobar, then backed that up with a two-run home run pitch to Eddie Rosario, the Twins left-fielder, giving Minnesota a 5-4 lead. The Twins would go on to score two more in their half of the fifth, giving them a 7-4 lead.
Chatwood may have been done after five innings, but the Cubs certainly were not. The Cubs had a slug-fests in their halves of the fifth and seventh innings, eventually putting them up, by what would become the final score of 14-9. Minnesota relievers (Reed and Duke) combined for a 50-pitch, fifth inning for the Twins.
Enter the sweltering heat.
In the bottom of the fifth, Twins manager, Paul Molitor made some routine changes, presumably due to the heat which was an insane 104.8 degrees on the field at the start of the game, and by the fifth inning, the on-field temperature was at 108 degrees. Molitor removed CF Jake Cave, and moved Rosario from LF to CF to start the bottom of the fifth. A routine single to center resulted in a very odd looking throw to second base by Rosario, prompting attention from the Twins' trainer. Rosario was subsequently removed from the game as a result of heat exhaustion.
This brought Willians Astudillo into the game, playing left-field, as the Twins moved players again due to Rosario's illness. Making his major-league debut, Astudillo went 2-2 on defensive attempts, and 1-2 offensively with an RBI. On his first major-league plate appearance, he ripped the first pitch he saw into center, scoring a runner from third. Perhaps the most noteworthy stat for Astudillo is that in his nine minor-league seasons, he's only struck out a total of 76 times.
The heat would again take its toll in the bottom of the fifth, this time causing Almora Jr. to be removed as the result of right-thigh pain that he developed while running to first. The heat wasn't through with its own rally yet- Twins catcher, Bobby Wilson became woozy while batting in the top of the sixth, causing him to step out of the batter's box for about a minute. As he took his break, you could see his face was beet-red and that his breathing was extremely labored. Wilson subsequently drew a walk and was attended to by the Twins' trainer after reaching first. Wilson took sips of water and had cold water poured down the back of his neck by the trainer, in an effort to relieve the ailing catcher of his symptoms. Wilson advanced to second on a single, hesitating midway as he ran, showing further signs of heat exhaustion. He then tagged on a deep fly ball to center-field and took third. Wilson eventually scored and was then removed from the game. Wilson had been on the field in full catcher's gear for over 30 minutes, as the Cubs rallied in the fifth, and the inning was further prolonged by Rosario's illness. Wilson then had to remerge from the dugout immediately, as he was the leadoff batter for the Twins in the top of the sixth.
All things considered, Chatwood and the Cubs fared well in the extreme heat, save for Almora and the cramping issue. Chatwood worked at a good pace for all five of his innings, and despite giving up several runs, he seemed to have much-improved control. His final numbers were: 5 IP, 102 pitches (64 strikes, 39 balls), 6 strikeouts, 3 BB, 7 hits, 7 ER, and he gave up 1 HR. Most notably though, was the lack of pitches that had no control whatsoever. I counted only five pitches that were somewhat uncontrolled and Contreras was able to stop three of them from flying or skipping past himself. Despite the number of runs given up (ERA of 12.6 today), I truly believe this was one of Chatwood's best starts of the year, and I'd like to think he can build on this. Chatwood earned no decision, as Justin Wilson received the win.
Yet another highlight from the day was the Cubs' explosive offense, which scored 14 runs on 20 hits, giving the Cubs a total of 24 runs in just two days. Almora went 3-3 with a sac-fly, Zobrist was 2-2, Heyward went 4-6, in fact, Schwarber was the only Cubs position player without a hit, going 0-1 as a pinch-hitter.
Don't look now, but I think our boys are back…