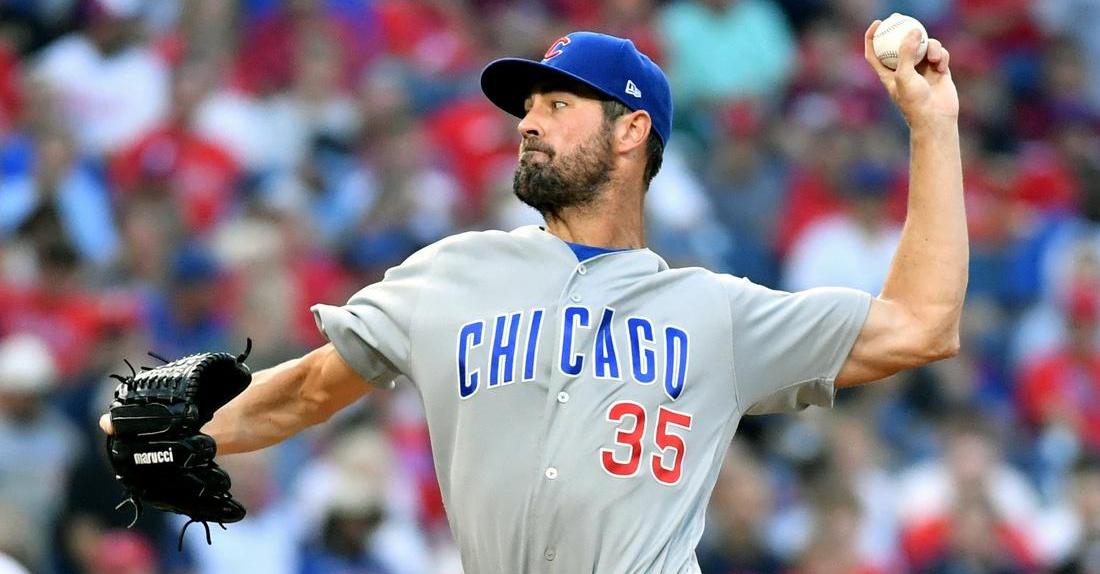 | | |
| --- | --- |
| Cole Hamels' return to Philadelphia spoiled as Phillies crush Cubs | |
---
| | | |
| --- | --- | --- |
| Wednesday, August 14, 2019, 10:30 PM | | |
PHILADELPHIA — On a nostalgic Wednesday night at Citizens Bank Park, Charlie Manuel had the upper hand over Cole Hamels, as the Chicago Cubs (64-56) suffered a blowout loss at the hands of the Philadelphia Phillies (62-58). Former Phillies manager Manuel made his debut as the Phillies' hitting coach and got off to a fantastic start, with the Phillies racking up 13 hits in an 11-1 beatdown of the Cubs. As for Hamels, who used to pitch for Manuel as a member of the Phillies, his return to his old stomping grounds was far from pleasant.
Hamels was traded by the Phillies in 2015, and Wednesday marked his first start in Philadelphia since he was shipped off. Unfortunately for Hamels, the standing ovation that he received from the fans prior to throwing his first pitch did not foreshadow a memorable homecoming. Instead, Hamels was dreadful on the mound, lasting just two innings and giving up eight runs on nine hits and two walks. After Hamels was pulled during the third frame, Cubs reliever Alec Mills toed the rubber and proceeded to pitch the rest of the way.
Bryce Harper slugged a 2-run home run off Hamels in the bottom of the first to put the Phillies up 2-0. Philadelphia tacked on two more runs in the next inning, including a run driven in via a single hit by starting pitcher Aaron Nola. Hamels imploded in the bottom of the third, with the Phillies tallying four straight hits to start the half-inning before Hamels was yanked. The dismal outing for Hamels was summed up by the final plate appearance of his start, which featured Hamels failing to cover first base on an RBI infield single that could have easily resulted in an out at first.
Early action. #RingTheBell pic.twitter.com/MEp2gs5zVy

— Philadelphia Phillies (@Phillies) August 14, 2019
.@AaronNola027: Professional Hitter pic.twitter.com/JAe0cGjwDu

— Philadelphia Phillies (@Phillies) August 14, 2019
Not long after Mills entered with the Cubs trailing 6-0, J.T. Realmuto provided the Phillies with plenty of breathing room by taking Mills deep on a grand slam that was just fair down the left-field line. Harper collected his second dinger of the affair when he led off the bottom of the sixth with a towering shot that sailed into the upper deck beyond right field. Harper's buddy Kris Bryant answered with a leadoff blast of his own in the top of the seventh, with the no-doubter skied to straightaway center field saving the Cubs from getting shut out.
The five seasons: summer, fall, winter, spring, hittin'#RingTheBell pic.twitter.com/IRVHwaKIvE

— Philadelphia Phillies (@Phillies) August 15, 2019
This is what 111 mph off the bat looks like. ??#RingTheBell pic.twitter.com/nB3lZqu8Qa

— Philadelphia Phillies (@Phillies) August 15, 2019
Kris Bryant homers (24) on a fly ball to center off Aaron Nola
Exit Velocity 108 MPH
Distance 445 FT
Launch Angle 28.06#EverybodyIn vs #RingTheBell pic.twitter.com/AEzCCxlt1R

— Strand Sport Stats (@StrandStats) August 15, 2019
Aside from giving up Bryant's homer, Nola was fairly flawless in his seven innings of work on the bump. Nola was taken for just three hits and one walk while striking out seven in a winning performance. Light rainfall was a fixture of the game, but it clearly did not faze the Phillies' batting order. As for the Cubs, who recorded a modest four hits, by virtue of their 11-1 defeat in the second installment of the 3-game series, they assured themselves of yet another series loss away from home. The North Siders last won a road series on May 19 and have now dropped 12 road series this season.
Chicago Cubs at Philadelphia Phillies
Aug 14, 2019
1
2
3
4
5
6
7
8
9
R
H
E
Chicago (64-56)
0
0
0
0
0
0
1
0
0
1
4
0
Philadelphia (62-58)
2
2
6
0
0
1
0
0
-
11
13
0
W: Aaron Nola (11-3) L: Cole Hamels (6-4)