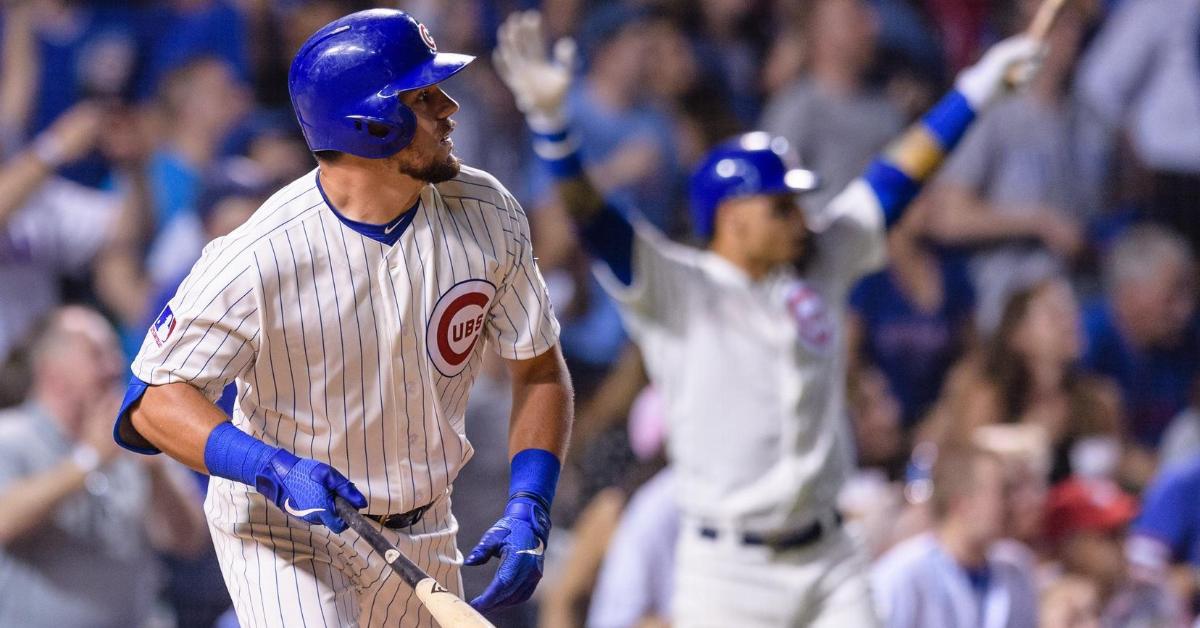 | | |
| --- | --- |
| Cubs News: Comentary: Where has Kyle Schwarber been? | |
---
| | | |
| --- | --- | --- |
| Saturday, July 20, 2019, 5:52 PM | | |
On Tuesday night, Kyle Schwarber lifted a long, opposite field home run into the basket for the Cubs to walk it off against the Cincinnati Reds. His reward? Three straight off days for the first time all year long.
Schwarber has not been terrific out of the leadoff spot this season, but he has produced. With the walk-off bomb, he now sits at 21 homers and 46 RBIs for the year. When Schwarber made his debut, he was much heavier, and the hopes for him were much higher. Since his heroic efforts in the World Series, Schwarber has since regressed. This season has been his best since then, but it doesn't look like Schwarber will ever morph into the player the Cubs hoped that he once might be.
Schwarber has forever been called an American League player, stuck on a team without a DH. But with recent news of a potential designated hitter being added shortly, Cubs fans were more reluctant to continue to plead that he gets traded. Theo has shown a bit of struggle in parting with the players who helped give the Cubs their first title in 108 years, but in trading the guy who threw the final pitch, he has shown that the team's focus is to win now.
With Schwarber sitting for the third game in a row, there are three possible reasons for the lack of Schwarber in the starting lineup.
MATCHUPS/REST (most likely)
The Cubs could have just sat Schwarber to rest him in a day game after a night game in which he hit a walk-off and then sat him the next two days because Kyle Schwarber has consistently struggled against left-handed pitching in his career. Especially since Joe Maddon has stressed the fact that Russell, Almora and Bote need to get going against left-handers, which is not possible unless they see more consistent at-bats. It could be deeper in terms of matchups or simpler due to rest. This scenario seems most likely at this point.
Kyle Swharber could be hurt, getting traded or being rested but the bottom line is that Schwarber has yet to appear in the starting lineup since hitting his first career walk-hit by the long ball. The jury is still out on this situation, but keep your eyes open to see if number 12 is in the lineup, a trade or the injured list shortly.
INJURY (less likely)
Perhaps Kyle hurt himself celebrating the home run or in some other fashion, but the reason he may not be in the lineup could be because he tweaked something. Schwarber has been able to pinch-hit in the past few games, but he is yet to play the field since the day he floated a walk-off homer into the night on Tuesday.
TRADE (less likely)
Maybe the Cubs front office has told Joe Maddon to keep Schwarbs out of the lineup because the Cubs are finalizing a deal that could send Schwarber away from Wrigley. This is not especially likely unless the Cubs are bettering their team without a doubt, potentially in a Whit Merrifield deal of some sort or one for a few bullpen pieces. The other side of this coin is the Cubs could be sitting Schwarber to get Addison Russell and Albert Almora and David Bote into the game more in order to potentially boost their trade stock as the deadline approaches.